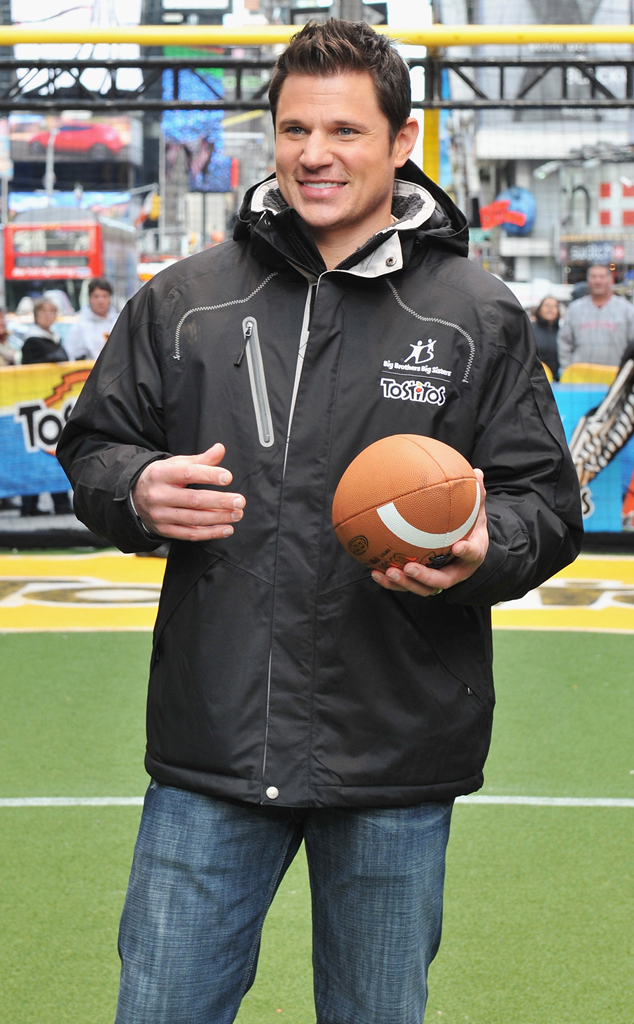 Slaven Vlasic/Getty Images
Did Nick Lachey's Bengals team spirit go a little too far?
After the singer tweeted about a heated exchange Sunday between him and a Chargers fan during a game in San Diego, a report surfaced alleging that the 39-year-old star not only unleashed a cuss-filled rant at the fan's wife but also attempted to choke the fan himself.
Vanessa Lachey's hubby, however, is ready to set the record straight.
"This was a verbal exchange between sports fans of opposing teams that went too far," Lachey's rep tells E! News in a statement. "While Nick isn't proud of what happened, he did not choke anyone or use defamatory language to any women at the stadium—which the video tape clearly supports," referring to a clip that surfaced showing parts of the encounter.
"Nick and his friends were interviewed by police outside the stadium and quickly released with no charges filed," his rep added. "We categorically deny any accusations that say otherwise and would defend against those claims should they arise."
So what purportedly went down?
A source tells E! News that Lachey and his pals happened to be sitting in between a bunch of Chargers fans, and that everyone was reportedly having a good time and having "friendly trash talk here and there between fans."
Later, as the game heated up, one of the Chargers fans supposedly had "a little too much to drink" and "decided to make a scene," our source tells us. The fan in question reportedly stood up and started pointing his finger at Lachey's face—a move that supposedly prompted some of the man's companions to apologize on his behalf.
The source says that at that point, Lachey and his group felt threatened and decided to leave on their own. On they way out, they purportedly chatted with security and police about the incident, but at no point, we're told, was Lachey or his group escorted out.
Nevertheless, Nick himself did tweet on Sunday, "Just got kicked out of the chargers stadium and couldn't be prouder! Go Cincy Bengals! #whodey," though explained, "For the record, i was not kicked out of the chargers game for excessive trash talking. no, that honor belonged to the guy in front of me!" He later added, "i simply don't appreciate someone turning around and putting their finger in my face."
However he happened to leave the game, Lachey managed to find a silver lining in this playbook: "Majority of charger fans were awesome yesterday, thanks for the hospitality!" he tweeted. "Sadly, there is always one guy that ruins it for everyone."
Can't win 'em all, Nick.