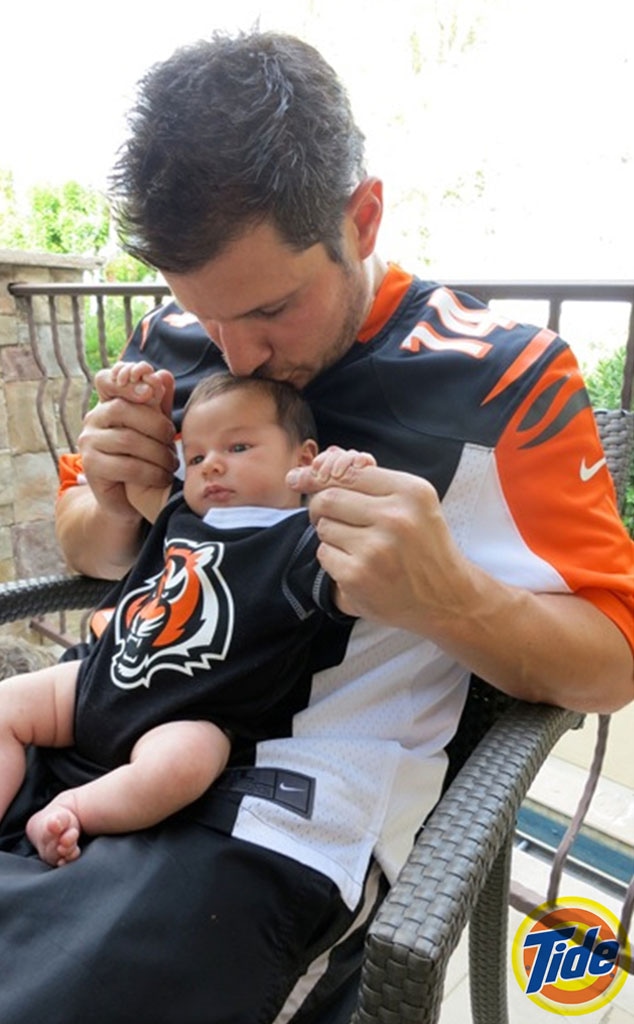 Courtesy: Tide
Excuse us while we coo over Camden John Lachey.
While sitting down for an exclusive chat with E! News, proud papa Nick Lachey also offered up this new photo of him and his month-old son with wife Vanessa Lachey.
Both big and little Lachey are showing their support for their beloved Cincinnati Bengals, dad in a jersey and Camden in his "lucky onesie."
Even when he's out-grown it, "I'll stuff him in," Lachey joked. The 38-year-old Kentucky-born-but-Ohio-bred singer admitted that he's been known to lose his temper during Bengals games, but he's "not as crazy a fan as [he] used to be." 
"I've scaled it back a bit," he said. "I don't want to create a bad example for my son." 
Meanwhile, the doting dad filled us in on how he and the missus came up with the name Camden.
First off, they knew they wanted a little C.J. Lachey running around the house, so their son's name was definitely going to start with C.
They first thought Colin, but Vanessa "wasn't too keen on that," Lachey recalled. Then, realizing that their regular route to the obstetrician's office took them over Camden Drive in Beverly Hills, they said, "What about Camden?"
"We fell in love with it, we picked it and that's where it came from," he said.
And Lachey is loving fatherhood.
"I didn't come in with any expectations other than it would be incredible," he said. "It's a journey, a new surprise, a new experience, a new expression. It's been great."
Asked if there are plans for more kids in the future, Lachey said he likes being a few years older than brother Drew, so "two to three years" from now sounds good to him.
Tune in to E! News on Friday at 7 p.m. and 11:30 p.m. for our full interview with Nick Lachey.