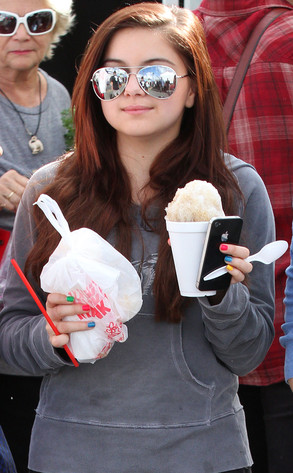 Jeff Steinberg/David Tonnessen, PacificCoastNews.com
Ariel Winter doesn't appear to be letting her real-life family drama dampen her spirits.
The 14-year-old Modern Family star and sister Shanelle Gray were all smiles Sunday at the Studio City farmer's market in L.A. The sisterly outing happened just two days before a hearing on Gray's petition to become Ariel's permanent guardian is set to take place.
Earlier this month, Ariel was removed from mother Chrisoula Workman's care following allegations that the teen had been subjected to physical and emotional abuse. Workman denies these allegations and claims Gray is trying to cash in on her younger sibling's fame.