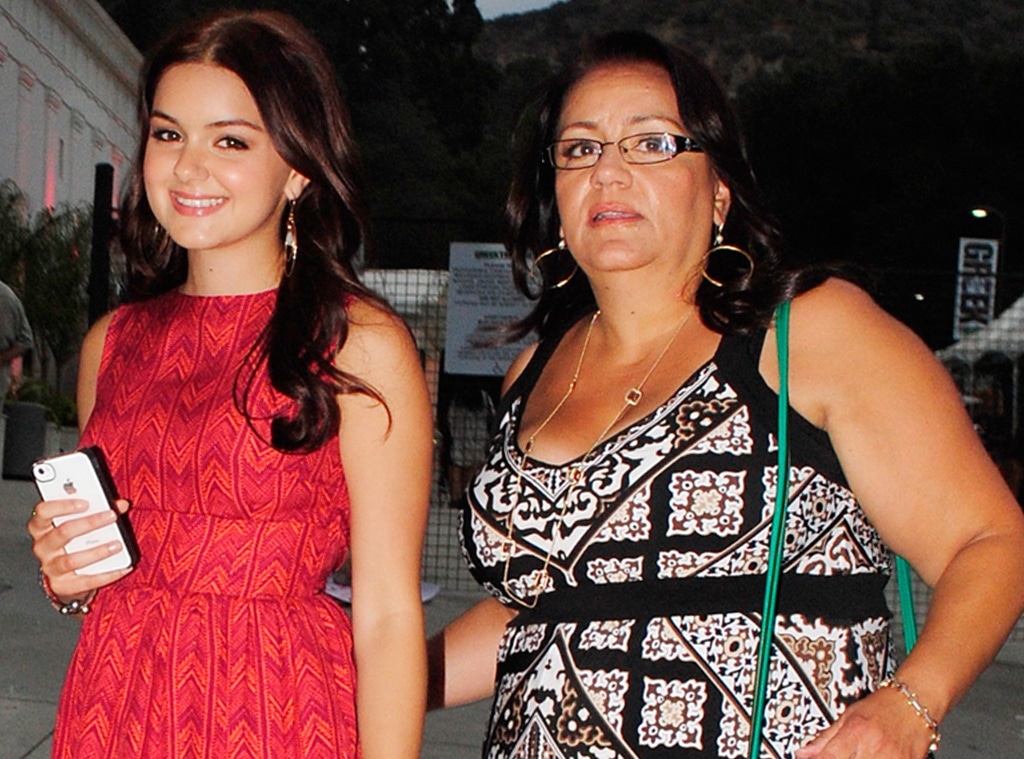 Mr Photoman / Splash News
There's nothing funny about Modern Family funnygal Ariel Winter's family travails.
The 14-year-old has been removed from her mother's care following allegations in court documents of physical and emotional abuse, and now the star's adult sister is seeking permanent guardianship over her sibling.
Police have confirmed to E! News that an active investigation is under way but declined to provide additional details. E! News has also learned that the detective handling the case is with the special victims bureau.
Herewith, a guide to the key players in Ariel's family drama.
Christopher Polk/Getty Images
Ariel Winter: The star, whose full name is Ariel Winter Workman, has been acting in TV and film since she was 7 years old. Since 2005, she's landed a bevy of plum guest-star gigs on shows like Monk, Bones, Nip/Tuck, Criminals Minds and ER, and her voice-over work has perked up everything from Phineas and Ferb to Ice Age to the recent stop-motion gothfest ParaNorman. Ariel shot to fame in 2009 as Alex Dunphy in the Emmy-winning Modern Family, but she's now at the center of a guardianship tug-of-war between her mother and sister over claims of abuse. Reports have also surfaced that Winter's mother is alarmed over her 14-year-old daughter's relationship with 18-year-old actor Cameron Palatas.
Mr Photoman / Splash News
The Mother: Chrisoula Workman: According to a guardianship petition filed by Ariel's sister, the star's mother is accused of slapping, hitting and pushing her daughter, as well allegedly subjecting her to verbal abuse and personal insults. The petition also claims that Chrisoula attempted to "sexualize" Ariel and deprive her of food for extended lengths of time. Chrisoula has vehemently denied the allegations, telling E! News, "I want to say the horrible, untrue accusations are false and ridiculous…I have my doctor's letter that my daughter's never been abused…I have stylists' letters that she's never been abused." She's been ordered to stay away from Ariel until the star's guardianship hearing, which is set for Nov. 20. Things weren't always so bad. Just last May, Winter tweeted this message to her mom: "Happy mother's day to one of the most amazing moms in the world. Mine!:) Love you mommy! Happy mother's day everyone!!!"
The Sister: Shanelle Gray: Ariel's 33-year-old sibling is seeking permanent guardianship over her sister and is currently housing the young star during the ordeal. In her petition, Gray asserts that it's imperative she be appointed Ariel's personal guardian not only to safeguard the star's well-being but because their mother currently receives the paychecks from the teen's TV work and oversees a special account earmarked for Ariel until she reaches adulthood, per California law on child actors. (Her estate is currently estimated at $500,000.) Shanelle is requesting that the actress' paychecks be deposited into to a new bank account that their mother won't have access to. Shanelle declined to discuss the case, telling E! News, "It is not appropriate for me to comment on this." Looks like she may be privy to what Ariel is going through: Sources tell E! News that Shanelle was herself taken out of her mother's home at the age of 12 and placed with her grandmother.
The Brother: Jimmy Workman: An actor himself, Jimmy, who famously starred as Pugsley Addams in the big-screen remake of The Addams Family, denied accusations of abuse leveled against their mother. "Their allegations are not true," he told Entertainment Tonight, before alluding to his sister's purported relationship with Palatas. "This is stemming over a boy that is overage, dating my little sister, and my family had no idea about until the end part of it." He also refuted reports that Shanelle had been similarly removed from their home as a youngster following her own claims of abuse. "I was there 20 years ago. I'm almost 32. That stuff didn't happen," he insisted.
The Father: Glenn Workman: In her guardianship petition, Shanelle—who was appointed Ariel's temporary guardian on Oct. 3—claims that their father is estranged from the star and that he is incapable of properly caring for her. Thus far, Glenn's remained silent throughout the family rancor.
Christopher Polk/Getty Images
The Boyfriend:  Cameron Palatas: The 18-year-old is an actor who stars in the Disney series A.N.T. Farm and has made cameos in TV series like iCarly. Per published reports, he and Ariel have been dating for six months, and back in August, Ariel acknowledged they were an item, tweeting, "And thank you to everyone who is supportive of me and @cameronpalatas. It really means a lot. Love y'all!" Their relationship is, Jimmy claims, at the center of the star's discord with her mother.
—Reporting by Baker Machado and Marcus Mulick