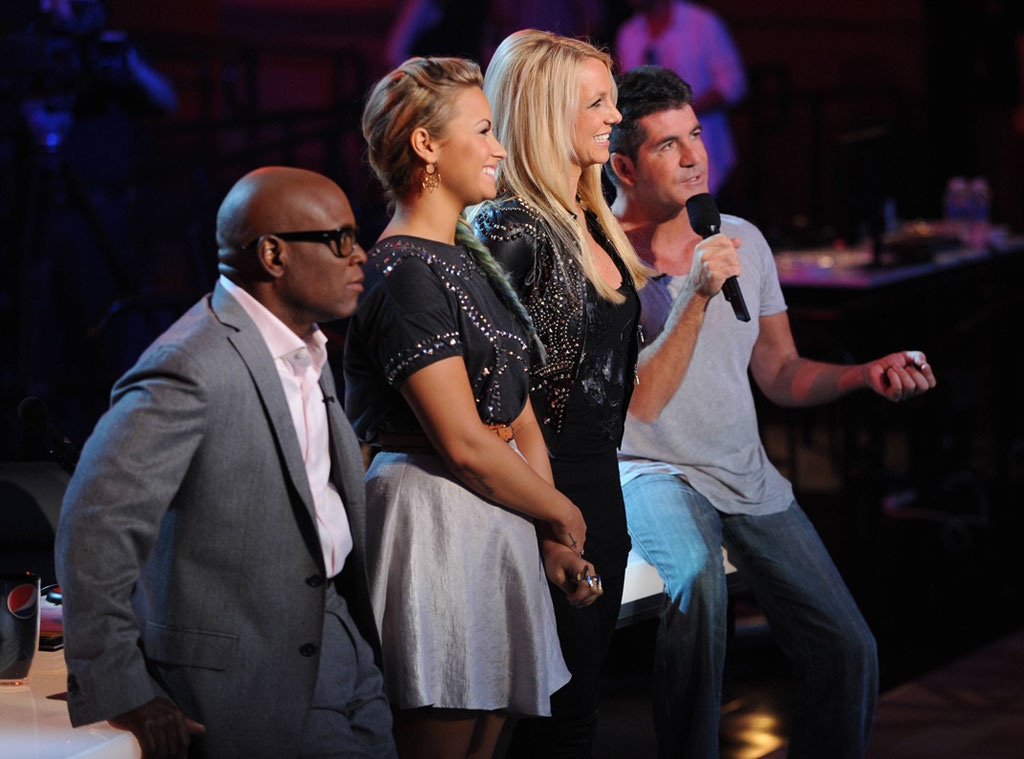 Ray Mickshaw/ FOX
The X Factor wrapped its first week of live shows Thursday night in much the same way it had begun: With all eyes on—and everyone talking about—Britney Spears.
At least it felt that way in the press tent immediately after the show. The pop superstar was the first judge to arrive to speak to reporters, and during her brief interviews, she made it clear that saying goodbye to the first member of her Teen team, 13-year-old Diamond White—-who was one of four hopefuls sent packing during the two-hour episode—-was no easy task.
"She has an amazing voice for such a young age," Spears said. "It was really hard to do that."
But in the end, she went with her gut. "I was looking for that eye of the tiger, that It factor, that someone who just kind of wows you and takes you in," she said, in explaining her decision to keep her smooth R&B crooner Arin Rogers, who was also in Spears' bottom two.
While Spears was, for the most part, all business during her brief chat with reporters, she admitted to having some fun with her fellow judges during the show's commercial breaks.
"We were cutting up jokes," she revealed.
And, if those fellow judges are to be believed, Spears is the one telling most of those jokes.
"I had fun with Britney tonight," said L.A. Reid, who, during one break, even leaned over to smooth some pesky flyaway strands of Spears' hair back into place. (What a gent!)
"The first night, I think she was as nervous as the rest of us," he said. "Then tonight, we were all a little more relaxed, so we talked more, we played more, and she told me jokes and made me laugh."
"She has got quite an odd sense of humor," chimed in Simon Cowell, who said he felt the show's highest-profile judge acquitted herself nicely during the pressure-cooker live shows.
"I think Britney's doing great," he offered. "She's taking the mentoring very seriously. She really understands that she can't just turn up [for the live shows]. She's got to work all week long."
Cowell—who opted to save the soon-to-be-renamed girl group 1432 over his other girl group, Sister C—also had kind words for judge Demi Lovato, whom he likened to "a bratty younger sister," and new cohost Khloé Kardashian Odom, who made headlines (and maybe boosted ratings) thanks to her revealing outfit Wednesday night.
"I thought it was hilarious," Cowell said of his host's ultra-sheer top. "It's your first live show and you don't wear a bra and the studio's freezing? We were all told today [by Fox standards and practices], 'Under no circumstances are you allowed to mention the word 'nipple' [on the air]," Cowell added with a laugh.
For her part, Kardashian Odom was relieved Cowell had (subtly) addressed the wardrobe malfunction on air the night before. "Like, if you didn't talk about it, it would've been weird," said the cohost and Keeping Up With the Kardashians star, who explained that because of Hurricane Sandy, her clothes hadn't arrived in time for Wednesday's dress rehearsal.
"It is what it is," she added. "We all have nipples. But I was like, 'It's my first day. Why did this happen to me and am I gonna get fired?'"
Before Thursday's show, hubby Lamar Odom gave her some valuable advice, she said: "Make sure you're not showing your nipples tonight." (For the record, she didn't; she looked fabulous—and appropriately covered—in an electric-blue mini.)
She also got a bit of advice from her famous fam: "My sisters have already texted me tips, which I love. My sister Kim was like, 'You did amazing, but don't yell [into the microphone] so much.' I love constructive criticism. I've never done this before, and I think I can only get better hopefully."
The eliminated acts exhibited the same positive attitude backstage. David Correy, whom Reid opted to lose while saving Jason Brock, made a point of shaking hands with both his mentor and Cowell backstage, assuring them, "It's all good. It's all love."
Meanwhile, White was all smiles while chatting with the press and said she was confident that "another awesome door" would be opening for her soon, hinting she'd be interested in following in the Nickelodeon footsteps of season-one X Factor finalist Rachel Crow, who was in the studio audience Thursday night.
Meanwhile, Willie Jones, the country crooner Lovato eliminated, has his sights set on conquering many different parts of the entertainment biz. "I'd like to do musicals on Broadway," he revealed. "The Book of Mormon seems pretty cool. I'm into fashion. And I want my own cartoon one day."
And country trio Sister C, whom cohost Mario Lopez called "really hot Dixie Chicks" backstage, held out hope that their Xposure would lead to a call from a Nashville record label.
Regardless, sisters Celbi, Carli and Cirby figured they were leaving the Fox competition at the right time, considering several other contestants had fallen ill the night before. While one report claimed the culprit was food poisoning, Sister C claimed that wasn't the case.
"Apparently, it's either the flu or mono," Celbi said.
"Camila Cabello from [1432] and Drew from Emblem 3 had a terrible day today, bless their hearts," chimed in Carli.
"Right before we were going up onstage [for the results], they were both throwing up," added Celbi. "They were just coming back from being sick."
You'd have never known it from the group's appearances on Thursday's show. Looks like they've already learned one of the golden rules of showbiz: The show must always go on.