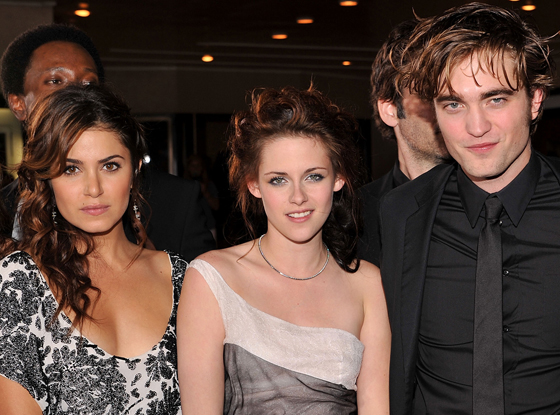 Lester Cohen/Getty Images
PREVIOUSLY: Robert Pattinson and Kristen Stewart grow close during the Twilight shoot. 
______________ 
On May 5, 2008, just days after the shoot wrapped, Twilight had its coming-out publicity party: its first teaser trailer debuted online.
Within 36 hours, the 59-second clip, introducing the world to the sight of a superhuman, super-speedy vampire, had registered 2 million views on MySpace, a then-staggering accomplishment.
The idea that Twilight could be a phenomenon beyond the best-seller list, and beyond the bookstore, was catching on.
Even among the cast. 
Awakening
Like countless others on and off the set, neither Robert Pattinson nor Kristen Stewart had heard of Twilight prior to being approached about the film. Pattinson repeatedly would describe their situation as being in a "little bubble."
But as the shoot ended, and the outside world awakened to Twilight, the bubble burst.
"I know my life is about to change," Pattinson would say in the Chicago Sun-Times. "I've been working, but still it's beginning. I go places and hear, 'It's Edward! It's Edward!'"
Photo by Kevin Winter/Getty Images for St. Jude
Momentum
As the volume grew, so did expectations. Where once the filmmakers denied sequel ambitions, reshoots were scheduled to add more Jacob Black, the Bella Swan childhood pal, played by 16-year-old Taylor Lautner, who figured prominently in author Stephenie Meyer's followup novels.
Where once the film was expected to battle for screens, if not attention, during the thick of the holiday-movie season, it was boldly moved into the high-profile, Nov. 21, 2008, slot claimed by Harry Potter and the Half-Blood Prince before that film was pushed back to the following summer.      
By the time Twilight's red-carpet premiere in Los Angeles arrived, on Nov. 17, 2008, the audience was primed. One guestimate put the number of Twilight faithful at 3,000. Nearly every report put the decibel level at very, very loud.
"It is a little nuts," the black-on-black tuxedoed Pattinson told Access Hollywood that night. "It's been like this for a week now. I've gone deaf."
Meanwhile, across the country, thousands of opening-day screenings were selling out, and untold number of viewing parties were being scheduled via Facebook.
Still, box-office watchers openly fretted about what to make of the low-budget vampire flick. Would it play only to Meyer's readers? And if so, were they enough to make it a hit? Could you put a movie with franchise potential on the shoulders—and purses—of teen and tween girls and their moms?
To be sure, fan fervor didn't always equal box-office success. In the two years before Twilight came out, The Golden Compass, based on Philip Pullman's popular young-adult books, and Aragon, from the Christopher Paolini dragon series, both had failed to spark with audiences.
The earliest returns on Twilight, however, were encouraging: The movie made $7 million alone from opening-night midnight screenings. "Clearly, it wasn't all hype," BoxOfficeMojo.com's Brandon Gray told Reuters. 
As the opening weekend wore on, the impressive statistics mounted: a mind-boggling $36 million opening day; and, all told, a nearly $70 million opening weekend that ranked as one of Hollywood's top 30 all-time debuts for the time.
It was official: Twilight was a blockbuster.
"I don't know how, it just explodes so quickly," Pattinson would say in London's Telegraph. "It takes seven months to take hold—it's like a virus."
And the fever was spiking.  
NEXT: A behind-the-scenes shakeup throws New Moon a curve—and puts Taylor Lautner's future in doubt.