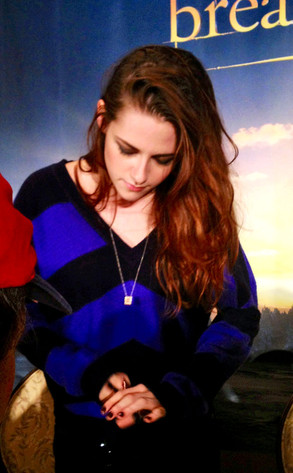 Spoiler-phobes, step away from your computer immediately. We'll try to keep the secret details of the final Twilight Saga film, Breaking Dawn Part 2, to a minimum, but we've discussed the final scene with Kristen Stewart. And it's a heck of a scene.
The final minutes of the movie are a poignant love letter of sorts to Edward and Bella, the vampire couple at the center of this love story for five films now. So what was K.Stew's reaction to watching it for the first time?
"Yeah, no. Yeah no," she told us at today's press conference for the film. "I actually saw it a while ago and it...I wish I had a better way of saying it, but it's crazy. It's so crazy. You typically just don't get that opportunity to look back and I saw it again recently, I just saw the final cut and nope. It was a really good thing that no one was around."