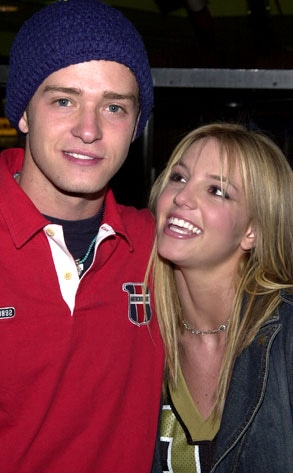 Dimitrios Kambouris/WireImage.com
Quick, hide the Internet from Britney Spears!
The pop star's breakup with longtime boyfriend Justin Timberlake a decade ago left Britney depressed and angry, the beginning of a downward spiral that included impulsively marrying a childhood friend in Las Vegas and drug use, an attorney for the Spears family said today in his opening statement in the defamation and breach-of-contract case brought against Britney and her parents by her ex-manager Sam Lutfi.
Britney's relationship with onetime fellow Mouseketeer Timberlake "ended painfully," attorney Leon Gladstone contended, after which her parents, Jamie and Lynne Spears, noticed a change in their daughter.
"This is a story of a close family, but not a perfect one," Gladstone began his opening remarks, a day after Lutfi's attorney painted his client as a former confidant of Britney's who tried his best to keep her off drugs and on one occasion discovered a bag of crystal meth in her house with the help of drug-sniffing dogs.
"It's a story," Gladstone continued, "of a man who actually wanted nothing more for his daughter than to live and be well. It's a story of a father who has had to step up and take action that he never thought he would have to take....actions that didn't perhaps endear his daughter to him."
Jamie Spears ultimately had to "force his daughter into rehab," counsel said. "He had to take her kids away. He had to get her into a conservatorship."
Britney underwent treatment at Promises in Malibu in early 2007 and ex-husband Kevin Federline was awarded primary custody of their sons, Sean and Jayden, that October. The conservatorship was established in February 2008 after Britney had been briefly hospitalized twice for psychiatric issues at UCLA Medical Center.
At the same time, Jamie took control of his daughter's estate, he and ex-wife Lynne (they have since reconciled, according to Gladstone) got a three-year restraining order against Lutfi, who they have accused of manipulating their daughter and marshaling the paparazzi's surveillance of her during the months he became her near-constant companion.
In 2004, Britney tied the knot with childhood pal Jason Alexander on a whim; the marriage was annulled 55 hours later. Her "bizarre" behavior led to her estranging herself from her parents, who soon after realized she was abusing drugs, Gladstone continued in court today.
Britney's whirlwind marriage to backup dancer Kevin Federline later that year actually came as a relief to Jamie, who looked at it as the beginning of a calm period in which the beleaguered star also had her two sons, Gladstone said.
But November 2006, when she filed for divorce, "was actually the beginning of the worst period of Britney's life."
Britney's manager Larry Rudolph called Jamie out in Louisiana and told him he suspected the singer was using drugs again. When Jamie arrived in L.A., Britney had shaved her head, Gladstone recounted.
According to the attorney, Jamie told her, "You are going to kill yourself or one of your kids," and that's when he pushed her to go to rehab. Britney flew to Antigua for treatment, but flew right back. Then she checked into Promises, but left after a day, prompting Federline to start proceedings to get permanent full custody of the boys. Finally, she returned to Promises for a full month, but when she left at the end of February 2007, she wasn't talking to Jamie and Lynne, Gladstone said.
"To Jamie, this was a life and death battle," he said, "and Britney at this point was at her most vulnerable—and at the point that she is at her most vulnerable, she meets Mr. Lutfi."
Lutfi, whose attorney said yesterday that he tried to get Britney to reconnect with her parents, started texting Jamie, contact the elder Spears didn't want, Gladstone said. 
"Meanwhile, Britney is going from bad to worse," Gladstone continued. "She is at Rite Aid at 2 a.m. surrounded by paparazzi, and we have now heard these were arranged in advance as photo ops." (Lutfi has claimed that he would text photographers ahead of time so that the inevitable scrum around Britney would be more organized.)
That October, she lost custody of her kids and Jamie was becoming "more and more scared" due to what he was hearing about Lutfi, Gladstone said. Britney's dad started looking into a conservatorship then, but legally he didn't have grounds at the time.
But in January 2008, Britney locked herself in the bathroom with Jayden one night, and paramedics and police were called to the house. She was taken by ambulance to UCLA and, when her parents arrived, she was strapped to a gurney and "belligerent," Gladstone described.
Jamie stayed with Britney in the hospital for three days, during which time she "didn't sleep a wink," the lawyer continued. "He is trying to do everything he can to save her life."
Britney was released, but didn't seem any better. On Jan. 28, 2008, Jamie got a phone call saying Lutfi had pushed his daughter out of the car while driving her to her house in the gated Summit community of Beverly Hills. (Lutfi has maintained that Britney suddenly jumped out without warning.)
Jamie and Lynne drove over to the house separately, Gladstone said, and, it being the first time he had ever seen Lutfi in person, Jamie told him to stay away from Britney and get out of their lives. "He touched him one time," the attorney said, after which Lutfi backed away saying, "He hit me, he hit me!" It was also then that Lutfi told Jamie he had been grinding up pills to put in Britney's food, saying it was the only way to keep her on her medication.
In addition to defamation against the Spears and breach of contract against Britney, Lutfi is suing Jamie for battery, alleging he hit him in the stomach.
"Did he touch Mr. Lutfi? Yes. Did he punch Sam Lutfi? No," Gladstone said, noting that Lutfi never reported any incident to police. "As far as Jamie Spears was concerned, he was in the business of life and death."
Britney ended up hospitalized on another 5150 psychiatric hold in the early morning hours of Jan. 31, after which Jamie established the conservatorship and he and Lynne filed for a restraining order against Lutfi.
Joel Boxer, who is representing Britney in the lawsuit, told the court that Lutfi was "totally unqualified to manage a superstar." 
Lutfi did sign a contract as her manager, Boxer said, but he "did not earn a dollar for Britney" and his claim that she orally agreed to give him 15 percent of her earnings is outrageous. Lutfi never followed up with Britney's money manager to complain that he wasn't getting paid and he never provided them with his social security number, Boxer said.
"Sam Lutfi tried to take advantage of a very vulnerable Britney Spears," Boxer told the jury. "Whether he gets away with it is a chapter to be written by you, ladies and gentlemen."