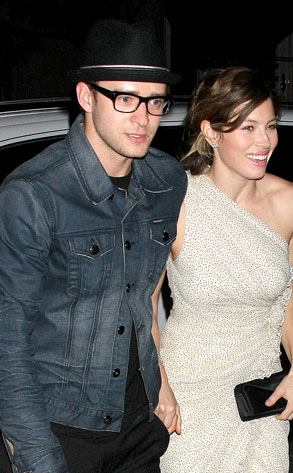 Dara Kushner/INFphoto.com
Justin Timberlake and Jessica Biel are husband and wife!
E! News has confirmed that the longtime couple kept us guessing for years, but said arrivederci to singledom today by tying the knot in front of family and close friends at the Borgo Egnazia resort in the southern Italian city of Fasano.
"It's great to be married, the ceremony was beautiful and it was so special to be surrounded by our family and friends," the newlyweds said in a statement to People.
Jimmy Fallon and his wife, Nancy Juvonen, Andy Samberg, Timbaland, Biel's 7th Heaven sister Beverley Mitchell, and Timberlake music manager Johnny Wright and his wife, Erika, were among the VIPs in attendance.
The festivities kicked off a few days before the I-dos, with those who had already arrived in Italy gathering for a casual beach party on Wednesday night and then piling into a caravan of cars the following day for dinner and drinks in Trappeto.
Private security was tight everywhere the wedding party went, while a source told E! News that the guests were asked to sign nondisclosure agreements to ensure that the details of the TimberBiel nuptials stayed private for as long as possible.
We knew this day was coming, though. Wedding preparations were underway and Timberlake, 31, had jetted off to Las Vegas and Cabo San Lucas with a bunch of buddies—who kindly provided the striptease—to celebrate his final days of bachelorhood last month.
Asked how the wedding planning was going, the 30-year-old bride-to-be told E! News earlier this month that she was keeping it together.
"I'm just pretty much cool as a cucumber in general in my life, so...I'm cool."
And we imagine that's just the way Timberlake likes her—although he probably appreciates how hot she is, too.
(Originally published on Oct. 19, 2012, at 11:12 a.m. PT)