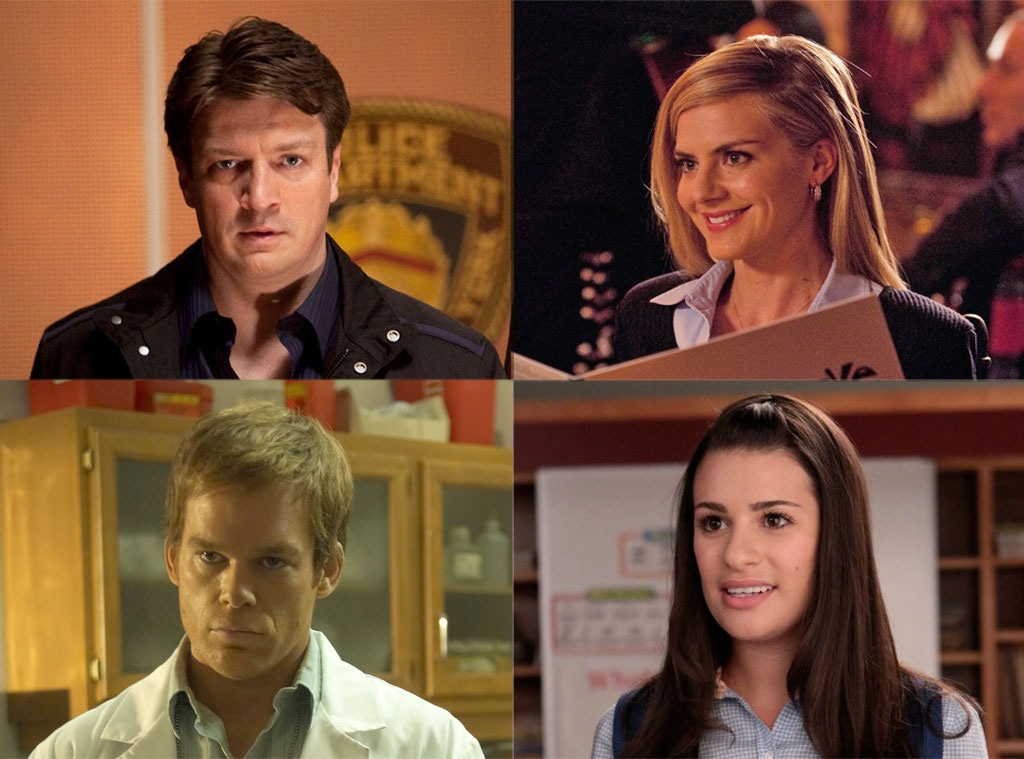 Showtime; FOX; ABC
Two pieces of Glee scoop in one week? And it's about Finchel again? No, you're not in heaven. You are in Spoiler Chat!
Lucky for you, TV fans, we've got info on a bunch of other shows, too. Downton Abbey is still months away from returning, but that doesn't mean we can't share some tidbits straight from Elizabeth McGovern. And if you are one of the many millions who watched the Revolution premiere, you might wants some scoop on what's coming up, which we've got. All that, plus Castle, Dexter, Happy Endings and more in today's Spoiler Chat:
@breathofair7: Is there any hope for Finchel? Even a tiny little bit?
When we chatted with Glee's Lea Michele at the Nylon Magazine and Sony X headphones event for the mag's annual TV issue, we asked her who she thought Rachel would be better with at this stage in her life. Her answer was…intriguing, to say the least. "I think it might be interesting to see Rachel alone for a while," Michele tells us. "I think that Rachel and Finn are meant to be. I'm a Finchel forever fan, obviously, but I think it's interesting seeing her with guys. and I think Brody is a cool pair for her because he's really confident in his own skin and he's more like Rachel than Finn is, but I really think it'd be interesting to see her just single in the city." There's not many better places to be single than New York City. You get yours, Rachel Berry
B.C.: I just finished all of Downton Abbey and I am dying for scoop!
Elizabeth McGovern tells us what to expect when it comes to Cora's relationship with her mother, played by Shirley MacLaine. "I think that Cora is very fond of her mother. There is not a lot of tension between them," she says. "She's protective of her when she comes over, too, because she's facing this somewhat suspicious cold front, which is her English family that Cora is now used to and has learned how to manipulate or to live amongst. So I think she is very sensitive to how it must be like for her mother to enter into this atmosphere that she has grown used to." Sounds like a delicious new season, no?
Emily H.: Dexter scoop? Can't wait for the new season!
Ready for the best episode title ever? Dexter's season (possibly series?) finale is called: "Surprise, Motherf--ker!" Awesome sauce.
Sammie: I'm loving Revolution! Got any spoilers on what's coming up?
You're not the only one digging J.J. Abrams' new postapocalyptic drama: In its Monday premiere, Revolution attracted 11.7 million viewers, making it the biggest drama debut on NBC in five years! And, according to star Giancarlo Esposito, who plays the seemingly scary Captain Neville, things are going to really start getting interesting in upcoming episodes—even if he wouldn't tell us exactly what those interesting twists were. "I know some things that might happen," he coyly told us. "I know more about some personal relationships that Captain Neville has with other characters in the show that the audience would be very surprised by."
Gabby in Cleveland: I miss Happy Endings. Cheer me up with some spoilers!
How about some Christmas cheer? Happy Endings' holiday episode, titled "No-Ho-Ho," is going to be a sad one. There are no deaths planned, of course, unless you count the death of happiness! Jane's birthday happens to fall on Christmas, and she's constantly upstaged by the holiday season. So, because she's Jane, she'll take part in a support group of sorts with others who deal with a Christmas birthday, too.
Dianna: Castle scoop! Not involving Castle and Beckett…I want happy scoop!
So you know how Castle is doing a Firefly-esque tribute in an upcoming episode? Sounds like they are currently casting for…well, Nathan Fillion! Gabriel Winters is described as an actor who quickly rose to fame playing Captain Max Richards on a hit sci-fi series. Of course, unlike Fillion, this leading man spiraled out of control after his show went off the air with booze and one-night stands. Castle's Firefly-themed episode, titled "The Final Frontier," is the seventh episode of the new season.
Tessa in Los Angeles: Cougar Town won't be back until January? That's pretty awful. What can we expect when it comes back?
How about a flashback? Nobody does those better than comedies. Cougar Town is planning a flashback to Travis' childhood, and it won't be a happy trip back in time. It involves a mechanical horse. We'll let your imagination go from there.