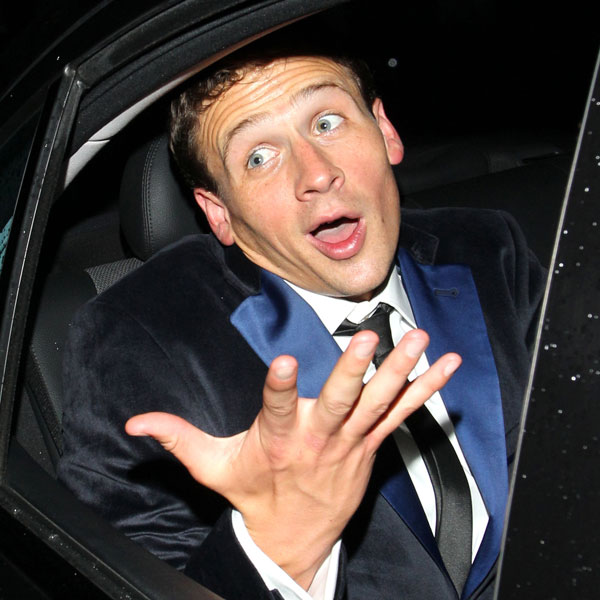 Ringo, PacificCoastNews.com
Now that the Olympics are over, when will we see Ryan Lochte again?!
Although the swimmer confirmed that he'll be back to compete in the 2016 summer games in Brazil, we have a feeling that we won't have to wait that long to see this breakout Olympian potential reality TV star.
But until that moment comes, let's reminisce on some great Lochte moments from the last two weeks—JEAH!
1. Medal Man: Lochte became a force to be reckoned with the summer games, earning himself a total of five swimming medals throughout the 2012 Olympics.
2. Michael Phelps Rival: Relax, these two are buddies, but there was definitely some friendly competition going on after one of Ryan's golds was earned when he beat Phelps in the men's 400 meter Individual Medley. Phelps got fourth.
3. Showin' Off His Grill: Wearing a medal around his neck wasn't enough. Lochte flashed his American flag-lookin' diamond-studded grill (made by Paul Wall) after receiving the gold (and after he stepped off the podium, of course).
4. His Surprising BFF: The grill wearers stick together, apparently. Turns out that Lochte and rapper Lil Wayne are friends, after the Olympic swimmer and hip-hop artist exchanged tweets about coordinating a skate sesh together.
5. S#!t His Mom Says: Now we know where Lochte gets his charm. The 28-year-old's mother let the cat out of the bag when she said during an interview on Today that her son "goes out on one-night stands." He corrected mother dearest, by telling E! News that she meant he goes on a lot of dates.
6. Speaking of Sex...: The swimmer estimated how much naked play was going on in Olympic Village, by saying, "I'd say it's 70 percent to 75 percent of Olympians" doing the deed during the games. And with looks like his, we're not leaving him out of that statistic.
7. Fluent in the Language of JEAH: Oh, you didn't know Ryan was bilingual? Yeah, his coined phrase "jeah" can actually double for statements and phrases. If you need help deciphering what they each mean, just watch this. 
8. His Own Army: Lochte has officially entered the same circle as Twitter greats Justin Bieber and Lady Gaga—not so much because of his number of followers, although passing a million is impressive—now that he has a name for his little army of fans. And that would be, Lochtenation.
9. Honesty Is the Best Policy: Ryan admitted that he pees in pools. That's really all we have to say.
10. Line Up, Ladies: Attention women! Lochte told us that he is looking for that special someone to give his heart to, and that could be you!
11. Suited & Booted: The birthday boy celebrated his 28th while participating in the games, and celebrated with family and friends in a private room at Planet Hollywood.
12. Get Ready to Call: The hit song that's caught all of Hollywood by storm made it's way to the Olympics. Lochte (shirtless), along with other Olympians, put together a "Call Me Maybe" video for fun, and it was amazing.
13. Made for TV: That face won't be a stranger any time soon. Although the summer games are over, Lochte's agent has shared that the Olympians has various reality TV offers (but wouldn't specify what) on the table. Ryan will also be making his acting debut in an upcoming Funny or Die video! 
14. Hip-Hop Entourage: Since Weezy couldn't be in attendance, Lochte was snapped with another rapper friend, Ludacris, while watching Team USA's men's basketball team take on Argentina.