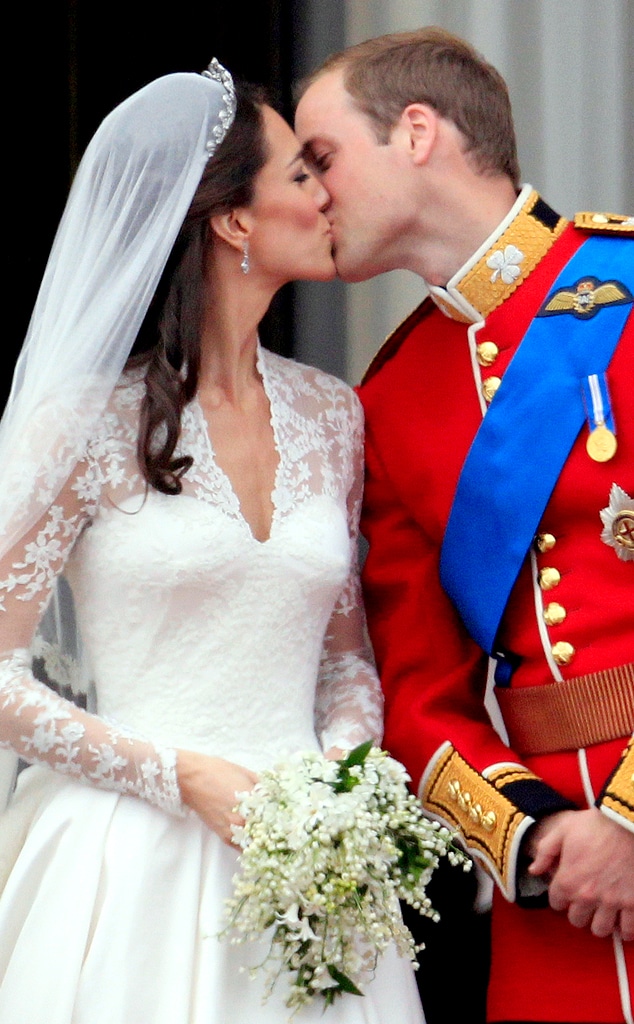 AP Photo/Matt Dunham
Can you believe it was nearly one year ago that the world pulled a collective all-nighter fueled by tea, digestives and sticky toffee pudding (what, just us?) to watch Pippa Middleton's bum William Arthur Philip Louis Windsor tie the knot with Catherine Elizabeth Middleton?
Well, believe it, because Sunday, April 29 marks the first wedding anniversary of Prince William and Kate Middleton, and a lot has happened since their love story enraptured the world.
And just in case you can't remember a time before Princess Beatrice's fascinator assaulted your fashion senses, or before you knew the name Sarah Burton, we've compiled a list of highlights from the royal newlyweds' first 12 months together. So let's take a walk down memory lane, shall we?
April 29, 2011: They do! Will and Kate are redubbed the Duke and Duchess of Cambridge, and swap vows in front of their friends and family…and a few hundreds of millions of oglers around the world.
May 10, 2011: And they're off! After biding their time to allow Will to return to work (and the world's intense focus on them to wane…yeah, right) the couple head off on a not-so-secret honeymoon to the Seychelles. After 10 days—during which, miraculously, no photos of the couple emerge—they return to their quiet lives in North Wales.
May 24, 2011: The royal newlyweds engage in their first royal duties as a couple, and it's a doozy—greeting President Barack Obama and first lady Michelle Obama at Buckingham Palace. Just a few photos of the event are released, and Kate's fashion power is already in full effect, as the high street dress she wore, from Reiss, is a quick sell-out.
June 4, 2011: Family outing time! The duke and duchess, along with the royal family's new No. 1 bachelor, Prince Harry, make their way to the Epsom races to cheer on the horse of Queen Elizabeth. Already a public favorite, onlookers are overheard chanting Kate's name.
June 6, 2011: Moving on up: Will and Kate choose Kensington Palace as their temporary home base while in London, famously the digs that Will and Harry grew up in with their late mother, Princess Diana.
June 9, 2011: Talk about getting royally screwed. It emerges that Middleton, in the days before she was a royal, was among the hacked victims of the News of the World. They messed with the wrong newlywed.
June 2011: The world is spoiled for sightings (and fashion inspiration) as Will and Kate make a series of royal appearances, for Queen Elizabeth and Prince Philip's birthday celebrations. Way to represent, guys.
June 27, 2011: Love, all: in between fulfilling their royal duties, the couple finds time to head down to Wimbledon, taking their courtship courtside much to the delight of their fellow sports fans.
Chris Jackson/Getty Images
June 30, 2011: Oh, Canada! Will and Kate begin their appearance-packed whirlwind North American tour in the commonwealth. Tree-planting, boat racing, citizenship swearing-in and cowboy hat-wearing. They truly did it all.
July 8, 2011: The regals have landed! Will and Kate touch down in Los Angeles for the tail-end of their tour, where they rubbed shoulders with the A-list elite at the BAFTA Brits to Watch gala, played polo and any number of other photo-worthy activities.
July 19, 2011: It takes a while to pack when you're not only moving houses, but palaces. After a little wait, the couple formally takes up residence in Kensington Palace.
July 30, 2011: William and Kate once again find themselves at a much-watched royal wedding, though this time they're simply guests watching Wills' cousin Zara Phillips tie the knot. And they manage to get in a little one-on-one time.
Aug. 19, 2011: It's not all fun and games. In the wake of the devastating London riots, Will and Kate take a tour of the deadly Birmingham site and visit victims' families.
Sept. 20, 2011: Amid speculation, the palace confirms that part of Kate's low profile is down to the fact that she has indeed been getting princess lessons of some sort, receiving private coaching and training in a series of rigorously designed meetings and tutorials designed to help her take on her new official role in the palace and prepare her for life in the public eye.
Sept. 29, 2011: Those lessons paid off! Will and Kate make the rounds at the opening of a children's cancer center, the Oak Center for Children and Young People at the Royal Marsden Hospital, of which the prince is patron. Later, she doubly impresses when she sends a personalized note to one of the young leukemia patients she met with during the visit.
Oct. 5, 2011: Kate aligns herself with her first charity, giving her first royal patronage (unsurprisingly) to the Foundation of Prince William and Prince Harry.
Paul Burns/Clarence House/Getty Images
Oct. 14, 2011: Still on the do-gooder track, the young royals make another appearance, this time by serving as the guests of honor at the 100 Women in Hedge Funds gala, a private gala honoring female entrepreneurs on the grounds of St. James's Palace. The event earns a whopping $1 million in one night.
Oct. 26, 2011: Will and Kate announce that they will be heading to Copenhagen early next week in order to meet with UNICEF and the Danish royals in order to show their support for the work the emergency relief organization is doing to help the devastating famine victims of East Africa.
Oct. 27, 2011: Just about six months on, and Kate's transformation to royal seems complete. After Prince Charles is forced to back out of hosting a formal charity dinner, Kate steps in as his last-minute replacement, marking her first time representing the royal family on her own. She passed with flying colors. As if there was ever any doubt.
Oct. 28, 2011: The couple that makes history together...after a hard-fought battle, the British government unanimously agreed to change the rules of British succession and allow the couple's first-born—be they a son or daughter—to assume the throne. So get cracking, you two.
October 2011: Home sweet...palace? Will and Kate announce that they will make Kensington Palace their permanent homebase in London, and most likely move into a 20-room, four-story apartment on the grounds once renovations are completed in mid-2013. Currently, they dwell in more humble (though, it should be noted, still palatial) digs on the property.
Nov. 4, 2011: And lo, after just over six months of married bliss, Bumpwatch: Royals Edition begins. Kate's decision to decline tasting peanut paste during a goodwill UNICEF mission with Wills in Copenhagen is the legume refusal heard 'round the world, with overly concerned royal watchers speculating that Kate must therefore be pregnant. When she had the gall to place a hand on her (non)tummy a few days later, all international hell nearly broke loose. The tabloid storms eventually quelled and six months later, she has no more of a babybump than she ever did. Still, lesson probably not learned.
Nov. 10, 2011: Break out the black ties, Will and Kate turned up the glam by jointly hosting a glam reception for the National Memorial Arboretum Appeal, an organization of which the duke is a patron. A few days later, the couple continues their tour of do-gooding, joining senior royals to lead a two-minute silence on Remembrance Day.
John Stillwell- WPA Pool/Getty Images
Nov. 29, 2011: After a few weeks out of the spotlight, Will and Kate reenter the public domain for the kickoff party of Queen Elizabeth's Diamond Jubilee Year celebrations.
Dec. 1, 2011: Will and Kate (and Harry) are called upon to harness their inner Sporty Spices, as they're officially announced as ambassadors to both the 2012 London Olympic Games and the Paralympics when they kick off in the capital city next summer.
Dec. 6, 2011: Ain't no party like a Prince's Trust party! The duke and duchess attend a concert at the Royal Albert Hall to benefit the family foundation. Proceeds from the event, which the couple watched unfold from their perch in the royal box, went to rebuild neighborhoods devastated by last summer's riots.
Dec. 19, 2011: The ever dapper duke and duchess once again don their finest black-tie clobber to support the troops and call out instances of wartime heroism at the Night of Heroes: Sun Military Awards. David Beckham and Gordon Ramsay attended alongside the royals.
Flynet UK/FameFlynet Pictures
Dec. 25, 2011: Like all senior royals, Will and Kate spent Christmas day at Sandringham, the queen's Norfolk estate, with the other members of their noble party. The next morning, on Boxing Day, the duo was joined by Kate's sister Pippa, and the following week, the merry party made their way back to Kate's folks' home in Bucklebury.
Jan. 1, 2012: Happy New Year! The royals rang theirs in in style (aside from that whole dead body found on the queen's estate thing), playing around with their new black puppy Lupo at the Middleton homestead.
Jan. 4, 2012: At long last, Kate reveals her list of charity patronages. The lucky recipients of her considerable favor: Action on Addiction, East Anglia's Children's Hospices, The Art Room, the National Portrait Gallery and, of course, The Prince's Trust.
Jan. 8, 2012: The couple grace the red carpet while attending their first ever joint royal movie premiere of War Horse. Later, it's revealed that Kate shed a tear (or 20) during the film. Princess of wails, anyone? Curse you, Steven Spielberg!
Jan. 9, 2012: Kate turns 30! Safe to say 29 was a bit of a whirlwind year, and Middleton spent her birthday quietly with the duke. So what do you give the girl who has everything? A specially commissioned oil painting, apparently, as that's one of Wills' reported gifts to his missus.
Jan. 20, 2012: While the duke's away...Kate will play! Though Wills is busy working, Kate takes time out to abscond to Mustique for a private vacation with the rest of the Middleton family. Trouble in paradise? Not hardly. He later joins up with them.
Feb. 2, 2012: Absence makes the heart grow fonder? Better hope so. Wills begins his six-week deployment to the Falklands to complete his Royal Air Force search-and-rescue helicopter training. Like all officers' wives, Kate is not allowed to accompany him.
Chris Jackson - WPA Pool /Getty Images
February-March, 2012: No matter! Kate makes herself perfectly busy, embarking on a series of solo royal engagements in the U.K., beginning with her first ever unaccompanied outing, a private viewing at the National Portait Gallery. In the following weeks, she also spent Valentine's Day visiting Liverpool charities, having a girls' day out tea with the queen and Camilla, and taking the first of several whistlestop tours of the U.K. with the monarch.
March 15, 2012: Games on! In an Olympic-hyping event, Kate makes a private visit to London's Olympic Park where she met up with several members of Team GB and even showed off some skills of her own while goofing around with the women's hockey squad. She shoots, she scores...more besotted fans.
March 17, 2012: The luck 'o the Irish is definitely with her! A still solo Kate, dressed in head-to-toe green, naturally, and passed out shamrocks to dozens of Irish Guards of the 1st Battalion. It was her first ever solo military engagement, and she was lent a shamrock brooch belonging to the late Queen Mother to mark the occasion.
March 19, 2012: As firsts go, this is a big one. No longer content to be seen and not heard, Kate delivers her inaugural public speech as a member of the royal family at one of her patronages, the East Anglia Children's Hospice.
March 21, 2012: Reunited and it feels so good! After six weeks apart, Prince William is reunited with Kate, returning home from his deployment in the Falklands. The duo spend several days together out of the private eye before Will resumes his RAF training in North Anglesey, Wales.
April 3, 2012: Wax job alert: well, they've officially made it. New York's Madame Tussauds unveils the waxy likenesses of the royal newlyweds and surprise, surprise, they ain't half bad.
April 25, 2012: Will and Kate fly the flag for the British film industry once more, turning up for the London premiere of the documentary film African Cats.
April 26, 2012: Double duty alert! A royals' work is never done, and these two took their latest double-header engagement in stride, attending an army reception and launch of the Imperial War Museum Foundation's campaign to create new First World War galleries.
April 29, 2012: Will and Kate celebrate their one-year wedding anniversary! Congrats you two! Here's to many more.
Catch Kate & Will: Happily Ever After on April 27 at 9 p.m. hosted by Giuliana Rancic only on E!
(Originally published in honor of Will and Kate's six-month anniversary on Oct. 29, 2011 at 8:00 a.m. PT)