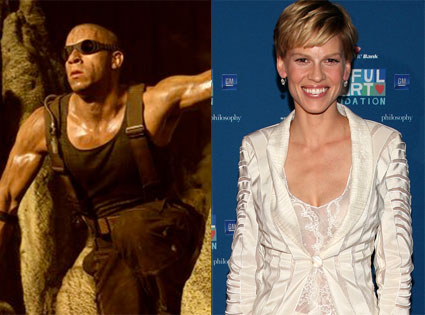 Universal Pictures, Jason Kempin / Getty Images,
Apparently over that whole Pacifier interlude, Vin Diesel wants to blow things up again. The 41-year-old thesp is ready to resurrect his ass-kicking sci-fi antihero Riddick, reteaming with writer-director David Twohy for a pair of sequels to 2000's Pitch Black and 2004's The Chronicles of Riddick.
"The only question is whether we take a page from the Lord of the Rings guys and try to shoot the two chapters at the same time," Diesel tells MTV, adding that the new flicks "would answer Pitch Black in the same way that Lord of the Rings answered The Hobbit."
Hilary Swank has snapped up the film rights to the chick-lit novel Something Borrowed and its sequel for a potential starring vehicle, per Variety. The soapy saga centers on a self-professed good girl who ends up sleeping with her best friend's fiancé.
Real-life spouses David Mann and Tamela J. Mann of Tyler Perry's film Meet the Browns are set to reprise their roles in a TBS sitcom version developed by Perry. The cable channel has ordered 10 episodes of the show, which it plans to syndicate as a spinoff to Perry's House of Payne, TBS' all-time highest-rated original sitcom. Perry will pop up in one ep as his beloved, no-nonsese Medea.
Jesse James, best known for Monster Garage and being Mr. Sandra Bullock, has been signed by Spike TV for 10 episodes of Jesse James Is a Dead Man. The series will feature James partaking in potentially deadly stunts. His life is in jeopardy beginning in February.
Blythe Danner (aka Mother of Gwyneth) will guest in NBC's Medium as a mother whose adult daughter is missing. The Patricia Arquette-starring show returns in the midseason.