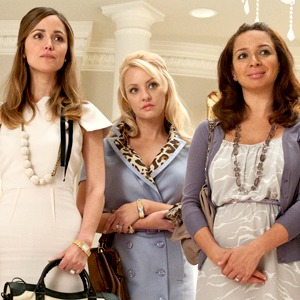 Universal Pictures
Take note, Hollywood: Girl power kicks some serious bootay.
Which, ya know, we've only been saying since forever. But director-slash-producer extraordinaire Judd Apatow, who excels in making flicks generally featuring funny men, is crowning a new box-office champ.
J's latest box office blitz, Bridesmaids, has proven that a female-fueled laughfest can be just as successful as Seth Rogen getting stoned or Steve Carell getting his chest waxed. Even more successful, actually:
'Cause Bridesmaids is well on its way to becoming not only Apatow's highest-grossing film (ahead of baby-mama-drama über-hit Knocked Up) but also Universal's top R-rated comedy.
Let's hear it for the ladies!
As of Tuesday, Bridesmaids has racked up a romping total of $148 million beating out Talladega Nights: The Ballad of Ricky Bobby (which garnered $142 million) and sitting just shy of Knocked Up. And the wedding gifts keep on pouring in.
By next week, Bridesmaids is also expected to dethrone Sex and the City for the most successful R-rated female-led comedy of all time. Wonder what Carrie Bradshaw and her Jimmy Choo-lovin' crew would have to say about that?
But enough money biz, let's talk sequels.
Now that Kristen Wiig, Maya Rudolph and the rest of the flick's LOL-worthy ladies have shown that, duh, comedies centered around women actually make quite a bit of dough, we're positive we will see a second installment in the Bridesmaids series.
While we're sure K.W. and her writing partner are already scribbling away at a script, here's an idea: Center it on Annie tying the knot with her hunky officer BF (played by Irish scene stealer Chris O'Dowd). Easy enough, right?
Hopefully it won't go the way of Hangover Part 2 tho, where the plot was lame, the jokes were the same as the first film and the laughs came few and far between. We know there are plenty of unexplored escapades for these women (and maybe a few new faces) to fill a second go.
And by "unexplored escapades," we do not mean a lame trip to Abu Dhabi, in case Kristen and Co. were looking to the SATC sequel for tips. Though we're sure they're not (sorry, Sarah Jessica!).
Otherwise, we can't wait!
And we also can't wait to see more chuckle-worthy chicks dominate some comedies real soon. We hope H'wood will take a cue from this coup-de-box-office hit and invest some serious moolah in making more flicks with women at the forefront.
It seems to be working after all.