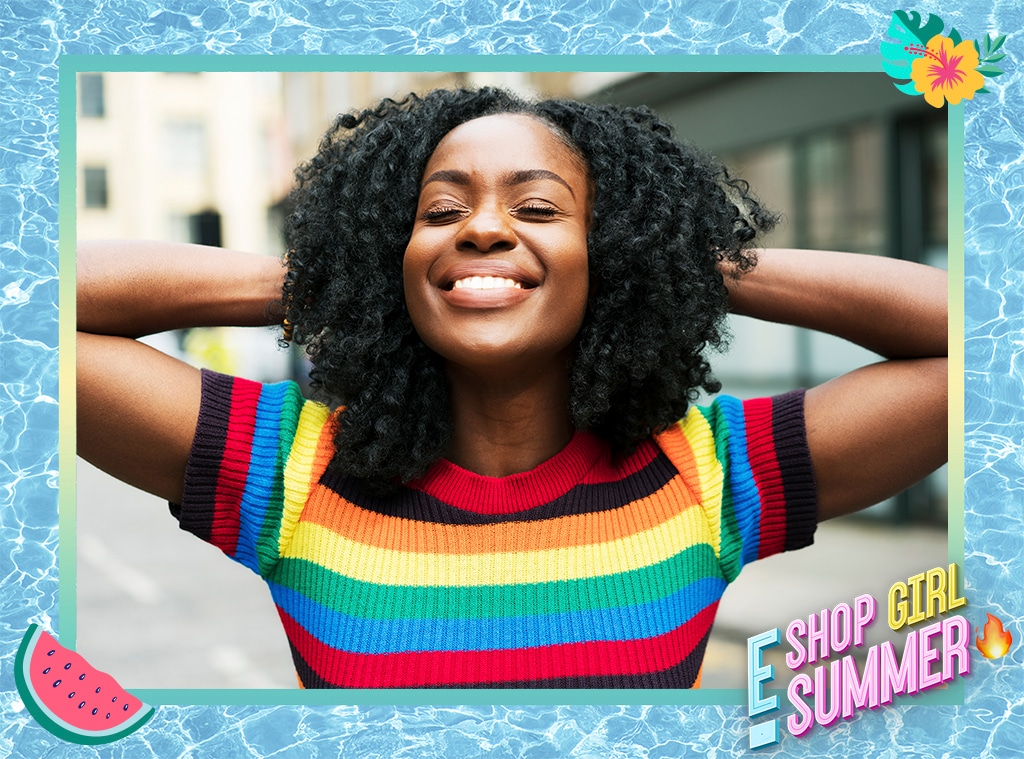 Getty Images
We independently selected these products because we love them, and we hope you do too at these prices. Shop with E! has affiliate relationships, so we may get a commission if you purchase something through our links. Prices are accurate as of publish time. Items are sold by the retailer, not E!. 
From shopper-loved boy shorts that prevent chafing to a super chic neck fan that'll keep you cool wherever you go, we've been bringing you all kinds of problem-solving products you need to make this summer the best one yet. If all that sweating from the summer heat is ruining your favorite t-shirts and tops, we've got a round-up of affordable things on Amazon you'll want to shop today. 
Sweat stains are something many of us have to deal with, especially during this time of the year. Thankfully, Amazon has pretty much anything and everything you could need to both prevent sweat stains and remove them. For instance, there's this pack of underarm sweat pads that you can easily stick onto your shirt to prevent pit stains. According to Amazon shoppers, the pads are "genius," and a pack of 100 is just $16. 
From cult-fave stain removers to underarm pads and more, we've rounded up some products Amazon shoppers swear by to prevent and get rid of sweat stains.
The Hate Stains Co. Messy Eater Stain Treater for Clothes
Although this "powerful" and "lightning fast" spot remover was designed for kids and the messes they tend to make, Amazon shoppers say this works wonders at removing stubborn sweat stains as well. In fact, one wrote, "This stuff is AMAZING! I've been able to get every single stain out! With a messy little one and a husband in a messy occupation, that's a miracle. My most amazing stain removal was a white baseball cap my husband got overseas and loved but the sweat stains were horrible. I tried washing it after the trip and nothing came out. Two years later, I sprayed it down with Miss Mouth's Messy Eater, washed and dried and it looks absolutely new! Crisp white! Still amazed." 
They're not only ones! This stain remover has over 18,900 five-star reviews.
Aoeoun Underarm Sweat Pads - 100 Pieces
These all-natural underarm sweat pads were made to keep your underarms and clothes clean and dry. The pads are made of high quality microfiber fabric that's breathable and absorbent. All you have to do is stick these to your top and you're good to go.
According to recent reviewers, these sweat pads actually work. As one wrote, "These are a life saver!! I use clinical strength deodorant and it does work, but sometimes I'll forget to apply it at night. These are perfect. They don't come off throughout the day and they stay in place. I love these things."
SweatBlock Deodorant Antiperspirant Solid for Men & Women
If you don't want pit stains ruining your t-shirts and tops, you may want to consider swapping your go-to deodorant for SweatBlock. According to numerous shoppers, it works wonders at reducing sweat stains. 
As one reviewer wrote, "My underarms sweat so bad I was considering a $2000+ removal of my sweat glands. My mom mentioned this product to me and I swear it changed my life! I can now wear shirts without worrying if I'm going to stain them or sweat through them. This stuff works and I can't recommend it enough! GREAT PRODUCT!" 
SweatBlock Clinical Strength DRIBOOST Antiperspirant Wipes
SweatBlock's Driboost Antiperspirant Wipes were made so you can confidently wear the clothes you love. The wipes are clinical strength antiperspirants that can help reduce excessive sweating for up to seven days after use. They have over 11,000 five-star reviews and Amazon shoppers describe these as "literally life-changing."
One wrote, "I am a really heavy pit sweater and have been since middle school, often wearing two undershirts to prevent it from showing through on colored shirts. My pits would drip from the moment I got out of a shower, no matter if it was winter or summer. I researched high and low for answers, solution and remedies. I tried every antiperspirant on the store shelf, and NOTHING slowed my sweat until SweatBlock. I almost cried the first time I used it. I hadn't felt my pits dry since I was a kid! It was weird! If you've suffered from embarrassing pit stains, buy this now. It will change your life!"
OxiClean Max Force Foam Laundry Pre-Treater
The OxiClean Max Force Foam Laundry Pre-Treater was made to lift stains on even the most delicate pieces. It has over over 3,300 five-star reviews, and many shoppers can't believe how good it is. 
In fact, one wrote, "This got out stains I didn't think possible. I've tried many household remedies and a few other products to get sweat/deodorant/red dye (picked up by the deodorant) out of my white work shirt and it got almost everything out. Those stains have been stuck on for so long. I didn't notice much change after the first use, but the second time worked magic. I cannot believe how well it works and how little it costs." 
OxiClean Versatile Stain Remover Powder
If you have yet to believe in the power of OxiClean, you may want to try it on those tough sweat stains and see how you feel afterwards. This versatile stain remover powder has over 55,000 five-star reviews and numerous shoppers rave over well it works at removing pit stains. 
As one reviewer wrote, "I am an avid outdoor enthusiast, hence my clothes get sweaty, dirty, etc. This is the only product I have found that will remove sweat stains and the 'ring around the collar' from white t-shirts. The other day I found some old tees, including a couple of tie-dyes that had been packed away in a box for years and had yellowed. I started to toss them, but saw my old tub of OxiClean sitting by the washer. I soaked the tees overnight in OxiClean and warm water, then threw them in the washer and dryer the next morning. I couldn't believe even OxiClean could restore them, but it did. Try it."
Dandi London Underarm Sweat Pads
According to one Amazon reviewer, the Dandi London Underarm Sweat Pad a summer essential that'll save your clothing. "These clever adhesive pads are perfectly designed to fit neatly into the exact part of your clothing where you perspire most heavily, which in turn saves your clothing from unsightly stains and odors," the reviewer wrote. "I have had to throw away more shirts than I care to think about because of stains for this exact reason. For less expensive clothing this may not be a big issue, but if you spend a significant amount of money on quality clothing, these little devices are worth their weight in gold."
You can get a pack of 14 pads for just $7.
Better Life Stain & Odor Eliminator, Eucalyptus & Lemongrass - 2 Pack
This plant-based stain and odor eliminator was made to leave your clothes looking sparkly clean and like new. According to shoppers, it does as promised. One wrote, "It does a great job on laundry odors and most stains, including the sweat stains on my summer shirts that I had been ignoring. It smells pleasant but not overpowering, and doesn't seem to leave a scent on clothes after they've been washed. Great stuff." 
You can get a 2-pack today for $13.
Belly Bandit Don't Sweat-It Bra Liners
For some, pit stains aren't the only thing to worry about in the summer. If you're prone to boob sweat, you may want to consider snagging these bra liners by Belly Bandit. According to one shopper, this solves all bra sweat stain problems. It's super easy to put on. All you have to do is slide the liner under your bra and you're good to go. 
Grandma's Secret Spot Remover Laundry Spray - 2 Pack
The Grandma's Secret Spot Remover Laundry Spray has 18,800 five-star reviews, and Amazon shoppers are obsessed. One reviewer said this worked wonders at removing old sweat stains from white t-shirts, they all look like new. Another called it the "best stain remover ever" and said it removed the ring around the collar, wine, baseball dirt and more. If you want to try it for yourself, Amazon has a 2-pack available for $15. 
The Laundress New York Stain Solution
The Laundress' Stain Solution features a highly concentrated formula where just a couple of drops go a long way at lifting old and new stains. It was made for all colors and fabrics, and is said to work on anything from coffee and wine to pit stains. 
According to one reviewer, this is the greatest stain solution in the universe. "It has saved EVERYTHING," they wrote. "Vintage Italian linen duvet covers. White button down shirts splattered with tomato soup stains. Shirts with lipstick marks. Foundation and other makeup. Blankets. Coffee stains. The Laundress Stain Solution comes to the rescue each and every time. I don't know what is in this thing, but just keep making it. I have wanted to cry over items I thought were ruined forever. But then with patience, determination and this stain solution, you can't even find a mark. Even on items I had already washed and dried...it STILL got out the marks. I keep this with me at all times and recommend it to anyone who ever mentions a stain they can't get out!"