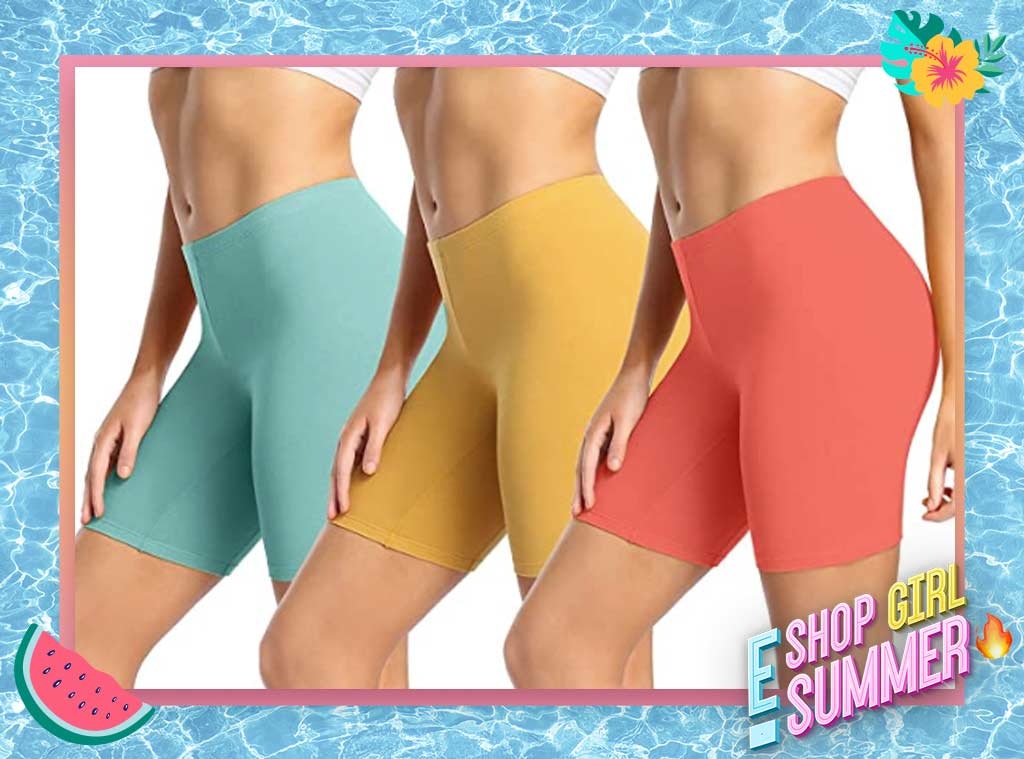 We independently selected these products because we love them, and we hope you do too at these prices. Shop with E! has affiliate relationships, so we may get a commission if you purchase something through our links. Prices are accurate as of publish time. Items are sold by the retailer, not E!. 
When you have to live through 100 degree weather — as many of us are dealing with now — a flowy skirt or dress is more likely to keep you cool than a pair of jeans. However, that may mean you have to deal with something most of us have probably experienced at some point—chafing. Unfortunately, it's just what tends to happens when you're sweaty and moving around without any barrier between your thighs. But thanks to Amazon, we found some boy shorts that shoppers say work wonders at preventing the dreaded "chub rub." Best part is, it's pretty affordable and on sale right now at $22 for a pack of three!
The Wirarpa Women's Anti-Chafing Cotton Boy Shorts come in packs of three. You can choose to get them in all black, nude and white, or multi-colored packs. They were made to be soft, stretchy and breathable, so you can comfortably wear these all day long. They're also highly versatile and can be worn under an oversized shirt while lounging around the house, or under skirts and dresses to prevent chafing. In fact, numerous Amazon shoppers swear by these boy shorts for summer. 
To learn more and to see why Amazon shoppers believe these are a summer wardrobe staple, check out the below.
Wirarpa Anti Chafing Cotton Boy Shorts
This 3-pack of boy shorts from Wirarpa is made of premium combed cotton and spandex for "complete softness, breathability and comfort." It features an 8-inch inseam to help reduce chafing, as well as a wider waistband to ensure the pants don't roll down. There are nine packs to choose from including multi-colored options, as well as all white, nude and black. Sizes range from S to 5XL.
Wondering what actual Amazon shoppers say about these shorts? Check out the following reviews. 
"These are just great. I use them under skirts in warmer locations to stop that awful thigh sweat that unfortunately happens from time to time even in the smallest of us, or to compliment an outfit." 
"I live in Phoenix where your goal in summer is to stay cool. I wear mostly cotton skirts and dresses to keep the air flowing, but I always hated thigh sweat or sitting and having your thighs stick together. So I tried these and oh my goodness — BEST thing ever! They are SUPER soft, SUPER comfy, and keep you so dry and cool. Plus, they do not roll or ride up."
"I love these so much! They are a savior both in the summer under dresses to stop my chub rub and also to wear under leggings that are sometimes a bit see-through. I will be ordering more (probably in black), though the flesh color ones are great under summer dresses and less obvious than black. So cool and comfortable in the heat too, so you don't feel like you are over layered. Love, love, love!"
"These are my summer go-to's to wear under skirts and dresses, and around the house with t-shirts. They do a great job of preventing the dreaded thigh 'chub rub' chaffing due to skin friction."
"These are the most cool and comfortable underpants I have found to wear under a dress in the summertime. Everything else I've tried has made me sweat, but these don't. Very comfortable and breathable. Love them!"
"I was concerned they would be too long for skirts/dresses (I am 5'3") but they are not too long. They fit perfect, stretch in all the right places, the gusset makes them very comfortable and keeps me cool, dry and chafe-free. My mom wore something like these back in the 1960s and I laughed at them, but now I think these are pretty dandy and the perfect undies for a hot summer day."
"Comfortable, lightweight, cotton bike shorts. I had been looking for these and am very happy with my purchase. I wear them as PJs and layer them under skirts. They give more coverage without being too warm, and prevent dreaded thigh chafing."
Looking for more summer must-haves to shop? Check out our Beach Bag Packing Guide featuring 26 affordable must-haves for your next trip.
—Originally published Jun 20, 2021 at 3:00 AM PT.