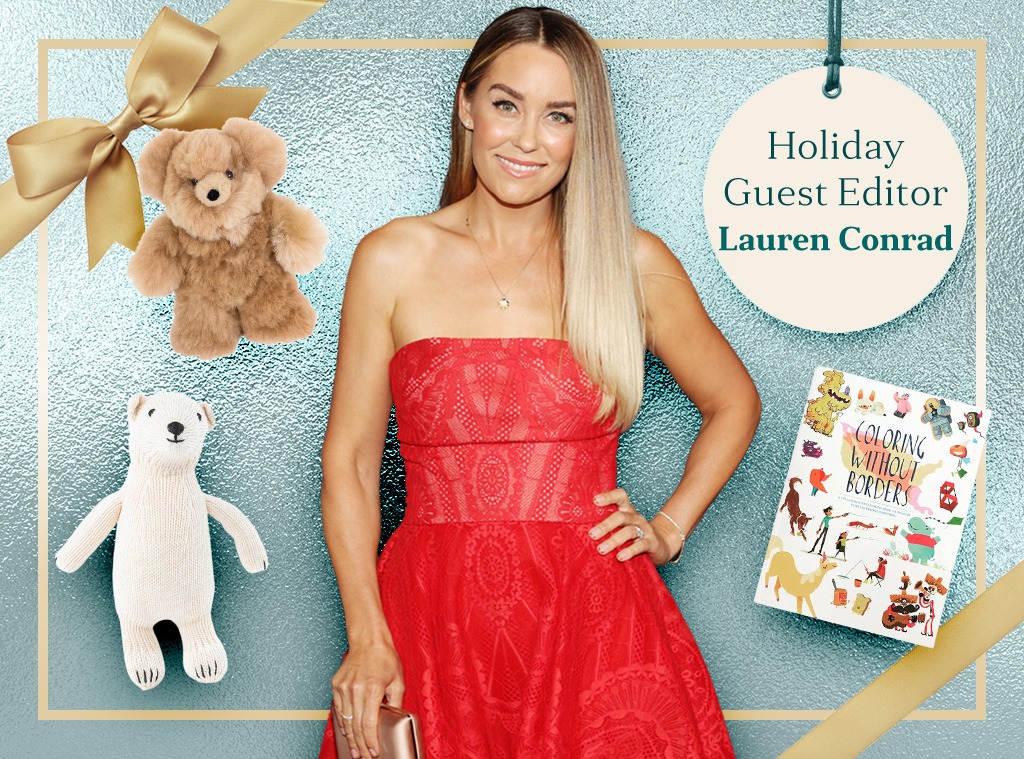 Jon Kopaloff/FilmMagic, E! Illustration
We interviewed Lauren Conrad because we think you'll like her picks. The products shown are from Lauren's own brands. E! has affiliate relationships, so we may get a commission if you purchase something through our links. Items are sold by the retailer, not E!. Prices are accurate as of publish time.
If you have holiday gift shopping on your list, but you didn't actually get to it yet, you're far from alone. And if you are looking for some insights on shopping and how to get organized you came to the right place. E! Holiday Guest Editor Lauren Conrad has tips on how to get through that gift list and some present suggestions for the little ones in your life.
Lauren admitted that she "never, never, never" gets ahead on her holiday shopping, but she did this time around, remarking, "You know what I did? I set aside time in my calendar, which I never do, but I literally scheduled time to do my holiday shopping."
The Little Market founder elaborated, "I did that because I think that people often think of it as something you sort of do whenever you have spare time, but I made a real effort to get it done. I always leave so much if to the last minute and every year and say 'I'm going to be better next year,' but this time I stuck with it amazingly." 
Thankfully, Lauren is ahead of the game because that means we got to pick her brain about shopping for kids' gifts, including which items to avoid. 
E!: Now that your kids are getting a little older, is it easier to shop for them now that they have more opinions? Or are they very particular about what they love for the holidays?
LC: It's both. It's helpful because they can tell you what they want, right? However, sometimes the things they want are not ideal. It can be great though. I had my older son write a letter to Santa, which became my shopping list. That couldn't be any easier, but he included a pet fish, which means I have to get him a pet fish that I will have to take care of.
E!: There are so many different ways to approach shopping for kids gifts, from something educational, to fun toys, to clothes. What route is your go-to?
LC: I usually don't buy my kids clothes just because I buy them clothes throughout the year, but I do tend to get clothes for other people's kids.
For toys, I try to be thoughtful, from a couple different perspectives. If it's someone I'm close with and I'm familiar with their home, I will think about it aesthetically and get toys and stuffed animals that look nice in their home with their decor. I try not to buy battery-powered, loud gifts for my friend's kids. I consider it to be "do unto others as you would have them do unto you."
Whether it's an add-on or a main gift, I usually give our knit little characters from Little Market. My favorite one is the little polar bear, but we have tons of different options that appeal to different tastes and interests, which are all cute. They're kind of smaller and handmade. It's a nice gift for a little person. It's funny because the amount of stuffed animals you accumulate really do add up. I have some really beautiful ones that my kids have been gifted over the years. I always try to keep those ones out and the other ones get tossed into the closet. I try to pick the cuter ones that you don't mind sitting around the house.
The Little Market Polar Bear Stuffed Animal
This polar bear stuffed animal was handmade by artisans in Peru. This lightweight polar bear is soft, cuddly, and perfect for this time of year.
The Little Market Alpaca Stuffed Animal- Honey Bear
Here's another adorable The Little Market stuffed animal that your kids will love bear-y much. Each purchase of this bear empowers artisans in Peru. It's also available in white and dark brown. 
The Little Market Safari Animals Gift Set
The Little Market has options to create your own gift set. You can go for a safari-themed set with a giraffe, elephant, and zebra stuffed animal.
E! Books are a great holiday gift, whether it's for you or a family-friendly book to read with the kids and create a nice memory. Are there any you recommend from The Little Market?
LC: Recently, we added a couple of kids books. I think Coloring Without Borders is a great one. I've given that to a couple of kids. I mean, you can't go wrong with a coloring book.
Coloring Without Borders Coloring Book
This book has illustrations from more than 80 professional artists from around the world. For every purchase of this coloring book, The Little Market donates $25 to support Families Belong Together, a collaborative group of organizations that works to permanently end family separation and detention, seeks accountability for the harm that's been done, and advocates for the immediate reunion of all families who remain torn apart.
The Little Market Without Borders Gift Set
This gift set has the Coloring Without Borders book and a cozy blanket, which is the perfect pairing. 
The Little Market Race Car Rattle
Every purchase of this handmade rattle supports Pebble artisans in Bangladesh. This is a great gift for babies and toddlers. It's also easy to clean since it's machine washable.
The Little Market Knitted Hand Puppet - Elephant
The adorable, hand-knit puppet was made with organic cotton in Kenya. This fits both kids and adults, which is ideal for anyone who enjoys a puppet show.
The Little Market Knitted Finger Puppet Set- Jungle Animals
This set of five finger puppets was made in Kenya. There are sets with farm, outback, jungle, and safari-themed puppets. Each purchase supports more than 500 artisans who have had few income-earning opportunities in the past.