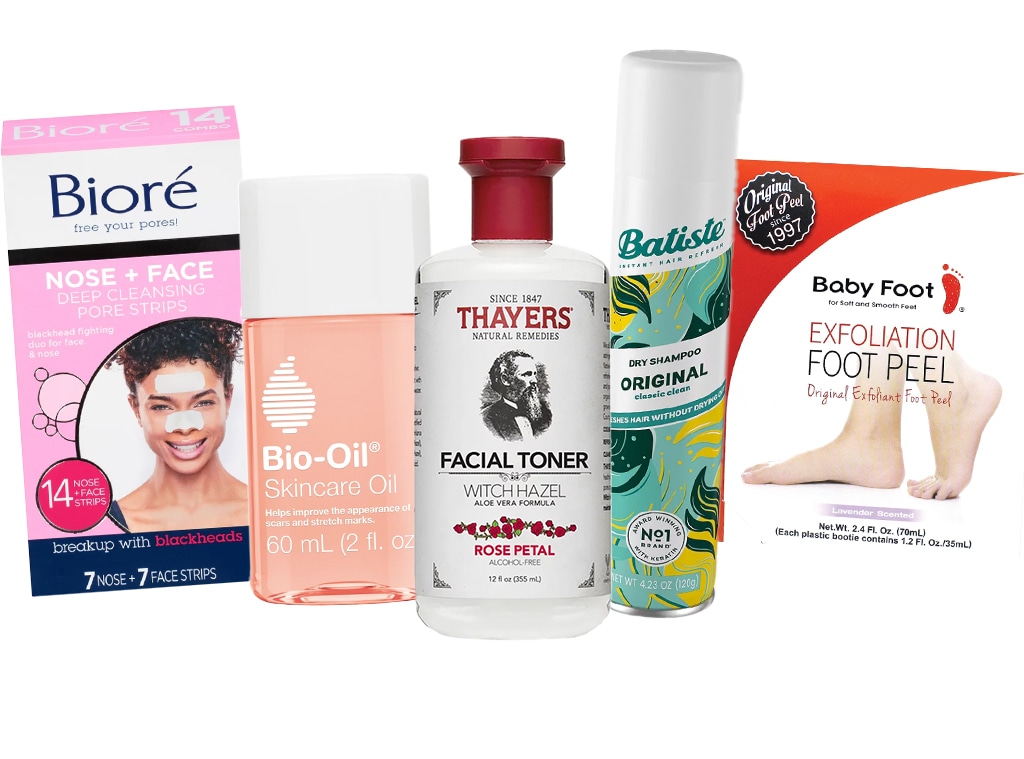 We independently selected these products because we love them, and we hope you do too. Shop with E! has affiliate relationships, so we may get a commission if you purchase something through our links. Items are sold by the retailer, not E!
Ulta is our go-to for beauty products all year round, but we always look forward to their sales. The Ulta Fall Haul is a great chance to stock up on essentials and try new products at a great discount. There will be great Ulta deals from September 23 to October 2, but if you're looking for product recommendations, keep on scrolling to see our top picks from Baby Foot, Bio-Oil, Real Techniques, Thayer's, BH Cosmetics, Batiste, Hempz, Biore, and more.
Baby Foot Original Exfoliant Foot Peel
Get $5 off all Baby Foot products during the sale. You'll definitely want this one. The Baby Foot Original Exfoliant Foot Peel is basically a pedicure in a box. Each treatment comes with two plastic booties filled with exfoliating solution that works like a chemical peel, removing dry, dead skin and moisturizing your feet as it goes. After a couple days, your feet start to shed... and then like magic, you'll have feet that are ready for sandal season. If you want to accelerate the process, soak your feet for 15 minutes every day.
One Ulta shopper admitted that they "couldn't believe how well it worked," elaborating, "I have been struggling for the last couple years with really rough, calloused feet and this peel really helped! My feet are so much softer, and there's no more cracking around the heel or the ball of my foot." Another customer shared, "Love it! I use BabyFoot about every 4 months. Removes dead skin and it keeps my feet looking smooth."
Bio-Oil Skincare Oil
Bio-Oil is a truly miraculous product that does so much. The Bio-Oil Skincare Oil reduces the appearances of stretch marks, scars, and other marks due to surgery, acne, aging, surgery, and injury. Plus, it improves the appearance of uneven skin tone and it's non-comedogenic, so it won't clog pores. We love this product and so does Porsha Williams who recommend it. She quipped, "don't think twice" about purchasing this one since "it's everything." She claimed she saw a difference in her skin after using the product for a week and a half "consistently," which she emphasized was the key to getting the most out of this oil. Once again, she promised, "you'll be thanking me later."
An Ulta shopper raved, "I am 20 years old, and have had very severe acne scarring. I go to the dermatologist, and have everything from Retina, Tazorac, special cleansers, and sulfar-based lotions (for those of you familiar with dermatologist products). I was so desperate to get rid of my scarring, that I decided to try this to even my skin tone and lighten my scars. WOW! Im only on DAY 4, and my scars are already 35% better! Everyone around me, after DAY 2, started complimenting me on how good my skin looked! (and I wasnt wearing any makeup)."
Real Techniques Miracle Complexion Sponge
Save 40% on all Real Techniques products during Ulta's Fall Haul. Specifically, this makeup sponge is a bomb product (at an amazing price too). Yes, there are so many different makeup sponges out there, but this one is revolutionary because it's latex-free foam provides such an even blend of foundation. The sponge has three unique points. The flat edge is to apply and cover, the rounded sides are great to blend and blur larger areas of the face, and the precision tip is best to conceal blemish and smaller imperfections.
Ulta shoppers insist that it's the best makeup sponge, with one reviewer writing, "Superior to ALL other blenders. This is my holy grail sponge! I typically use brushes because I could never find a blender/sponge that I loved. But this one here changed the game!" Another said, "Best blender I've ever used! I love how well this works. It is easy to clean." Another declared, "Holy grail. Not much to say but amazing!!! Buy it!"
Thayers Alcohol-Free Witch Hazel Facial Toner
The Thayers Alcohol-Free Witch Hazel Facial Toner is a classic, game-changing product. It renews, clarifies, and hydrates the skin. If you want balanced, glowing skin with smooth texture and diminished pores, you need to incorporate this toner into your routine. This is just what you need to soothe and revitalize your skin.
"I no longer have a lot of blemishes ever since I found Thayers. It doesn't make my skin oily either. I have super sensitive skin so the non fragrance one works best for me," an Ulta shopper shared. Another said, "My esthetician told me to use this toner in the morning instead of cleanser. I wasn't thrilled about the idea but now I've been using it for two weeks and my pores are smaller and my face doesn't get as greasy during the day. Highly recommend if you have sensitive/combination skin." All Thayer's toners and misters are 30% during the sale.
Batiste Original Dry Shampoo- Clean & Classic
The Batiste Original Dry Shampoo has such a loyal following. It is the best thing to use in between washes to keep your hair looking fresh and fabulous. It absorbs dirt and grease while adding body and texture to your tresses. 
"This product is a must have! I love this spray. My hair is fine & thin so this really helps with absorbing oil & giving my hair volume & body on days I don't shampoo," an Ulta shopper shared. Another said, "My go to! One of the products I always have to repurchase!" Someone else wrote, "I have used a lot of dry shampoos and this one is by far my favorite one!!" You can get Batiste and Not Your Mother's Dry Shampoos for $6 during the sale.
L'Oréal Voluminous Lash Paradise Mascara
You can get two L'Oréal Eyeliners and Lash Paradise Mascaras for $15. The L'Oréal Voluminous Lash Paradise Mascara provides voluptuous volume and length, for feathery soft lashes.
An Ulta shopper gushed, "This is the mascara of my dreams. I use to use the better than sex mascara but it irritated my eyes, flaked, was hard to remove, and was $24! I've been on the hunt for a mascara that could replace that one and after almost two years, and dozens of failed mascaras I have found it. this one is the best mascara I have ever used. Yeah, I said it. It lengthens, separates, adds volume, doesn't clump, and holds the curl of my natural lashes!" Another said, "I've been using this mascara for years. It is my all time favorite!" 
Bioré Combo Pack Deep Cleansing Pore Strips
These are such a classic because they really do work. If you have blackheads or clogged pores, just put these on damp skin, wait until it dries and stiffens up, pull it off and you will see all of the impurities coming out of your pores. It is a bit gross, but incredibly satisfying.
"It worked all gunk came out 10/10, an Ulta shopper shared. Another said, "I will continue to buy this product over and over! This product does give a deep pore clean and draws out the blackheads!" A different review said, "So easy to use and you get results!!" You can get a 30% discount on Bioré pore strips during the Ulta Fall Haul.
BH Cosmetics Take Me Back to Brazil- 35 Color Pressed Pigment Palette
This eye shadow palette was inspired by Rio's Carniva. The 35 shades are a chromatic parade of shimmers, satins, and mattes, plus you get two oversized dual-chrome, ultra-luminous transformers.
Save 30% on the BH Cosmetics Take Me Back to Brazil and Crystal Zodiac collections.
Ulta Matte Face Primer
Ulta Beauty Collection primers are 50% off during the Fall Haul. Ulta's Matte Face Primer is the secret for a picture perfect look ever single day. You will have a smoother makeup application and a clearer-looking complexion every time you use this.
An Ulta shopper described this as "the perfect primer," elaborating, "Love this product. I will keep buying it." Another wrote, "Please never discontinue this product! I NEVER write reviews but this is the best face primer I have ever used and I've used quite a few from many different high end brands. I have extremely oily acne prone and sensitive skin and this primer works wonders with or without makeup. It's lightweight and keeps my makeup looking smooth all day. It has definitely helped with making my face not look oily throughout the day especially in the summer. I would definitely recommend this primer, plus you can't beat the price for the amount you're getting since a little goes a long way."
Hempz Original Herbal Body Moisturizer
Hempz Original Herbal Body Moisturizer provides dramatic skin hydration and nourishment to help improve the health and condition of skin. 
A shopper gushed, "This is a must try for anyone looking for great moisturization, non-greasy & great absorption. Your skin will feel like silk (no kidding!). You know how some lotions feel heavy?, not this one. I am really loving this." Another said, "I LOVE this product. I use it daily and my husband also uses it. It is the best moisturizer for your skin. The smell is great." Pro tip: this is one of the best moisturizers to extend the life of your spray tan. You can Hempz lotions and hand sanitizers at a 30% discount during the Fall Haul.