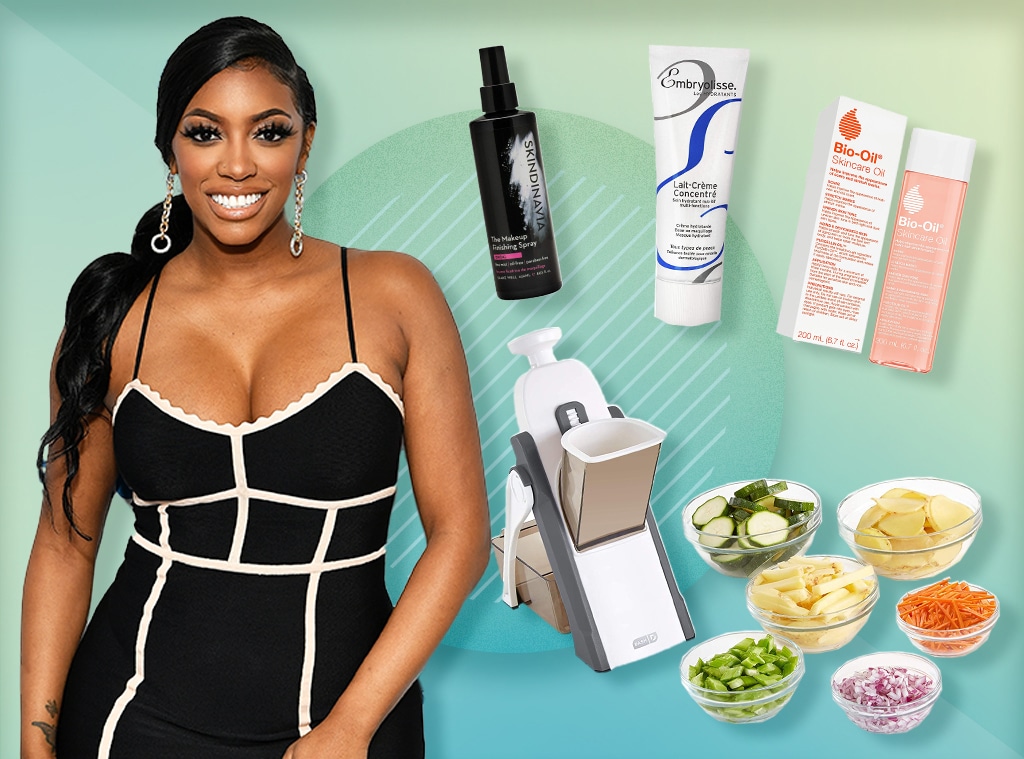 Slaven Vlasic/Getty Images
We independently selected these products because we love them, and we hope you do too. Shop with E! has affiliate relationships, so we may get a commission if you purchase something through our links. Items are sold by the retailer, not E!.
"Meet the queen of Amazon. It is me," Porsha Williams declared on Amazon Live. The Real Housewives of Atlanta star gushed, "I am totally obsessed with the convenience of Amazon and the quality of the products that I get." Of course, she's not the only one who feels that way, but now we can all shop like Porsha since she recently shared her "favorite, favorite items" and why she loves them so much.
Before sharing her essential beauty, kitchen, and fitness products, she remarked, "I rarely do returns to Amazon," explaining that it's because "nine times out of ten Amazon has already made sure that whatever product they're showing you is actually a good product." If Porsha is that confident in her purchases, they're definitely worth checking out. Check out her must-have products below, including one item she swears "every makeup artist uses."
DASH Safe Slice Mandoline Slicer, Julienne + Dicer for Vegetables
"This will be your kitchen mate. This item actually replaces him or her. You don't need them," Porsha proclaimed. She explained, "I'm a toddler mom. I need stuff quick [and] ready to go. I don't have time to be spending on hours on hours of prep." That's where this slicer comes in, as a "quick, convenient way for" Porsha to prep meals. She said that this tool is "a way for me to be a mom who works a lot and give her food from my own hands."
Embryolisse Lait-Creme Concentre, Face Cream and Makeup Primer
"Let me tell you a little secret from the 'celebrity' world or whatever," Porsha teased. She divulged, "All of the celebrity makeup artists use this." She even instructed Amazon users to "purchase this right now" because it "makes your skin feel so good" and it "firms your skin." She insisted that it's a "staple product of every makeup artist [she] has ever used." Porsha promised "you will be thanking me" if you use this skincare product.
SoundBot SB510 HD Water Resistant Bluetooth 3.0 Shower Speaker
"I love the SoundBot," Porsha yelled. She needs a water-resistant speaker since she showers "for a long time." She added, "The sound quality on this small, convenient, travel [friendly], amazing SoundBot is bomb." Porsha's music of choice? Beyoncé, of course. You can even answer the phone while you shower. It's available in 6 different colors.
Ben Nye Luxury Powder Face Makeup, Banana
"Bake, bake, and bake," Porsha advised shoppers. She thinks the Ben Nye Luxury Powder Face Makeup is "amazing." She used to buy this from a costume store in Atlanta... until she found it on Amazon. She uses it to set her makeup in the morning and throughout the day to reset the t-zone to combat oil.
Bio-Oil Skincare Oil
"Go, click, and buy it right now. Put it in your cart right now," Porsha told Amazon shoppers about the Bio-Oil Skincare Oil. She quipped, "don't think twice" about purchasing this one since "it's everything." She claimed she saw a difference in her skin after using the product for a week and a half "consistently," which she emphasized was the key to getting the most out of this oil. Once again, she promised, "you'll be thanking me later."
Crock-Pot 7-Quart Oval Manual Slow Cooker
Porsha promises that the Crock-Pot 7-Quart Oval Manual Slow Cooker is a "quality" purchase at the price she "needs it to be." She added, "This crockpot takes me back to my childhood. My mom used to use a crock pot at all times. It's really, really easy. It's like a staple for soul food or feel-good food." She says food from a crockpot "tastes like it was made with love."
Walito Resistance Bands for Legs and Butt
Porsha "loves to do squats." She elaborated, "As you get older, you need to work out those larger muscles and these are perfect. Just put them around your legs." The Atlanta Housewife remarked that there's "nothing like a cute bum and these bands will get you there."
Mpow CH6S Kids Headphones with Microphone Over Ear
Porsha thinks these headphones are "so adorable." She shared, "We moms don't always want to listen to 'Baby Shark' and sometimes we want to hear music on the radio." Porsha's daughter PJ uses these with her iPad. She added "these are so soft" and mentioned that they're adjustable to fit your baby's head comfortably. There are also plenty of color options to choose from.
GoWISE USA 1700-Watt 5.8-QT 8-in-1 Digital Air Fryer with Recipe Book, Black
Porsha shared, "I had been hearing about air frying and I heard that it was a healthier way to cook. And with me being a mom of a two-year-old, you know, they're growing and you want them to eat healthy food." Porsha added, "I absolutely love it," declaring, "It's just everything." She loved the aesthetic so much that she said it looks "sexy," which is an unexpected bonus from an air fryer.
Skindinavia The Makeup Finishing Spray, Bridal 8 Ounce
Porsha "didn't realize how it important it was" to use finishing spray until she bought the Skindinavia The Makeup Finishing Spray. Her sister recommended the spray which "really does make your makeup stay in place," according to Porsha. 
— Originally published Apr. 13 at 7 AM PT