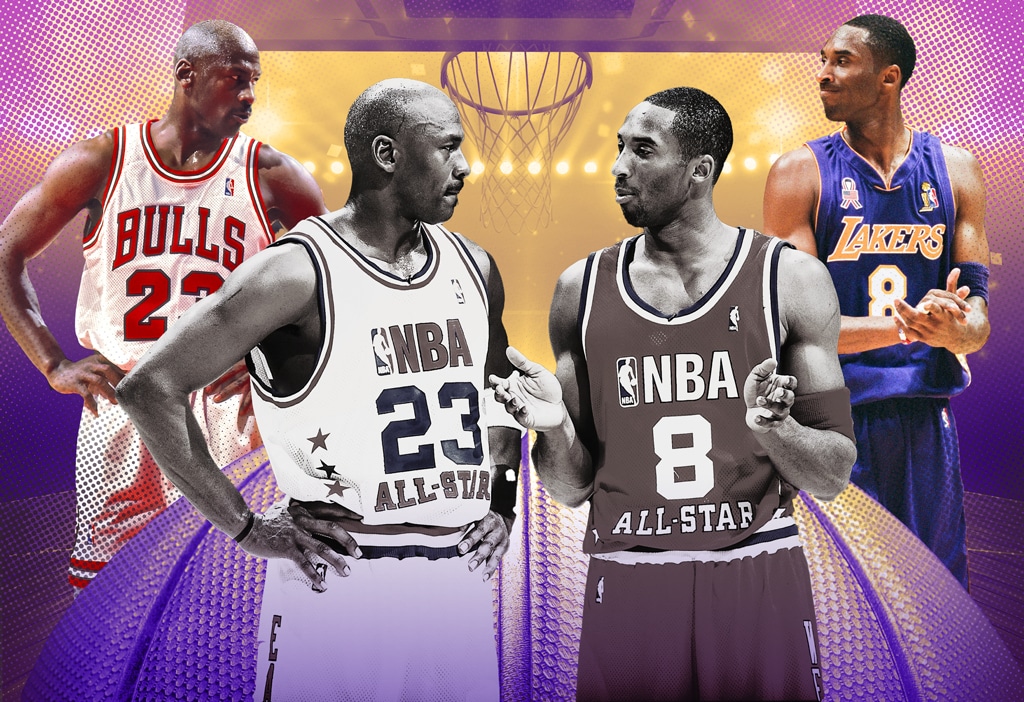 iStock; Getty Images; Melissa Herwitt/E! Illustration
When Michael Jordan appeared to speak at the public memorial for Kobe Bryant on Feb. 24, 2020, it couldn't help but send an extra wave of emotion coursing over the already devastated 20,000 people at Staples Center and the millions more watching on TV and online.
The biggest global celebrity the NBA ever produced, still at the top of his game after 12 years when a certain hotshot out of Philadelphia's Lower Merion High School joined the league in 1996, turning up to pay tribute to his fellow superstar gone preposterously too soon?
It was simply momentous. And it illustrated exactly how much Bryant meant to Jordan, who despite being one of the most famous people in the world has not been nearly as out there in retirement as some. No post-playing career in broadcasting, no podcasts, no Space Jam sequel.
But there he was at the memorial, tears streaming down his face as he eulogized the man he called his "little brother," recalling how the eventual five-time NBA champion was ever eager to pick his brain, even if that meant a phone call at 2 a.m. or quizzing him about his form in the middle of a game.
"This is what Kobe Bryant does to me. He knows how to get to you in a way that affects you personally...even if he is a pain in the ass," Jordan cracked.
And Jordan will be there to celebrate his friend May 15 when Bryant is posthumously inducted into the Naismith Memorial Hall of Fame as a member of the 2020 class.
"I was thinking, at first, I might be a little somewhat nervous about it, but then I realized I'm not going to be nervous about showing emotions for someone I absolutely loved," Jordan told ESPN in a recent interview. "That's the humanistic side of me—people tend to forget I do have one."
Kevork Djansezian/Getty Images
The ceremony was postponed for nine months due to the coronavirus pandemic, but it was only right to wait for a time when it would be safer for Bryant's fellow legends, friends and family to gather for an in-person event, which will be televised on ESPN from the Mohegan Sun Resort & Casino in Uncasville, Conn. Vanessa Bryant will be accepting the honor on her late husband's behalf.
Before heading to Connecticut, she and her daughters visited the special exhibit she curated at the Hall of Fame in Springfield, Mass., "Kobe: A Basketball Life"—the first time an inductee has been honored with such a display since Jordan himself went into the Hall in 2009. (For the first time, as he was inducted again the next year as part of the 1992 Olympics "Dream Team.")
Andrew D. Bernstein/NBAE via Getty Images
Fitting for a giant of his sport who accomplished so much and who also happened to begin his career as "the next Michael Jordan." One in a long line, but to many the only one who deserved it.
Their careers overlapped for the better part of seven years, Jordan retiring—for the third and final time—as a Washington Wizard in 2003. But it really wasn't until Bryant was gone that—while the world knew that Jordan had been his idol, the teen phenom studiously studying tapes of Jordan in action and styling many of his own moves after him—we got to really see how important Bryant was to Jordan as well.
"Maybe it surprised people that Kobe and I were very close friends," Jordan said at the memorial. "But we were very close friends. Kobe was my dear friend. He was like a little brother. Everyone always wanted to talk about the comparisons between he and I. I just wanted to talk about Kobe. You know, all of us have brothers and sisters, little brothers, little sisters, who for whatever reason always tend to get in your stuff, your closet, your shoes, everything. It was a nuisance, if I can say that word, but that nuisance turned into love over a period of time."
Watch:
Remembering Kobe Bryant's Journey: E! News Rewind
That dynamic was on full display when an interviewer asked Jordan in 2013 to name the stars from all different eras he'd love to go one-on-one with. Bryant was among them. "I don't think I would lose," the long-retired star said, smiling. "Other than to Kobe Bryant, because he steals all of my moves."
Responding to that quote, Bryant later tweeted, "Domino effect. I stole some of his..this generation stole some of mine #thecycle."
That earnest response was indicative of the Mamba Mentality mode he started cultivating in the early '00s, an intensely serious approach that didn't leave a lot of room for the more personable Kobe that emerged after he retired. But by then, injuries starting to take their toll and the end of his own Hall of Fame-caliber career in sight, Bryant wasn't bristling so much at the Jordan comparisons that had started right out of the gate.
Mitchell Layton/NBAE via Getty Images
"I appreciated them, but after a while it just got old," he told ESPN The Magazine in 2013. "They eventually faded away because I was putting together my own identity. But I'll never forget how much I learned from MJ. I got so much from him. I knew what he did, I knew his moves and I used them. But for me the comparisons didn't work because our situations were totally different. I came straight out of high school and played with a dominant big in Shaquille [O'Neal]. Man, I was so young when I got to the NBA. What was I, like, 17? I mean, 17! The more you think about it, my situation was completely different than MJ's, so the comparisons were just, you know, I stopped paying attention to them."
"I don't mind that now," Bryant continued. "It's different now that I'm at the end of my career and I can look back. Fans will always want to know who's better and like to compare players, and I love that. That's what I used to do. That's why people are into basketball, because it's fun to debate those kinds of things."
Not to mention, he and Jordan had become buddies, having plenty to talk about over the years as Bryant came into his own as a champion, first in tandem with Shaq and later leading the way on the Lakers' 2009 and 2010 championship squads. Told by a reporter during the NBA Finals in 2008 that Jordan had recently said something flattering about him, Bryant grinned and said, "MJ was talking about me? That's my man!"
At the memorial, Jordan said of Bryant that "the thing about him was we could talk about anything that related to basketball, but we could talk about anything that related to life.
"And we, as we grew up in life, rarely have friends that we can have conversations like that. Well, it's even rarer when you can grow up against adversaries and have conversations like that."
Ultimately, Jordan said, "When Kobe Bryant died, a piece of me died. And as I look in this arena and across the globe, a piece of you died, or else you wouldn't be here. Those are the memories that we have to live with and we learn from. I promise you from this day forward, I will live with the memories of knowing that I had a little brother and I tried to help in every way I could."
Jennifer Pottheiser/NBAE via Getty Images
In a bittersweet twist, Bryant had also paid tribute to Jordan for ESPN's wildly popular documentary series The Last Dance—due to premiere last June after the NBA Finals but bumped up to April 2020 to help fill the live-sports void left by the pandemic—in an episode that obviously wasn't supposed to have to begin with an "In Loving Memory of Kobe Bryant" dedication.
"He's like my big brother," Bryant said of Jordan in the show. "I truly hate having discussions about who would win one-on-one, fans saying, 'Hey, Kobe, you'd beat Michael one on one.' And I feel like, yo, what you get from me is from him. I don't get five championships here without him, 'cause he guided me so much, he gave me so much great advice."
Bryant had just sat down for an interview with the filmmakers weeks before he died. But long before The Last Dance came into focus, the 41-year-old was reportedly very aware of the existence of a treasure trove of Jordan footage shot during the run-up to his sixth and final NBA championship with the Chicago Bulls in 1998.
It's reasonable to suspect that such knowledge played at least a supporting role in the very private Bryant's willingness to let cameras document a lot more of his world than they'd been privy to before for the last year of his own career.
As Jordan chuckling (or shaking his head) at old footage shown to him during his own interviews for the series would indicate, sometimes you might miss a few things while you're living it. And when Bryant hung it up in 2016, somehow 20 years had magically flown by.
Bryant played against Jordan for the first time as an 18-year-old NBA rookie on Dec. 17, 1996, early in what would be another championship season for the Bulls. Bryant scored five points off the bench. Jordan scored 30. Bulls won.
Their next meeting, Bryant had five and Jordan had 27 in a Lakers victory.
Some guys might have been slightly intimidated, or at least nervous, to go toe-to-toe with their idol, the "Be Like Mike" jingle on a loop in their heads, but that wasn't the Bryant way. Instead, in their third matchup, exactly one year after their first, the 19-year-old took the opportunity to ask him about his jump shot and scored 33 points off the bench. Jordan scored 36 and the Bulls won, but the game was finally on.
VINCENT LAFORET/AFP via Getty Images
"Michael loves this stuff," Bulls teammate Ron Harper said at the time, referring to the Bryant vs. Jordan, young vs. old, newcomer vs. veteran narrative taking on a life of its own. "[Kobe's] a very young player who someday may take his throne, but I don't think Michael's ready to give up his throne yet. He came out to show everybody he's Air Jordan still."
After the game, Jordan told reporters of Bryant's performance, a bit wryly, "I had that same type of vibrancy when I was young. It's exciting to match wits against physical skills, knowing that I've been around the game long enough that if I have to guard a Kobe Bryant...I can still hold my own."
Jordan attributed any extra challenge to the hype surrounding the matchup.
"I felt a couple of times that it felt like [a one-on-one competition with Kobe], but I had to refrain from that," he said, "especially when he scored on me. I felt a natural tendency to want to go back down to the other end and score on him."
And yes, Bryant did ask him a question in the middle of the fourth quarter, about his post-up move, "and it was kind of shocking," Jordan admitted. "I felt like an old guy when he asked me that."
Bryant agreed with Harper, that Jordan thrived in such a situation. "Michael loves challenges," the teen told reporters. "He loves to answer the bell. But at the same time, my father always taught me growing up that you never back down to no man, no matter how great of a basketball player he is. If he's fired up, you get fired up. You go out there and you go skill for skill, and you go blow for blow."
Mirror images in their cases, at times.
On Feb. 1, 1998, the Lakers beat the Bulls, though Jordan still outscored Bryant, 31-20.
"I wasn't scared or nervous back then when I played Jordan," Bryant reminisced to ESPN The Magazine in 2013. "He looked at me like he was going to f--k me up but I had to let him know that I wasn't that guy. I let him know that I'm not like all those other guys he played against. That's not what I was there for. I was there to compete and I did."
Vince Bucci/AFP via Getty Images
A week later at the 1998 NBA All-Star Game, which was being treated as Jordan's possible last All-Star appearance (he'd make two more), the revered champion is seen in The Last Dance playfully talking trash with his Eastern Conference teammates about the hotshot Laker making his All-Star Game debut for the West at the record-young age of 19.
"I'll see you down the road," Jordan, All-Star Game MVP for the third time, told Bryant as they made their way off the court.
They actually wouldn't meet again as opponents until the 2002 All-Star Game, Jordan deciding to retire in the middle of the 1998-'99 lockout after the Bulls won their sixth title but then unretiring to join the Wizards. By then it was Bryant enjoying a run to his third straight championship with Shaq and the Lakers (and Jordan's former coach Phil Jackson). Bryant was also MVP of the All-Star Game, an honor now named after him.
He'd play against Jordan in three more regular-season games, but fittingly their last face-off was at the 2003 All-Star Game, a Western Conference victory, the torch passed.
Andrew D. Bernstein/NBAE via Getty Images
"I grew up watching Michael on TV, and now you got a chance to go face-to-face with him," Bryant recalled those early matchups in The Last Dance. "You get a chance to really see, and like touch and feel [Michael's] strength, speed, quickness. And it was fun to be out there."
"It was a rough couple of years for me coming into the league, 'cause at the time the league was so much older, it's not as young as it is today," he explained. "So nobody was really thinking much of me. I was a kid that shot a bunch of air balls." He gave a little shrug as he referenced one of his less impressive early playoff appearances. "And at that point, Michael provided a lot of guidance for me. Like, I had a question about shooting this turnaround shot, so I asked him about it. And he gave me a great detailed answer, but on top of that he said, 'If you ever need anything, give me a call.'"
And so it began, a 22-year run of calls and messages—not nonstop, as living their respective lives occupied most of their time, but an ongoing chain of communication all the same. A back-and-forth that culminated unexpectedly on Dec. 8, 2019, at 12:18 p.m. PT, when Jordan received the last text he'd ever get from Bryant. A message he cannot bring himself to delete.
Their final exchange was brief but joyful, Jordan telling ESPN, "He was just so happy. He was doing so well."
The texts, as relayed by the outlet, began with Bryant telling him, "This tequila is awesome," referring to the bottle of Jordan's Cincoro Tequila that was sent to him ahead of its launch.
"Thank you, my brother," Jordan replied. "Yes, sir," Bryant wrote. "Family good?"
Jordan: "All good. Yours?" Bryant: "All good." Jordan, referring to Bryant's newfound passion coaching his daughter's youth basketball team, wrote: "Happy holidays and hope to catch up soon. Coach Kobe??!" Punctuated with the crying-laughing emoji.
"Ah, back at you, man," Bryant replied. "Hey, coach, I'm sitting on the bench right now, and we're blowing this team out. 45-8."
And that was that.
Vince Bucci/AFP via Getty Images
"I just love that text," Jordan says, "because it shows Kobe's competitive nature."
Bryant did know that he was nominated for the Hall of Fame Class of 2020, but he didn't live to get the chance to ask Jordan if he would do the enshrining.
"Vanessa asked me once he passed away," Jordan told ESPN. "In all honesty, I knew he probably would. It was either me or Shaq, since they won three championships together."
"It's going to be a great honor, to be honest," he added. "It's like standing up for a family member. He paid me the highest respect by trying to emulate certain things I did. And I can only repay that by showing my support and admiration for a guy who I felt was one of the greatest to ever play the game."