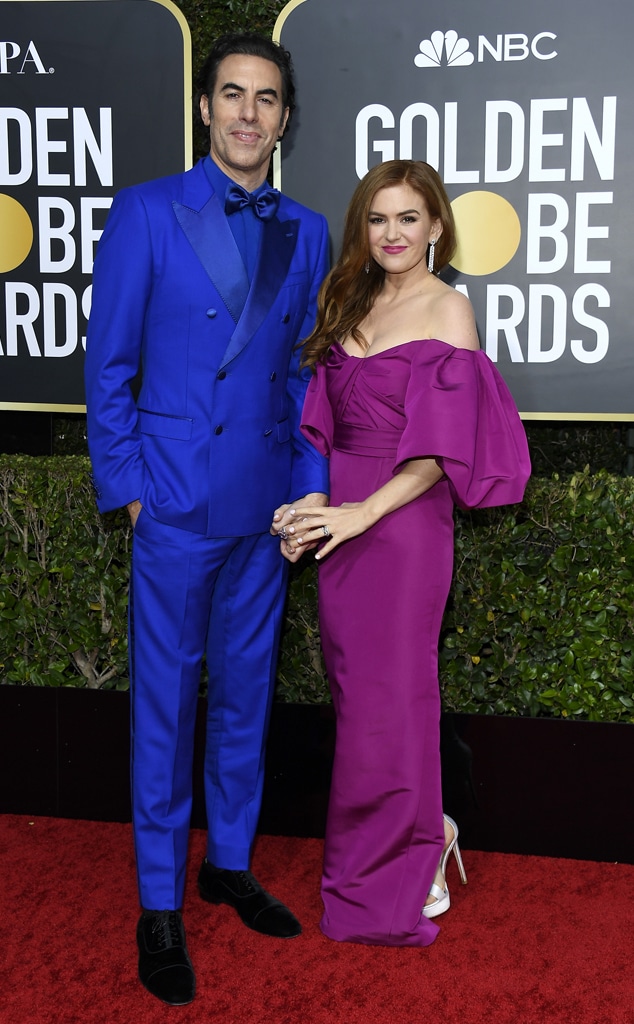 Kevork Djansezian/NBC/NBCU Photo Bank via Getty Images
When Sacha Baron Cohen was cast in The Trial of the Chicago 7, Isla Fisher must have been thrilled.
A regular movie, on a contained set, that didn't involve her husband risking life and limb for his art? Sign her up.
Of course, then it was right back to laughing in the face of possible death when he embarked on his Borat sequel, journeying across the United States to confront the backward in hopes of getting more people to see straight.
So no wonder Fisher looked so visibly delighted when it all worked out, with Cohen winning a Golden Globe for Best Actor in a Motion Picture Comedy for Borat Subsequent Moviefilm. 
"Most of all, thank you to my incredibly patient wife, Isla, who has put up with all my madness," he said in his socially distanced Globes acceptance speech, a beaming Fisher on the couch next to him.
By now you would think that Cohen, who's celebrating his 50th birthday Oct. 13, doesn't take certain risks without his wife of 11 years' seal of approval. However...
Courtesy of Amazon Studios
"If there's anything dangerous that I'm going to do, I just don't tell her until it's over," the Cambridge-educated performer told The New York Times last fall. "I made a mistake with her. She once came on set just for fun. On set means coming to the minivan, which carried me around when we were shooting Brüno. And there ended up being a police chase. I was in a separate car and the police were trying to find me. She found the whole thing so upsetting, and she never came back on set again."
Fisher confirmed as much to Australia's Herald Sun in December, saying, "I think he's learnt the hard way that if he gives me the information up front, that I put the kibosh on it. I find out what's happened afterwards, and that's how I can sleep at night, otherwise I'd be too worried."
She also explained on Jimmy Kimmel Live, "He doesn't really tell me when he's going to do the super dangerous stuff until he's done it, so it's not a normal question of, like, 'Did you pick up the dry cleaning?' or 'What did you shoot today?' It's like, he'll say, 'Yeah, we went to a gun rally' or 'I was almost arrested.'"
And yes, the last time she ever visited the set of one of his renegade film shoots—"It's not even a set, it's a truck in a parking lot"—was the day the cops showed up. "Yeah, I never went back again," she said.
But that doesn't mean she isn't along for the ride.
Watch:
Sacha Baron Cohen & Isla Fisher's 20-Year Love Story
"I watch all the cuts of the movie," Fisher told Jimmy Kimmel. "I'm sure my husband will tell you I get too opinionated." In Borat Subsequent Moviefilm, for instance, there was one joke in particular she was really attached to, which made it through all the cuts until the last one. 
"I somehow ended up saying the phrase, 'I won't be able to speak to you again unless you put this joke back in!'" she recalled, laughing. "Anyway, he cut it out. And we're still married." She readily acknowledged, "looking back," that Cohen was right about the scene. "Now that I've seen [the whole film], I think it works," Fisher admitted. "It does make another joke work even more. Sometimes you go for a chuckle when you need to wait and get a big laugh."
At this point, Fisher's pretty aware that her husband isn't your average funnyman, and that's been a boon for her own comedic work—which she far prefers to drama, appreciating that it's much more of a challenge to get a genuine laugh.
"Because I've more or less been involved in all of his stuff since the early stages...I think that's what gives me more confidence in comedy," the actress told Todd Garner, who produced her film Tag, on The Producer's Guide podcast in 2018.
"His way to approach comedy is quite...scientific," Fisher said, and you could almost hear her smiling. "So it's been very interesting being part of that. And learning, just myself, from being in hundreds and hundreds of test screenings, how generic my sort of sense of humor is. Sacha can literally say, 'Oh, if Isla laughed, our audience will laugh.' I don't have some unique [sense of humor], so I trust myself. Now I know if I find it funny, literally I can take a script, like in Tag, I can take where the lines are funny, I seem to have the same sense of humor as middle America. Which is not a bad sort of skill to have."
But though she's claimed that Cohen is "much, much funnier" than she is, it's Fisher's sense of humor that had the British comedian head over heels the first night he met the Parisian clown school alum in Sydney in 2002.
"She was hilarious," Cohen told the New York Times. "We were at a very pretentious party, and me and her bonded over taking the mick out of the other people in the party. I knew instantly. I don't know if she did. It's taken her about 20 years to know." In their line of work, he admitted, "it seems bizarre that we're still married in Hollywood after so many years."
Meanwhile, she just liked that he too had studied the art of clowning, Cohen at the prestigious École Philippe Gaulier while Fisher spent two years at the equally estimable École Internationale de Théâtre Jacques Lecoq. "That definitely attracted me to him," she told the Sunday Times magazine in 2017.
So they've been together since before anyone thought to look, meeting just before "Ali G," the merrily clueless gangsta wannabe character Cohen brought to life on Channel 4's The Eleven O'Clock Show in the U.K., really took off across the pond. Da Ali G Show had premiered on HBO in 2000, but after five episodes the network didn't bring it back until 2003.
And he and Fisher were engaged by the time the Scottish-Australian actress gave her breakout performance as the sweet 'n' psycho Gloria in 2005's Wedding Crashers.
After which, ironically, she went through a dry spell of, first, a year of nothing, followed by "a litany of roles that were always the wife of someone super funny, so the eye-rolling part," she told Garner. "Like, they got to be really funny and my character was basically the straight man."
That experience made her realize that, if she wanted to get certain parts, she may have to create them herself (like a certain someone), leading to her collaboration with Amy Poehler on the proposed comedy Groupies—which they wrote a treatment for and planned to produce and co-star in... only to see the project stall in development. Which was quite the learning experience, but one that only made her more determined to keep going.
"Since then, I developed another project," Fisher told Collider in 2007. "So, I'm still being creative and moving more into production, and making sure I have a little bit more power and control over my career."
She and Cohen had also moved into production on the home front as well, welcoming daughters Olive and Elula in 2007 and 2010, respectively, and her desire to see more female-empowering stories get made only intensified.
Her partner, meanwhile, was busy trying to stuff unwilling bride Pamela Anderson in a sack, but Cohen's first outing as Borat in 2007 did result in his first Oscar nomination for Best Adapted Screenplay, so he and Fisher set out for what turned into a rather humbling night.
"We were at the Oscars, and it was the year that Sacha was up for an award for Borat, and Kirsten [Dunst] thought he was a waiter," Fisher told Australia's Sunday Telegraph in 2012 of her Bachelorette co-star. "He was by himself near the bar, because I was in the bathroom, and she goes up to him and says, 'Can you get me a glass of champagne?' Sacha was like 'Okay,' and he went off to find her one. I haven't let her live it down."
Stuart Wilson/Getty Images
Also during this time, Fisher was studying for her conversion to Judaism ahead of their eventual nuptials.
"I love the traditions that emphasize family," Fisher told Britain's Telegraph in 2016. "Every Friday night you sit together for dinner and light candles and reflect on your week and show gratitude. And it's actually been good for my cooking. I can do a good roast chicken or matzo ball soup." Talking to Kimmel in December, she said they were excitedly getting ready for the holidays. "It's Christmukkah, it's Hannukamas. It's a combo!" (Incidentally, Kimmel also noted that the last time he saw her husband, Cohen made him strip to his skivvies and then made off with his pants. "Welcome to my life," Fisher offered.)
She and Cohen married in a traditional Jewish ceremony in Paris on March 15, 2010—reportedly in front of only six people who received "very little notice" ahead of time, in order to keep the affair as private as possible.
A couple of years later, the honeymoon was still going, Fisher telling the Sunday Telegraph, "Choosing to be together every day is incredibly romantic. I love marriage. I think it's a wonderful institution and it's the most important decision you make. Life is filled with highs and lows, and you have a best friend to share it with you. It's amazing. It's like winning the lottery, having a good partner."
David Fisher/REX Shutterstock
Having a reliable partner in crime doesn't hurt either, Fisher being the one who affixed Ali G's facial hair in record time so the reliably inappropriate character could make a surprise showing at the Oscars in 2016 when Cohen was slotted to present.
"Me and my wife managed to sneak in the beard and glasses and hat and change in a bathroom right next to the stage," he told The Telegraph afterward. "Luckily Hollywood is the one place where nobody asks any questions if you disappear with a woman into a bathroom for 40 minutes."
So maybe they both like to live a little dangerously, albeit mostly privately.
"I'm so nervous to talk about my personal life," Fisher admitted in 2017 to the Sunday Times magazine. "We live in this age of iPhones and tablets and Instagram and Twitter, and all privacy seems to be gone. My relationship is so important to me—it's been 17 years..."I would feel sick to my stomach if I thought that I needed to talk about my family to sell my books or movies. It would feel like I had no integrity."
John Shearer/Invision/AP/Shutterstock
But though the flame-haired star has been in dozens of movies and TV shows (and even more, if you also think she's Amy Adams) and has written several books, and Cohen's projects, though more sporadic, tend to be attention-getters, together they've managed to live a fairly under-the-radar life, splitting time between Los Angeles and London with their three children, son Montgomery having joined Olive and Elula in 2015. The family reportedly added a home base in Australia last year and in April vacationed in Perth—where Fisher grew up after being born in Oman, where her Scottish parents were living while her dad worked for the United Nations. 
Cohen scored two Oscar nominations this year, Best Supporting Actor for his turn as activist Abbie Hoffman in The Trial of the Chicago 7 and Best Adapted Screenplay, shared with his fellow writers, for Borat 2. The pandemic-delayed ceremony didn't result in any wins for the envelope-pushing performer, but he and Fisher enjoyed a date night à deux with a backdrop of the Sydney skyline, choosing to attend a special screening of the live show (complete with photo ops) Down Under.
Fisher told the Daily Telegraph's Stellar magazine earlier this year that she was happiest in Australia. "I miss it when I'm not here," she admitted. "I don't feel any pressure when I'm in Australia. I don't have to say or do or be anything. I mean, I don't even have to wear shoes!"
Though home, of course, is wherever her husband and kids are.
"My husband only makes a movie every three years, so we're together all the time," she told Britain's Telegraph in 2016. And by then she was able to be much more selective with what roles she accepted than when she was first starting out in Hollywood.
"I'm lucky enough to be able to stay at home and be with my family," she said. "I used to devour every script, but now I'm focused on my family life, which has brought me so much satisfaction in a deep way."
At the same time—normal couple alert!—she and Cohen did heed the advice about the importance of regular date nights for longtime partners.
"Someone early on told me you have to have a date night every week and that is the best bit of advice I was ever given," Fisher explained. "I think it's really important on that date night to talk about things other than the kids… It's really hard! Honestly, I think communication is everything."
While Cohen for years mainly did TV interviews in character while promoting his immersive projects, he isn't a method actor around the house. "That would make life challenging," Fisher admitted. "But he brings them home visually. I'll see a handlebar mustache when he's doing Borat, or he'll have the blonde streaks from Brüno."
David M. Benett/Dave Benett/WireImage
Aside from their daily roles as mum and dad, they have worked together once, in the 2016 action-comedy The Brothers Grimsby (or just Grimsby in the U.K.), in which Cohen played a dim soccer hooligan—naturally he went to the premiere in character—and Fisher an MI-6 agent. 
Asked who her favorite-ever co-star was, Fisher told Hello! in 2018, "I have to pick my husband. I would not want to not pick him. He is my favorite, obviously. We had a really fun time. We shared a trailer and it was just hilarious."
"Obviously I always respected him," she added, "but having been around so many big comedy stars and seeing how they improvise and stuff—and then to work with my husband and see him be the best improv comedian I've ever worked with, I loved it."
And though Cohen's known for being audacious in his work, he's also perfectly content going unnoticed when he's just being himself.
"Luckily, we're not A-list," he told the New York Times. "I remember once in Hollywood, I was trying to avoid being photographed by paparazzi. I think I put something in front of my face when exiting a restaurant and this photographer shouted, 'You're only a B-lister!' And I said to Isla, 'Oh, my God, we're B-listers! We made it! We're B-listers.'"
Michael Kovac/Getty Images for BAFTA
The Oscar nominee was obviously selling himself and the missus a letter short, but in any case, VIP remains an apt description.
Cohen has unmasked more than a few societal ills through the years, contributing to the cultural and political discourse in the way he knows how, through his artistic creations. Over time he's become a more outspoken activist—lately regarding the scourge of social media-fueled disinformation—in his actual life. Fisher told Stellar that Borat no less than "changed the world." And if he does really retire the character this time (he thought he'd never be able to get away with it again after the first movie, too, so you never know), she'll miss him. "I'm very fond of that handlebar moustache," she said. "I adore Borat; I adore all the characters. I've lived with all of them for almost 20 years."
But asked what it was like being half of such an influential couple, she replied, "You should see me trying to get everyone to school. Nobody listens to me then."
(Originally published April 24, 2021, at 3 a.m. PT)