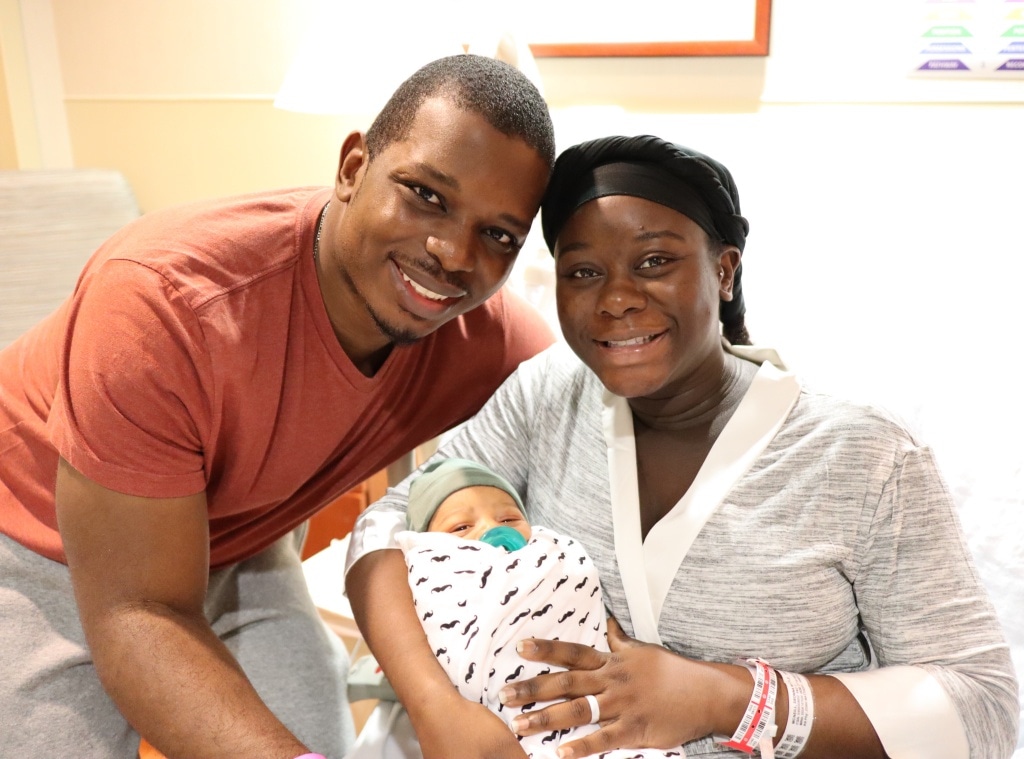 Deonna McNeill and Greg Okotie/Kinetic Content
The Married at First Sight family just became a little bigger.
E! News can exclusively confirm Deonna McNeill and Greg Okotie are officially parents after welcoming their first child late last month.
"We are so blessed and excited to welcome our baby boy, Declan, into the world," the couple shared with E! News. "We're all healthy and doing well, just happy to be home as a family of three!"
Baby Declan Okotie arrived on Feb. 27 at 8:44 p.m. local time weighing in at 6 lbs., 9 oz. And based on the family of three's latest photo, everyone is in great spirits. 
Fans have been watching Deonna and Greg's journey to parenthood on the current season of Married at First Sight: Couples Cam. In fact, the duo previously spoke to E! News about how excited they were to become parents.
"I think Greg is going to be a great dad on an account of how he takes care of those around him," Deonna shared last month. "He's very caring, has a huge heart and he really puts it out there on his sleeve."
Greg added, "Deonna is very nurturing. She's been a mother to everybody in her life—me included."
Watch:
"Married at First Sight" Couples Share First Impressions
Back in 2019, viewers first watched the pair put their trust in three experts during season 9 of Married at First Sight. Just moments after meeting for the very first time, the duo said "I do" at the altar and built a strong relationship built on faith, love and trust.
Since then, the couple has continued to update fans on their lives through social media and Couples Cam. At the same time, both Deonna and Greg warned their biggest supporters that they may be more private when it comes to their son.
"We signed up to be public figures, but our child really didn't so to be able to keep some things private and to ourselves will allow for our child to be able to make those decisions when they grow up," Deonna explained. "Is this something you want to be a part of? Yes or no?"
Watch Deonna and Greg's journey to parenthood on Married at First Sight: Couples Cam (produced by Kinetic Content) every Thursday night at 8 p.m. on Lifetime.