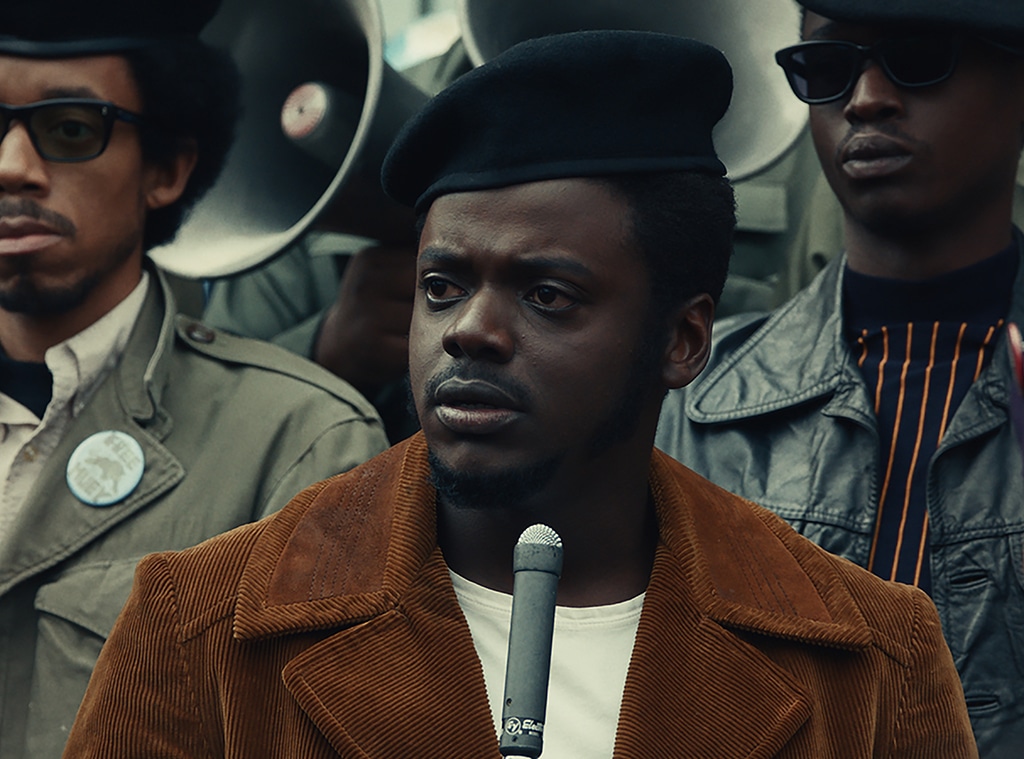 Courtesy of Warner Bros. Pictures
The story of Fred Hampton isn't one that's widely known. 
His name is rarely mentioned in text books or included in Black History Month programming. In fact, when we think of revolutionary Black activists of the 1960s whose organizational power put targets on their backs and, ultimately, cost them their lives, the list usually begins and ends with Martin Luther King, Jr. and Malcolm X.
For too long, Hampton has been one of the many Black figures whose achievements and impact have been obscured or made hidden by a system that tends to spoon-feed only a sliver of Black history to the general public. But that changes with Judas and the Black Messiah.
The film—nominated for Best Picture at the April 25 Oscars—brings to vivid life the tale of the young, charismatic chairman of the Black Panther Party's Illinois chapter whose promising, but already accomplished young life was brought to its end in a hail of gunfire when he was just 21 years old.
Shepherded to the screen by director Shaka King, working off an idea conceived partly by identical twin comedians Keith and Kenny Lucas, and producer Ryan Coogler, Judas and the Black Messiah stars Oscar-nominated Get Out star Daniel Kaluuya as Hampton—earning a Best Supporting Actor Golden Globe for his work—and Atlanta scene-stealer Lakeith Stanfield as William O'Neal Jr, a petty thief turned FBI informant who infiltrated Hampton's ranks seemingly at the behest of Bureau Director J. Edgar Hoover himself. 
As Keith Lucas told Vulture, he and his brother didn't become aware of Hampton until taking an African-American studies course in 2004. "There was a chapter on the Black Panthers, and in that chapter, there was a brief paragraph on Fred Hampton and how the FBI and the Chicago Police Department conspired to execute him," he said. "When we heard that story for the first time, we were taken aback. I couldn't believe something like this happened in this country and it wasn't more widely known."
The story stuck with them. When they arrived in Hollywood in 2010 with ambitions of making a movie, Hampton remained top of mind. That urgency grew when, in 2013, they came across the book The Assassination of Fred Hampton, written by Jeffrey Haas, the co-founder of the People's Law Office. 
"It was so detailed," Keith said. "As we dug a little deeper, we were overwhelmed at the scope of it all: The federal government assassinated a citizen. How do you get from him being a kid who was a community organizer or an activist to an assassination?"
How, indeed.
Chicago Tribune file photo/Tribune News Service via Getty Images
Hampton was born in 1948 in the suburbs of Chicago to parents who'd moved north from Louisiana during the Great Migration out of the American South. From a very young age, community and justice were major motivating factors in his life. In elementary school, he was the captain of the Patrol Boys, a voluntary group of older students who acted as crossing guards for their younger counterparts. By high school, he was staging walkouts and boycotts over racist policies and had become the head of the school's Inter-racial Council. His organizing began to spill over into the community of Maywood, Ill., where he pushed leaders to fund a summer jobs program and an integrated swimming pool and rec center.
His work caught the attention of Don Williams, head of the West Suburban Chapter of the NAACP, who asked Hampton to head their branch's Youth Council. It also caught the attention of the FBI, resulting in his placement on their Key Agitator List a full year before he even joined the Black Panthers.
While harnessing his preternatural leadership abilities as the head of the Youth Council, building a group 500 members strong out of a community of 27,000, and marching with Dr. King whenever he came to Chicago, Hampton began to grow disillusioned by the non-violent response to white supremacist violence. As the Black Panther Party grew in prominence out of Oakland, Calif., he took notice of their tenets of Black self-determination and self-defense by any means necessary.
Hampton proved to be not just an exceptional organizer, but a powerful orator as well. As Haas told The Guardian, "[He] went to church with his parents and learned the cadence of the ministers at the churches. [He] also memorized the speeches of Dr. King and Malcolm X, so that it wasn't just an accident that his speeches had a really powerful effect, you know? He was like a modern-day rapper, talking quickly, a staccato between him and the other people. Fred had the unique ability to speak to different audiences. He could talk to welfare mothers, to gang kids, to law students, to intellectuals, to young college students. He could bring people together."
So much so that when activist and future member of the U.S. House of Representatives Bobby Rush received orders from the national Black Panther Party to start an order in Chicago, he recalled Hampton's oration at marches and protests and recruited him. The two opened the office together in November 1968, with Hampton becoming chairman and Rush serving as defense minister.
Don Casper/Chicago Tribune/Tribune News Service via Getty Images
Hampton wasted no time putting his talents to the test. He launched a free breakfast program for Black West Side children, helped found a walk-in medical clinic, organized weekly rallies, taught political education classes and formed a project for community supervision of the police. And perhaps most impressively, he quickly partnered the Black Panthers with organizations like the Latinx Young Lords, the white Young Patriots, the socialist Poor People's Coalition, the American Indian Movement, and the Chinese-American collective the Red Guard to form the Rainbow Coalition.
In a speech delivered at Olivet Church in 1969, Hampton said, "We got to face some facts. That the masses are poor, that the masses belong to what you call the lower class, and when I talk about the masses, I'm talking about the white masses, I'm talking about the black masses, and the brown masses, and the yellow masses, too. We've got to face the fact that some people say you fight fire best with fire, but we say you put fire out best with water. We say you don't fight racism with racism. We're gonna fight racism with solidarity."
It was this successful pursuit of solidarity that made him an even bigger threat in the eyes of the FBI. Here was an avowed anti-capitalist, speaking of militancy in the face of a hostile federal government and successfully bringing communities together. As Haas said, "He represented a threat beyond just what the Panthers were."
As political activism of all stripes was exploding across America throughout the turbulent 1960s, the FBI was equally determined to put a stop to it. Since 1956, the federal law enforcement agency was, under Hoover's command, running a series of covert and illegal projects aimed at infiltrating, disrupting and discrediting American political organizations deemed "subversive." COINTELPRO, short for Counter Intelligence Program, got to work dismantling Black Panther Party leadership by means of imprisonment, public humiliation or worse.
David Fenton/Getty Images
And so, according to court documents, at 4:45 a.m. on Dec. 4, 1969, a 14-man squad from the Chicago Police Department, operating with an illegal search warrant and a map drawn for them by O'Neal at the behest of Chicago district attorney Edward Hanrahan, invaded Hampton's apartment and began firing. Mark Clark, who was sitting in the living room on security duty, was hit first and instantly killed. A single round from the gun he was holding discharged into the ceiling, likely from a reflexive death-convulsion after being shot. It would be the only bullet fired by any Black Panther during the entire raid.
Hampton was asleep on a mattress in another room, lying next to his pregnant fiancée Deborah Johnson (who now goes by the name Akua Njeri). As it turned out, O'Neal—who, at 17, agreed to infiltrate the chapter in late 1968 in order to have felony charges for interstate theft dropped, quickly rising up the ranks to become Hampton's bodyguard—had drugged him with barbiturates the night before. After firing close to 100 shots into the apartment, the officers entered, found Hampton and delivered two fatal shots that ended his life. 
As Craig McPherson, a Georgia State University professor who wrote his thesis on Hampton, told The Guardian, "They were seeing his successes and it scared the establishment. It scared white America. It scared the FBI, J Edgar Hoover. It scared them. [The government] had nothing on him. They could not get anything on him...They were not going to get him through scandal, so the alternative they turned to was assassination."
The official story from CPD was that the Panthers had opened fire first, going so far as to assert the existence of holes in the walls as evidence that bullets were flying out and not just in. The story soon unraveled, though, when said evidence was revealed to be nothing more than nail holes.
In 1971, COINTELPRO's existence was made public, along with the FBI's possession of the map O'Neal had drawn, linking them to the assassination. As recently as January, further documents have been made public, indicating that complicity in both planning the raid and covering it up went quite far up the ladder. According to the Chicago Sun-Times, William C. Sullivan, director of the FBI's Domestic Intelligence Division, and George Moore, head of the Extremist Section of the Domestic Intelligence Division, are directly implicated in the documents, at least one of which was written by Hoover himself.
While the Black Panther Party Chicago chapter disbanded in 1974, O'Neal remained an FBI informant until his cover was blown in 1983. It would be years before he would publicly discuss his recruitment in a PBS civil rights movement docuseries Eyes on the Prize. When the first episode premiered in January 1990, he took his own life.
Watch:
2021 Oscars: By The Numbers
As for Hampton, Haas believes he's deserving of the wider recognition he's about to receive. "The story of Fred Hampton should be taught in the schools of Chicago. There should be some kind of memorial, a symbol of what happened on that day," he told The Guardian. "I think there should be public recognition and acknowledgment of what happened. And an apology from the city." As it stands, the only public monument bearing his name remains the Fred Hampton Maywood Aquatic center.
For the Lucas twins, it's their wish that Judas and the Black Messiah marks merely a beginning in the telling of Hampton's story. "We hope this is the beginning of a deep understanding of Fred," Kenny told Vulture. "I want to see TV shows. I want to see more books. I want to see an explosion of Fred Hampton material that really dissects his personality. I feel like he should be up there in the pantheon of Civil Rights leaders, with Malcolm X and King."
It would certainly be revolutionary.
Judas and the Black Messiah is in theaters and available to stream on HBO Max now.
(Originally published Feb. 12, 2021, at 3 a.m. PST.)