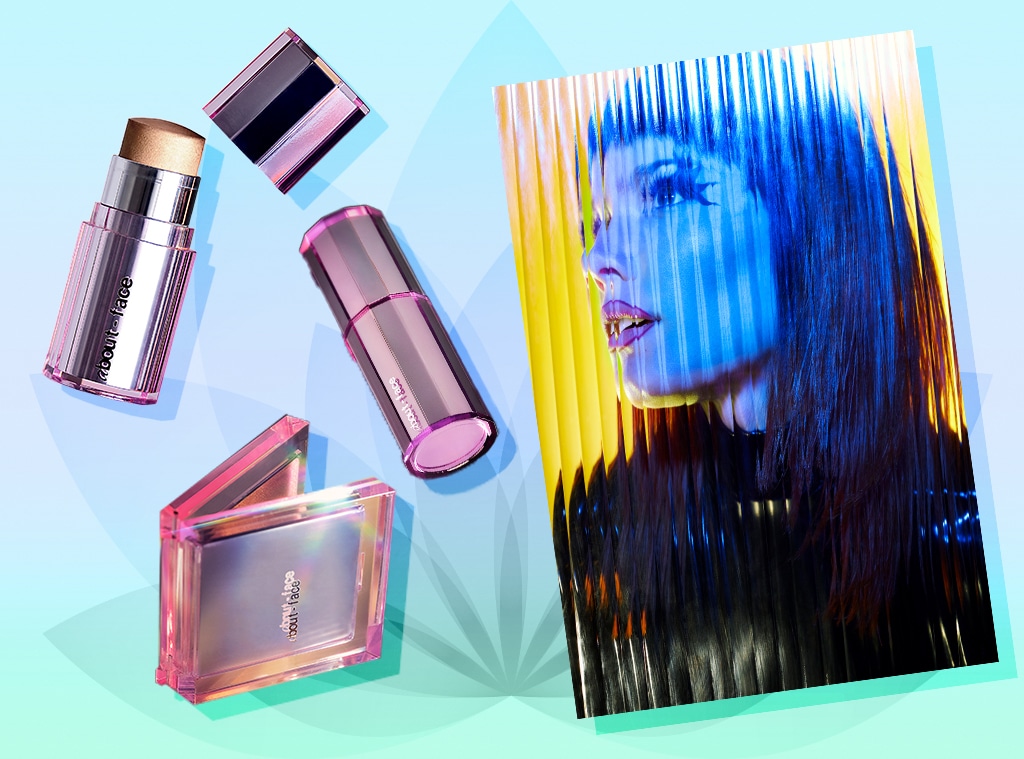 We independently selected these deals and products because we love them, and we think you might like them at these prices. E! has affiliate relationships, so we may get a commission if you purchase something through our links. Items are sold by the retailer, not E!.
Before announcing her surprise pregnancy earlier this year, Halsey was nurturing a different kind of baby: Her very own beauty brand called About Face. 
While it's most certainly become the norm for celebrities to launch their own cosmetics lines, it actually seemed like a natural next step for the "Be Kind" singer. As many of the star's fans know, she's usually her own makeup artist—a talent she's proudly talked about online.
So, when the 26-year-old musician, whose real name is Ashley Frangipane, announced she was releasing "make u(p) without rules," it was clear she was bringing something fresh and fun to the table.
And that's exactly what you'll find with her range of face products: wildly colorful eyeshadows, vibrant liquid lipstick shades, jazzy highlighters and more.
But while Halsey's line is both playful and punchy, is it worth every penny? Luckily, E! News tested out the brand's holy grail items and we're spilling the beau-tea. Read our honest review, below!
Matte Fluid Eye Paint
You'll certainly channel your inner artist with these Matte Fluid Eye Paints. From an orchid pink to a caramel brown to an angelic white, there's a little something for everyone. Best of all? The flat applicator makes it easy and mess-free to swipe on a punch of color. Wearing these shadows also made me feel like Twiggy from the Swinging Sixties when her makeup entailed vibrant shadow and decorative art painted on her face.
While I enjoyed getting out of my comfort zone, there are a few downsides to this product. For one, the paint takes a few minutes to completely dry. If you have hooded eyes like me, then it takes even longer for the shadow to dry in the lid and crease area. And because those sections aren't matte right away, the product loses its opacity and it starts to look patchy.
But once it's dry, rest assured it's not going anywhere. I put it to the test during a sweaty dance workout and it didn't move one bit. If anything, the shadow looked as fresh as ever. However, it's so smudge-proof that once it came time to wash it off, my eyes felt like they had rug burn from all the scrubbing, so you'll definitely want to have a good makeup remover readily available.
Shadowstick
Let your imagination run wild with these bright and bold shadows. Available in many colorful shades, like lime green, sunny yellow, sky blue and other vibrant hues, the Shadowsticks will inspire you to get playful with your makeup. At least, that was the case for me. When testing out these products, I drew graphic lines on my lids, mixed and matched shadows and swapped out my traditional black liner for something more fun in the waterline.
Not only are the Shadowsticks highly pigmented, but I loved how long-lasting and smudge-proof they were. In fact, the shadow didn't budge at all throughout the evening, and it was slightly difficult to wipe off with my makeup-removing face cleanser—I later discovered that a cleansing balm does the trick. Something else to note: If you have sensitive eyes, you might not like the formula as much. The sticks rub onto the skin, in the same way, a crayon gripes onto paper, which means it somewhat tugs and pulls on the lids.
All in all, if you want your eyes to be the center of attention (especially since we're living in a world where masks are the new normal), then it's worth adding to your makeup collection.
Paint-It Matte Lip Color
Halsey blessed fans with liquid lipsticks in everyday shades, like a soft pink, a mauvy brown and a deep red to name a few. The Paint-It Matte Lip Colors have a couple of pros: Each liquid lip is rich with color and the selection is oh-so-pretty.
But sadly, there are a few cons. For one, the product never fully dries down, so you'll most definitely leave behind lipstick stains. Sorry, water bottles! Another bummer? After a few hours of wear, the lipstick will start to separate and flake off—I mainly noticed this happening in the center, where my upper and lower lips touch when my mouth is closed.
While this isn't a big deal for most, I'm not a fan of the packaging. Not only is it confusing, but I found it odd that the liquid lipstick and liquid shadows look nearly identical. Since they are housed in similar packing, it's easy to mistake one for the other. And as some beauty lovers know, there are several reasons why it's not safe to use lipstick as an eyeshadow or vice versa—one being that it's never a good idea to cross-contaminate products, especially when they are used in delicate areas.
Light Lock Lip Gloss
A lip gloss that offers nourishing ingredients, isn't sticky and dresses up the lips with color? Yes, please! I'm not exaggerating when I say the Light Lock Lip Glosses is a triple threat in a tube. Each product is infused with coconut and lavender oil, which hydrates and softens the lips, and peppermint oil, which many believe naturally plumps your pout. The buttery texture of the gloss means it goes on silky smooth. If anything, it feels like a lip balm because of how soft it is. 
But just because the formula is creamy doesn't mean you have to worry about your lips clumping together. There's no stickiness here and you'll find it sits so comfortably that you'll want to keep applying more and more. Last, but not least, the glosses are both vibrant and fun. Snag them in a glitzy white, a shimmery rose, a pastel purple and a molten copper and more.
Light Lock Highlight Fluid
Finally, a highlighter that speaks to me! I'm probably in the minority here, but I tend to gravitate towards highlighters that are subtle—you know, the ones that make people wonder if you have impeccable skin because your skincare products are miracle workers and not because you slathered on makeup. I love a lit-from-within glow and the Light Lock Highlight Fluids do exactly that. Plus, I've found it's a great (and less expensive) dupe for Charlotte Tilbury's Hollywood Flawless Filter.
Available in several beaming shades—a gold champagne, an icy pink and a molten bronze to name a few—these highlighters will be your cheekbone's favorite accessory. Along with the naturally radiant hues, the lightweight liquid formula allows for an easy and fuss-free application. While some liquid highlighters drip down the second you pop it on, these sit nicely on the skin and blend seamlessly with the rest of your products, like foundation, concealer, cream blush, etc.
If there's anything worth snagging from Halsey's brand, it's definitely one of these glimmering bottles.
Light Lock Powder
If subtlety isn't your thing when it comes to highlighters, then look no further. The Light Lock Powders might come in a dainty package but they pack a powerful punch. With one swipe, my cheeks instantly went from basic to blinding because that's how intensely pigmented these powders are. Get them in shades like a frosty pearl, a peachy pink, a pastel lavender and a soft bronze.
Like the liquid highlighters, these glide onto the skin effortlessly and leave behind a glass-like finish. Best of all? These powders won't enhance any skin issues such as texture or blemishes. My biggest pet peeve is when a powder highlighter sits on the skin and puts a spotlight on the areas you wanted to cover up or minimize.
(This story was originally published on Wednesday, February 10, 2021 at 12:25 p.m. PT)