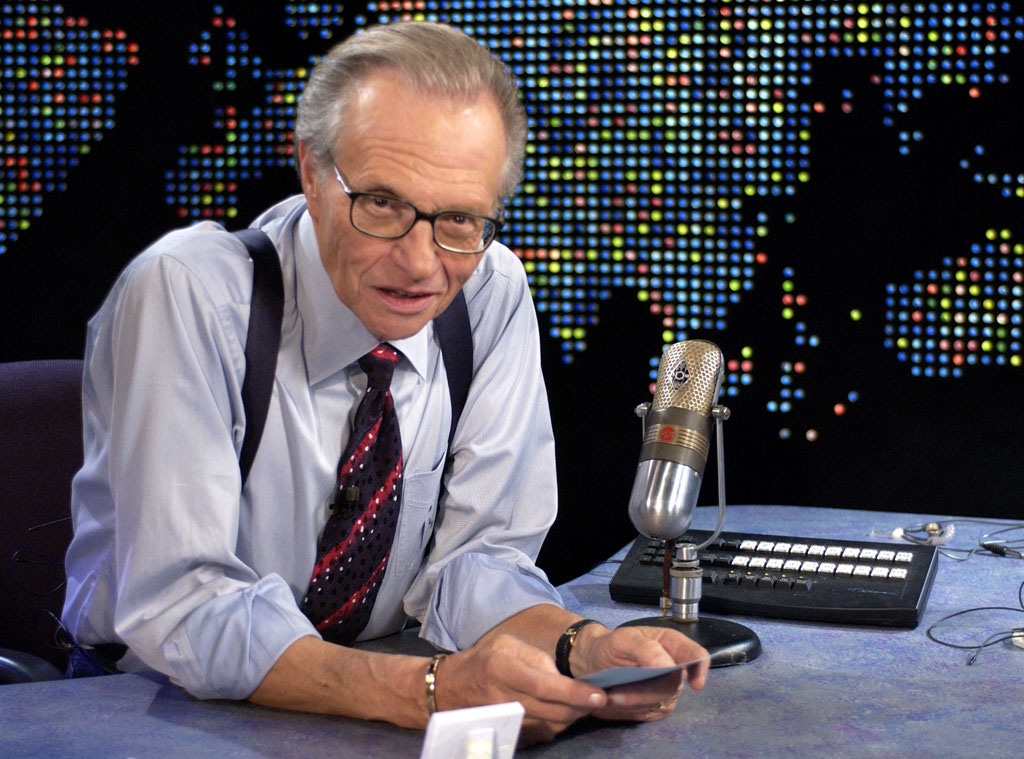 SGranitz/WireImage
After 65 years on the job, some people might think about retirement. But not Larry King.
"I think one of the reasons for my longevity is the love of what I do," he explained to Esquire writer and longtime friend Cal Fussman in 2017. "In other words, I may have an unhappy day at home. Things may not go right, I can't control—but when that light goes on, I control my environment. And then, how many people get to control their environment? So, when I hosted a radio show every night or television show every day or wrote a column, I controlled the question I would ask."
And King, who died Jan. 23 at the age of 87, probably asked about a billion questions over the course of his award-winning, seven-decade career, which included a 25-year run as host of CNN's Larry King Live.
It was reported Jan. 2 that the Brooklyn native, born Lawrence Harvey Zeiger on Nov. 19, 1933, had been hospitalized with COVID-19. King had diabetes and had battled a number of health issues in recent years, including heart disease, a diagnosis of lung cancer in 2017 and a mild stroke in 2019 that rendered him unable to walk without assistance.
In hindsight it makes sense that it would take a pileup of issues to fell the man who only missed 10 days on the air following a heart attack and quintuple bypass surgery in 1987. Yet after his own father died at 44 of a heart attack when his son was 9, King hadn't counted on growing old. "I never thought I'd be 86," he told Page Six in 2019 after his stroke. "I have no complaints. Everything that's happened to me, I'm grateful for. Maybe that sounds clichéd, but I'm really, really grateful."
With his trademark suspenders and perpetual hunch as he fired off questions to whomever was in the hot seat, the much-married broadcaster had long since become as much of a celebrity as any of the actors, musicians, presidents and other newsmakers he interviewed on radio, TV and, starting in 2012, his Ora TV talk show Larry King Now, which he continued to host into 2020. 
He made dozens of cameos as himself in movies and on TV shows, starting with a radio report about a ragtag group battling paranormal activity in New York in 1984's Ghostbusters (with cigarette in hand, part of a three-pack-a-day habit he had until his heart attack) and all the way up to reprising his role in the media circus on American Crime Story: The People v. O.J. Simpson in 2016.
King was also endlessly parodied, which he appreciated. "Two weeks ago, Saturday Night Live began with a guy doing me and he's got a character playing Jay Leno, Conan O'Brien, David Letterman—I mean that's a compliment to begin a show, means they must know you," he said in a 2010 interview for the Television Academy Foundation. "I don't mind that at all."
Of all the SNL players who'd taken him on over the years, he felt Norm Macdonald did the best job—so King was happy to have Norm's Larry open his CNN show one night in 1998. 
But whoever was impersonating King, from Macdonald to Kevin Nealon to Will Ferrell to Fred Armisen, there was always the signature lean, the gravelly basso and the serious approach, no matter who he was interviewing.
"I ask questions because I'm an observer," King explained to Fussman in 2017. "I'm present at the creation. I like to be there. Again it's the moment. I like to be in the moment."
And he was a master at keeping a guest talking.
"You've got to trust yourself," King said. "If you trust yourself, if you say to yourself—I have never said to myself, 'Can I ask this?' I asked it. I never doubted myself. I don't have it in social circumstances. I don't have it in life. I don't have command of situations. But I trusted myself because I loved it."
Michael Caulfield/WireImage for Turner
Lamenting the way in which more and more people's eyes were aimed downward, glued to their phones, King said his success was inextricably linked to his ability to establish intimacy with people in a face-to-face encounter.
"That's what I want in every show I do, an intimate relationship with the guest," he told Fussman. "If I can establish that like [Frank] Sinatra, I've got a letter here Sinatra wrote to me after his last television interview. 'You make the camera disappear.' Intimacy, trust. If the guest will trust you, you're home because they know you're sincerely interested in them. And, therefore, you could go anywhere. You can go anywhere. It depends how you phrase the question, how you feel. But if you could put yourself in their shoes and get their emotion, it's a good tip. Nobody thinks they're bad. Nobody."
Using Osama bin Laden as an example, King described his approach: "[The] stupidest first question would be 'why did you kill 3,000 people on that September day in New York?' I would have asked him, 'You grew up in the richest family in Saudi Arabia. Why did you leave?' Now, that gets him to think." Moreover, "he also knows I'm sincerely curious about him. I have made no judgment in that question. I don't bring an agenda. What do we want? We want to learn. All we want is information."
He never had that interview with bin Laden, who was taken out by Navy SEALS in 2011, but King has interviewed every kind of statesman, from then-New York Gov. Mario Cuomo, his first-ever guest on Larry King Live in 1985, to Russian President Vladimir Putin several times and a slew of American presidents and presidential candidates. His show was where future first couple Donald and Melania Trump went to spill the details about how they met and their 2005 wedding (which King was invited to but was unable to attend).
Along with the likes of Barbara Walters and Diane Sawyer, King was also one of the go-to interlocutors for celebrities (both the enduring and 15-minute variety) at every stage of their fame, be it amid triumph, tragedy, controversy or scandal. Hugh Grant paid a visit after his embarrassing 1995 arrest that proved to be only a blip in his popularity. Paris Hilton sat down with King for her first interview after being released from jail in 2007. The O.J. Simpson murder trial and its major players were practically a nightly subject when that was unfolding, and defense attorney Johnnie Cochran appeared on the show the day after the 1995 "not guilty" verdict—and Simpson himself called in.
"Understand, we will be going a little over," King informed his viewers, leaning intently toward the camera as always, "because with us on the phone now is O.J. Simpson."
He opened with, "How are you?"
His reputation as the guy continued into his Larry King Now days, famously prickly singer-songwriter Morrissey telling King in 2015 that he had decided to sit down with him for was what described as his first big, in-person interview in 10 years "well, because of you, really...Your reputation, your name, that's enough."
Of course, that sort of endurance in the business of being on-camera doesn't come without its controversy, King's blunt manner leading to the occasional gaffe and his willingness to talk with almost anyone not always sitting well with critics who don't think everyone deserves a platform. His deal in 2013 to do a politically themed talk show, Politicking With Larry King, televised by RT America, the U.S. arm of Russia's government-run RT network, was also heavily criticized.
"I don't work for RT. It's a deal made between the companies. They just license our shows," King, who co-founded digital network Ora TV with Mexican telecommunications billionaire Carlos Slim in 2012, said of the backlash while talking to The Daily Beast in 2014. Moreover, he insisted that the connection had never influenced the questions he asked in any way and he "wouldn't put up" with any editing of his show to make it more Moscow-friendly. "As long as...they're carrying stuff critical of them, I've got no problem with it."
King got his start in the 1950s on Miami radio, first as an errand boy and then as a 9 a.m. to noon DJ to replace another guy who'd quit. He admitted that Florida was quite the culture shock for a New Yorker such as himself, telling SiriusXM host John Fugelsang in 2017, "The first thing I saw were water fountains and one said colored and one said white. And I'd never seen that, not in Brooklyn. I couldn't believe it. So, I drank out of the colored fountain. It was cold, good water."
It was also in Miami where he adopted his professional name, the station manager telling him, "'You can't use Larry Zeiger, it's too ethnic and people won't know how to spell it. You need another name.' He had the Miami Herald open...and it was an ad for King's Wholesale Liquors. And he said, 'How about Larry King?' I'm glad he didn't say 'How about Larry Liquor?'"
He was a two-time Peabody Award recipient, winning in 1982 for his daily coast-to-coast radio broadcast The Larry King Show and again in 1992 for Larry King Live. He was inducted into the National Radio Hall of Fame in 1989 and the Broadcasters' Hall of Fame in 1996, and in 2002 Talkers Magazine ranked him the number-one TV talk show host of all time. He also wrote a society-style column for USA Today from 1982 until 2001 and authored a number of books, his most recent being 2011's Truth Be Told.
Ron Galella Collection via Getty Images
While he made his name and reputation as a journalist, King acknowledged that his CNN show definitely qualified as "infotainment." 
And King was comfortable in his hybrid role, shifting gears depending on whomever that evening's guest was or whatever was leading the news. "It's a hairline difference. When I interview [President George W.] Bush, you're right, I'm a journalist," he told Details in 2006. "But when I do pictures of Tom Cruise's baby, I'm infotainment." (A look at the first photo of Suri Cruise on the cover of Vanity Fair— obtained by Katie Couric to boost her debut as anchor of CBS Evening News—was a huge scoop at the time.)
No matter who he was talking to, his approach stayed the same, he didn't get nervous and he learned just by doing, not one to obsess over what he could have done better.
"...What I've tried to do the whole career is be in the moment," he told Fussman in 2017. "So, I'm always in the moment. That is, if I've interviewed Al Pacino yesterday and Barack Obama tomorrow, but I'm interviewing you today, I'm totally into you today. I'm not thinking about yesterday. And once the show is over, I never think about it. I don't listen to it. I know what I did. I don't have to listen to it. I don't have to watch it."
Speaking with Talking Live host Dr. Robi Ludwig last fall, he quipped that the real secret to his success was "being dumb." He explained, "I am an expert on nothing." So his approach as an interviewer would be "'Help me, I don't know.' Most of my questions were two sentences, tops."
He couldn't stand the growing trend in interviewing in which a host expounds on a topic at length "and all the guest has to do is agree."
Asked what he really did attribute his "grand success" to, King told Ludwig, simply, "Insatiable curiosity. Good sense of humor, I like to make people laugh. Knowing that it isn't the end of the world, I will be back tomorrow."
While the long-form interview is no longer an entirely endangered art, largely thanks to podcasts and the flux of online shows, King had an unparalleled brand name as far as what he brought to the table—as his successor at CNN, Piers Morgan, soon found out when his show was canceled after only three years. CNN, while it's ventured into other modes of storytelling, has never tried to recreate that particular format since.
Last May, King announced that he'd signed a $5 million, multi-year deal to host a pop culture interview podcast for 4Forty4 Media called The Millionth Question, to be co-produced by his son Chance King and Jeff Beacher.
He said it felt like coming full circle, that "I started my career in radio and I felt that podcasts are today's radio."
The venture didn't end up getting off the ground, though, as the year that had its way with millions of people turned into an especially heartbreaking one for King.
His son Andy King, whom King adopted when he married Andy's mother, Alene Akins, in 1961, died of a heart attack at 65 on July 28. Then, on Aug. 20, daughter Chaia, whom he and Akins had together after they remarried following King's divorce from his fourth wife, died of lung cancer at 51.
"Losing them feels so out of order. No parent should have to bury a child," King wrote on social media, sharing photos of Andy and Chaia with him and their own children.
King filed for divorce from his seventh wife, Shawn Southwick King, in August 2019 but they never officially split up (divorce proceedings also started and stopped in 2010). In December he had agreed to pay her $33,000 a month in spousal support. At the beginning of 2020 they sold the Beverly Hills home where they had raised sons Chance, 21, and Cannon, 19, for almost $17 million. 
"The age difference eventually takes its toll," King shared with People last February, referring to the 26-year gap between him and Shawn. "Also my wife is a very religious Mormon, and I'm an agnostic atheist [after being raised in an Orthodox Jewish household], so that causes little problems. We overcame a lot, but it just hit a point where we didn't get along."
He made the decision to divorce because, he told the magazine, "I thought about what I wanted the rest of my life to be. When you're 40 and there are moments of unhappiness in a marriage, you can overcome that. But it's hard at my age. There is nothing worse than arguing. And I wanted to be happy."
Befitting of his headline-making personal life, in addition to Chance and Cannon, King is survived by Larry Jr., a son from his second marriage whom he didn't meet until the younger Larry was in his 30s (he's "one of the great people I know," King told Anderson Cooper in 2009), nine grandchildren and four great-grandchildren.
After knocking at death's door when he had his stroke in March 2019, "I have less of a fear of dying now," he told People. "I'm 86 and it is what it is. I just want to keep working until the end. I'd like to die at work—I'll retire right there!"
Though the pandemic put projects on pause, King did get to see his beloved Los Angeles Dodgers—a Brooklyn transplant, like he was—win the World Series in October, a victory he celebrated with Chance and Cannon.
Watch:
In Memoriam: Fallen Stars of 2020
But King admitted that he really couldn't stand being cooped up, telling Ludwig on Talking Live that he was living with Cannon in a "beautiful apartment" in L.A., getting a little sun and doing some reading. However, "I don't deal with confinement well," he said.
"I don't feel like a spiritual person, I'm certainly not religious," King continued. "But one of my doctors, and I must have six, told me, he said, 'You should have died a year ago,'" what with everything that happened when he was hospitalized for his stroke, including doctors needing to restart his heart. And the doctor told him, "'Well, you have an indomitable spirit.' I said, 'Really?' He said, 'Yes, you have indomitable spirit, you defied death and didn't want to die. And you beat death with indomitable spirit.'"
The same indomitable spirit that made him one of the most enduring faces and voices in broadcasting history. 
"I pinch myself every day that I accomplished what I accomplished," he said. "You know, this poor kid from Brooklyn...and to be where I am now, I have so much gratitude for that."