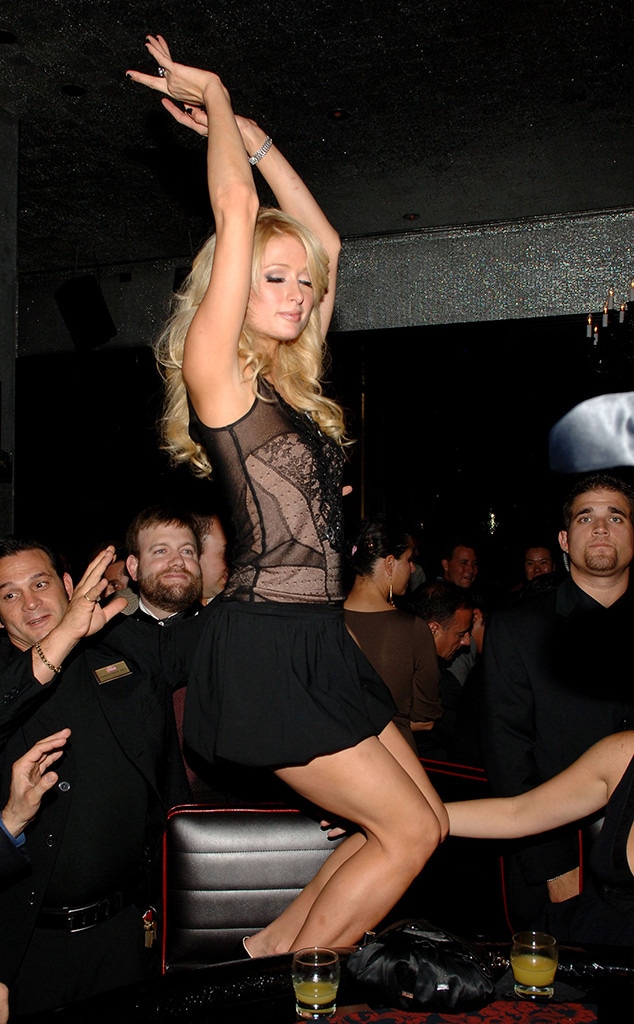 Jamie McCarthy/WireImage
At this time 10 years ago, Paris Hilton's simple life was about to get real complicated.
The scenester and reality TV star—the mid-00s being a prime time to win fame based solely on sheer visibility (and sometimes literal sheer visibility, the mid-00s also being not much of a time for underpants)—had been the queen bee of an era, the 25-year-old in a Bentley, the Vanity Fair-covering, "Stars Are Blind"-singing, sex-tape-starring leader of a pack of poster girls for Hollywood excess with names like Britney, Lindsay, Nicole and Mischa.
But just as there is an end to every era, so there was an end to this one. It didn't happen overnight; rather, this very notable moment in time flamed out over the course of many nights. 
It's hard to name one tipping point, as they all had their troubles that required them to hit the restart button, but by June 2007, all anyone could talk about was Paris Hilton.
She had been arrested on suspicion of DUI on Sept. 27, 2006, while on her way to In-N-Out Burger, a confluence of circumstances she attributed to having had one margarita on an empty stomach and then setting off in search of sustenance.
Denise Truscello/WireImage
Paris ultimately pleaded down to reckless driving in January 2007 and was sentenced to three years' probation, ordered to attend alcohol-education classes and fined $1,500—a common result for first-time offenders.
However, she would subsequently be pulled over the next month for alleged speeding and having no headlights on when she wasn't supposed to be on the road anyway. After being cited for driving with a suspended license, her $190,000 Bentley Continental GTC was impounded and prosecutors vowed to have her probation revoked.
Jean Baptiste Lacroix/WireImage
Sure enough, on May 4, 2007, Paris was sentenced to 45 days in jail (she was facing up to twice as much time) and was ordered to turn herself in on June 5.
The mass response was decidedly mixed, with some applauding the stiff-sounding punishment as proper comeuppance, while some (including people who know the law) wondered if the court was trying to prove it wasn't soft on celebrities.
With her every move and facial expression under scrutiny, Hilton responded to those who felt she didn't seem to appreciate the gravity of the situation with a statement assuring people that she "absolutely [realized] how serious driving under the influence is."
She stated, "I could not live with myself if anyone was injured or killed while I was driving while impaired. Clearly, no one should—no matter how slightly. I am ready to face the consequences of violating probation. No one is above the law. I surely am not. I do not expect to be treated better than anyone else who violated probation. However, my hope is that I will not be treated worse."
Her last hurrah was the hot-pink carpet of the 2007 MTV Movie Awards on June 3, the star all waves and photogenic head tilts, dressed for the late-afternoon taping in a flouncy black party dress.
But while the world was preparing to see her off to the Century Regional Detention Facility in Lynwood, Calif., the following Tuesday, Hilton opted to get the show on the road and checked into jail hours after the awards ceremony, a day and a half early.
She was processed, posed for her mug shot and started to settle in. On June 7, however, her lawyer secured her a reassignment to monitored house arrest for the next 40 days, due to an undisclosed medical condition (she later said she was suffering from panic attacks and anxiety). Then-L.A. County Sheriff Lee Baca signed off on the transfer, telling skeptics who accused him of giving Paris special treatment that she theoretically "got more time in jail" because she's famous, not less.
Los Angeles County Sheriff's Department
A Sheriff's Department spokesman explained, "Under our 10 percent early release program, [Hilton] would not have served any time in our jail, or would have been directly put on [a] home electronic monitoring system."
But prosecutors weren't having it, and Paris was summoned to court on June 8.
She had wanted to "appear" via teleconference, but L.A. Superior Court Judge Michael T. Sauer ordered deputies to pick her up at her house in the Hollywood Hills and bring her in. Scenes of her sobbing in the back of a sheriff's car after being handcuffed and escorted down the driveway became emblazoned in our memories.
Paris would soon be informed that she'd be serving out her sentence behind bars after all.
"It's not right! Mom!" she cried out in court, having been coldly shocked out of her feeling that the hardest part was behind her.
"This decision sends the message," then-L.A. City Attorney Rocky Delgadillo, who was not informed of the sheriff's decision when it was made, said after the hearing. "No individual—no matter how wealthy or powerful—is above the law. Today justice was served."
And so back to jail she went, only destined to serve half of her sentence anyway thanks to good behavior and chronic jail overcrowding.
But having already been through the whiplash of being released and sent back again, Paris found a tiny bit of peace—and even more perspective—within those closely spaced walls.
"At first, I went through so many emotions. You know—anger, upset that all of this happened," Hilton told Ryan Seacrest for E! News in an exclusive phone chat, the only interview she gave while she was in jail. 
"It's a learning experience I'm going to grow from. Just being away from everything…you know, the craziness, the paparazzi. I've had a lot of alone time to think and read and write. Even though it's been horrible and really hard, I think that God makes everything happen for a reason and this is my time to figure out what my purpose is in life. I've really grown from it."
She admitted that life had perhaps started to get a little out of hand when it came to the club scene and going out seemingly every night.
"I just feel that my life was going really fast," Paris said. "And there are so many people that look up to you. And the craziness of it all, sort of living in a superficial world. Now that I've been here and I've been seeing life through different eyes—just getting letters from all around the world—I have a lot of compassion for things that are going on around me that are so much more important than things I ever thought about."
The 26-year-old was writing back to her fans as well, and E! obtained a copy of one of her letters, in which she thanked the fan for writing to her "at such a difficult and scary time in my life."
Paris famously complained about the food (as she would continue to do in post-jail interviews as well) and said she was "much more grateful for everything," be it a good meal or a pillow.
Having to talk to her visitors through glass—and not being able to hug her dad on Father's Day—made her feel like a criminal, she said. "I'm not a criminal, I'm not dangerous, so it makes me feel like that. It's hard, but I'm stronger every day."
She was claustrophobic, Paris added, which made her tiny cell feel all the more tiny, but she had adjusted. Sleep was a nonstarter, however, because the cell block never really quieted down at night.
As her release date neared, she was excited and proud of herself that she had made it. "I feel like I can't wait to start a new chapter of my life," she told Ryan. "It feels really great even though I really don't like it here. In a way I'm really glad this happened because it changed my life forever."
AP Photo/Kevork Djansezian
On June 26, 2007, a beaming Paris Hilton walked out the door of the Century Regional Detention Facility and joined her parents, Kathy and Rick Hilton, in their waiting SUV.
Matthew Simmons/WireImage
Two days later, it was CNN's Larry King who scored the first big interview with Paris post-jail. She still felt primed to turn over a new leaf, but at the same time, she was fully of the belief that she had been unfairly punished.
She insisted she thought her license was valid, for starters.
"I never would've driven on a suspended license. I get followed by paparazzi all day. Why would I have the audacity to do that?" she reasoned. The 45-day sentence shocked her because "that doesn't happen ever" and her attorney predicted she'd get community service. 
Though this could easily be interpreted as the complaints of an entitled celebrity, at the time Hilton's sentence was shockingly long, in that jail time was even involved at all. One celebrity DUI arrest after another usually ended in a plea deal and probation, along with counseling, fines, etc. Not including house arrest, Lindsay Lohan was in and out of jail, sometimes for just hours at a time, for probation violations over the course of several years and at one point spent 14 days locked up, but all told it wasn't as much time as Paris spent there.
"But I don't know," Hilton told King. "Even though I hate it, I'm glad it happened in a way because this really changed my life forever, and I feel stronger than ever."
It was also an opportunity for her to rebut her hard-partying image. She may have gone out a lot, she said, but she didn't do drugs and she wasn't a big drinker. She was just...out.
"I'm not really into it," she said. "I think socially people do [drink] sometimes when they go out, but it's not something that I really care about."
She added, "People make up so many crazy stories. The things I read about and things I see is not the person who I am. It really baffles me sometimes when I read things—the places I've never been, people I've never met—it's really shocking to me."
Asked how she was planning to clean up her act, Paris said that avoiding toxic people was step one.
"I've gotten rid of a lot of people," she said, refusing to name names. "I don't want to hurt anyone's feelings, but they know who they are." Other than that, "I'm just going to follow all the laws."
Less than 24 hours after her CNN interview, Paris touched down in Maui for some real R&R.
"I don't think anyone believes that she's never done drugs," King told Ryan Seacrest in a radio interview after he talked to Hilton (because yes, there were even interviews about her interviews, akin to when a journalist talks to a world leader). "When you do something, the best way to be is to say that you did them. Then the audience will believe you. The worst is to try to deny it. And I think that's hard to take."
The world was also waiting to see if Hilton would follow through with her idea to help build a transitional home for women getting out of jail who needed help readjusting to life on the outside. That didn't happen, at least not as far as it was ever splashily announced, but Paris would delve into other charitable endeavors, such as work with Children's Hospital Los Angeles.
GTRES/FAMEFLYNET PICTURES
Like the end of the celebutante-gone-wild era itself, Paris' image rehabilitation didn't happen overnight. It's not as if she stopped having money or liking fancy things, nor did she stop going out or seeking the spotlight.
Apparently already over talking about how her experience had changed her, she was none too pleased when David Letterman bemusedly asked her about jail when she visited the Late Show in October 2007, snapping, "I'm not answering any more questions about it. I'm here for my clothing line, my movie and my perfume. I'm not here to talk about that."
As she pointed out, however, she didn't want to talk about it because she was all about business and her brand—and she was decidedly ahead of her time when it came to realizing just how important that was.
In addition to perfume, she's had her name on clothes, shoes, handbags, hair extensions and much more over the years, not even including all of the TV shows touting a glimpse at life with Paris.
Her 2008 MTV show Paris Hilton's My New BFF was about as amazingly terrible as it sounds, and the title of her next movie, Repo! The Genetic Opera, caused a lot of head-scratching. But by then it didn't matter what Paris did onscreen—she was a cultural icon thanks to being herself and knowing how to make that feel desirable and important to other people.
And at the same time, she was in on the joke. It's impossible to fathom something like this happening today because of our instant-outrage culture, but do we remember back in 2005 when House of Wax was being sold as the movie where you'd get to see Paris die?
"There's so many people out there who try to imitate what I do but I am the original," Hilton said in a 2011 interview on the eve of the premiere of Oxygen's The World According to Paris. "There is nothing like me."
Los Angeles County Sheriff's Department
She didn't entirely learn her lesson: In July 2010 Paris was questioned about alleged pot smoking while attending the World Cup in South Africa, but was soon free to go after a friend said she was the one carrying pot. A couple weeks later Hilton was stopped at a private airport on Corsica after security found marijuana in her purse, but after determining it was less than a gram, they let her go.
She pleaded no contest to misdemeanor cocaine possession, however, in September 2010 in Las Vegas after a small baggie of coke fell out her purse while her then-boyfriend Cy Waits, was being stopped for DUI (he also cut a plea deal). She was sentenced to a year of probation, fined $2,000, and ordered to complete 200 hours of community service and a substance abuse program. Her defense attorney at the time said she would be completing an outpatient program.
But since then...clean slate. She got out when the getting was still good, reinventing herself as a DJ—she's had residencies in Ibiza, Atlantic City and Vegas—and as a quieter fixture on the social scene, still given to skipping underwear on occasion but otherwise leaving her wildest days behind her.
"Because I'm Paris Hilton, people assume, 'Oh, she's just this rich girl,'" Hilton told Billboard.com in 2015. "They don't understand that I've actually been going to raves since I was 15 years old. I love music. I love entertaining people. I love partying. I love having a good time and having people around me have a great time. So I feel like DJing is kind of perfect for what I do.
"During the day, I'm a businesswoman. I travel around the world. I work with different products and brands. Then at night, I get to DJ for all my fans and have an incredible time. And that's what it's about. DJing is about entertaining, having fun with the crowd, and making people have the time of their lives."
Michael Kovac/Getty Images for TAO
Nowadays, Hilton is dating The Leftovers' Chris Zylka—she called him "the one" when the paparazzi were nice enough to ask—and they've been spotted vacationing in Mexico, at various L.A. hot spots and, most recently, at Coachella.
"I'm so in love," she told London's ES Magazine in a new interview. "He's the man of my life. We're best friends."
Asked for the umpteenth time if she missed her party girl days, she insisted, "No, I am so happy now. When you are young and growing up you find out who you are when you live life. I want to be a good influence on other girls to inspire them to be businesswomen and show, like, girl power."
It's hard to believe her trip to jail was almost 10 years ago—it seems both like yesterday and like a lifetime ago—but ultimately Paris Hilton succeeded at what she needed to do to get herself out of the weeds and not end up destroying the lovely life she's been lucky enough to live.
Namely, she grew up.