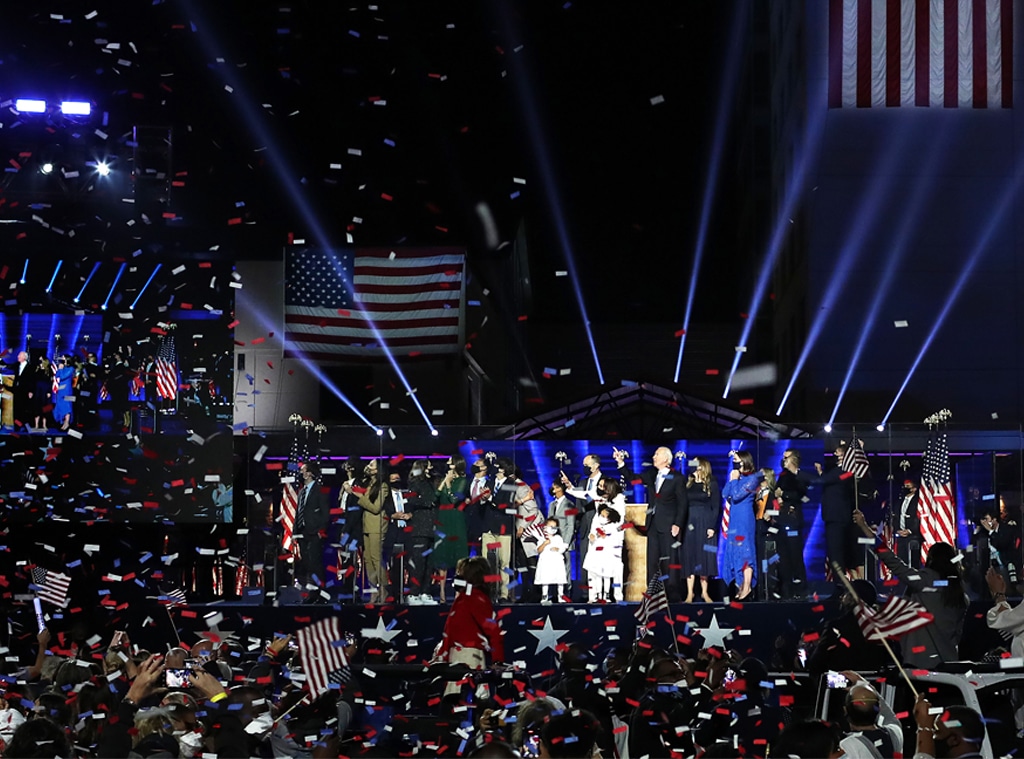 TASOS KATOPODIS/POOL/AFP via Getty Images
You may have been wondering something as you were taking in the joyous celebration on the night of Nov. 7, when President-Elect Joe Biden addressed the nation for the first time after being named the winner of the 2020 presidential race.
Namely, who are all those people?!
Being President of the United States seems like an inherently lonely job, even with all the meetings, phone calls, events, travel, speeches and photo ops that come with the territory. When things go wrong, it's your fault. When things go right, that's great, but what have you done for us lately? Similarly, it can be awfully easy to forget that someone who's running for president, also a full-time job, has a whole life behind the scenes that doesn't involve glad-handing and sound bites.
So, the answer to your question: Joe and incoming First Lady Jill Biden happen to have a very big family.
As Biden prepares to be sworn in on Jan. 20 as our country's 46th president, the outline of Biden's simultaneously tragic and triumphant personal story is fairly well known by now. 
Joseph Robinette Biden II was born in Scranton, Pa., attended the University of Delaware and law school at Syracuse, and won a longshot race for the U.S. Senate in 1972 just a couple of weeks before his 30th birthday. 
Barely a month after the election, his wife of six years, Neilia, and their 1-year-old daughter Naomi were killed in a car crash. Their sons, 3-year-old Beau Biden and 2-year-old Hunter Biden, were hospitalized for several months with serious injuries.
Justin Sullivan for Getty Images
Biden met Jill Stevenson (née Jacobs), who was about to finish her degree in English at the University of Delaware, on a blind date set up by his brother Frank in 1975. She was separated at the time from husband Bill Stevenson, owner of a popular local college bar, and she finalized her divorce later that year.
Although Biden had to propose five times—Jill knowing that she would be saying yes not just to Joe, but to becoming a mom to Beau and Hunter as well, so she wanted to be 110-percent sure—they were eventually married on June 17, 1977, in a Catholic ceremony.
Jill, a life-long teacher, returned to school in her 50s and got her doctorate in education in 2007. The following year, Barack Obama was elected the 44th president of the United States and Biden—who had a few failed bids for the top job under his belt—became vice-president.
Carolyn Kaster/AP/Shutterstock
Biden considered running for president again to succeed Obama, but the death of Beau from brain cancer in May 2015 factored heavily into his decision to step aside, the career public servant torn between the opportunity and his grief, but ultimately doubting he'd be able to devote the energy needed to what the endeavor would entail.
And that may have been it, as far as his time in politics went, but watching the Trump presidency unfold re-energized Biden's sense of purpose. In fact, he decided that he was exactly the person for the job at this point in our nation's history, a uniter-in-chief type who has experience crossing the aisle to get things done and the temperament to help bring the increasingly divided factions of the country together.
Watch:
Joe Biden Wins 2020 U.S. Election: Celebrities React
And now, finally, after the strangest presidential race in pretty much every living person's memory and the outgoing president's repeated fruitless efforts to challenge the election results, we'll get the chance to find out.
Joe Biden is the one moving into the White House now, and here's a guide to his family as they celebrate their patriarch's winning moment:
During the campaign, Joe's four granddaughters crowded onto a couch for an interview with PBS News Hour, in which they acknowledged their Pop's well-documented love of ice cream and confirmed that he really does call everyday.
"He'll pick up our calls no matter where he is," Naomi Biden, Hunter's eldest daughter and Joe's first grandchild, said. "He'll be onstage, giving a speech, and we'd call him and he'd be like, 'What's wrong?!'" Giggles all around.
"We've grown up together," she explained. "He's made sure that every single tradition, every holiday, we're all together...I don't think there's been any decision, no matter how big or small, that we haven't decided as a family."
When their grandfather was considering throwing his hat in the ring for president yet again, Naomi was the one to call the family meeting. "He thought we were calling a meeting sort of to, like, discuss whether or not we wanted him to," she said, "but really we were calling him to be like, 'Get in that race!'"
Talking to former first daughter Jenna Bush Hager on Today recently, Ashley Biden said, nodding with emotion, "I'm just so proud, I truly am, proud of my father."
Asked about the times during the Biden campaign when not only her dad, but also her brother Hunter and everything the family stood for, was under fire, Ashley (who keeps her social media accounts private) admitted it was hard. But, she said, "In those moments we had each other. Yes, it hurts, right, but you also know the truth. At the end of the day they may get it wrong, but at least I got it right. At least I know the real deal."
(Originally published Nov. 17, 2020, at 3:30 p.m. PT)