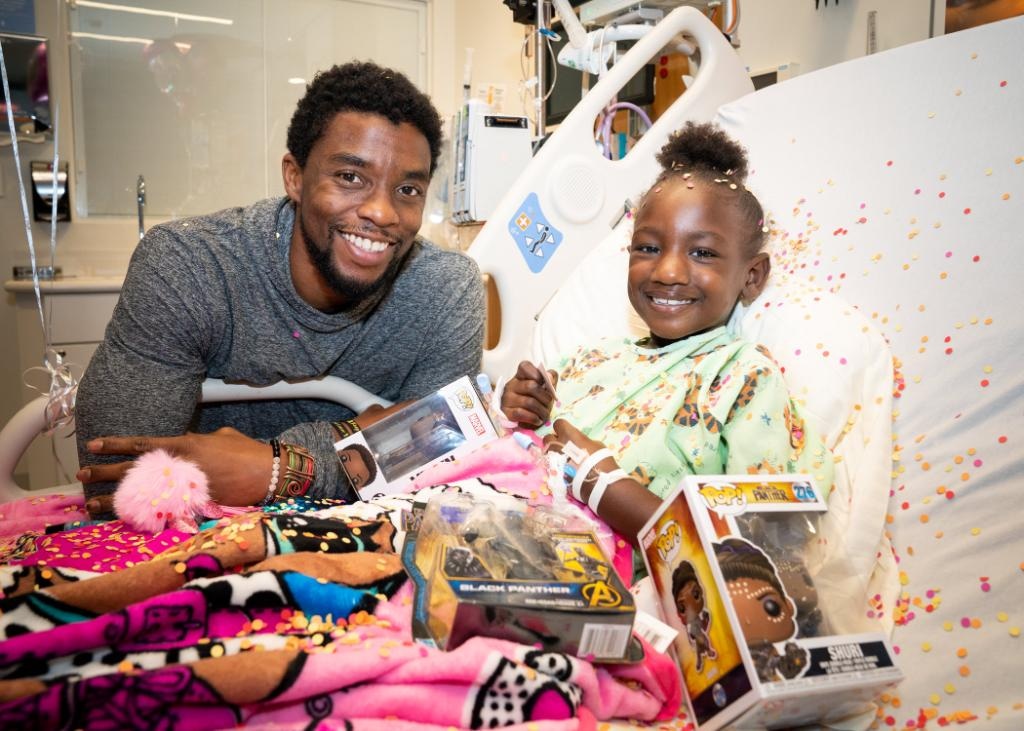 St. Jude
The world continues to mourn the loss of Chadwick Boseman.
On Friday, Aug. 28, it was confirmed that the Black Panther star passed away after battling colon cancer for four years. He was 43 years old.
"Chadwick was diagnosed with stage III colon cancer in 2016, and battled with it these last 4 years as it progressed to stage IV. A true fighter, Chadwick persevered through it all, and brought you many of the films you have come to love so much," a statement read on his social media accounts.
In light of the actor's death, many fans took to social media to express their heartache and share the many ways he was a hero on and off the screen. Many remembered how Chadwick helped, encouraged and visited children battling cancer.
After a 2018 visit to St. Jude Children's Research Hospital, Chadwick tweeted, "Had a birthday celebration with a beautiful little princess, Mady. She let me throw the confetti twice. I think I had as much fun as she did."
"We are deeply saddened to hear of the passing of our friend Chadwick Boseman. Two years ago, Chadwick visited the St. Jude campus and brought with him not only toys for our patients but also joy, courage and inspiration," St. Jude Children's Research Hospital posted on Twitter. "Our thoughts are with his family and friends at this time."
Another moment floating around on social media? Chadwick's Black Panther junket at the 2018 Sirius XM Town Hall. In the clip, the actor broke down in tears after remembering two kids who passed away due to cancer. 
The actor got emotional when discussing how the children were excited to see the superhero film but sadly passed away before it premiered.
Watch:
Chadwick Boseman on His Acting Career: "I'm Just Blessed"
"Throughout our filming, I was communicating with them, knowing that they were both terminal. What they said to me and what their parents said, they... trying to hold on til this movie comes," Chadwick recalled. "You hear them say that and you're like, 'Wow... I gotta get up and go to the gym, I gotta get up and go to work, I gotta learn these lines."
"See how the world has taken this on, seeing how the movie has taken on a life of its own, I realized that they anticipated something great," he continued. "I think back now to a kid and... waiting for Christmas to come, waiting for my birthday to come... I did live life waiting for those moments."
"What put me back in the mind of being a kid, just to experience those two little boys' anticipation of this movie, and when I found out that they..." he said, breaking down in tears as his co-star Lupita Nyong'o put her hand on his back.
"It means a lot," he closed.
After going viral, one of the boys' father commented on the video. "Chadwick was talking about my son when he broke down and cried. He was heartbroken that Taylor didn't get to see the finished product," Brian Hammond tweeted. "When all of the world's eyes were on him, his heart & mind was on our angel."
Following his response, Hammond shared a video the actor recorded and sent to his family. "This is the first message Chadwick Boseman sent to my son in 2017. He had already been diagnosed with colon cancer, unknown to anyone. Amazing," he wrote.
Hammond also noted that September marks Childhood Cancer Awareness Month. "46 kids are diagnosed & 7 die each day. Taylor's day was 12/7/17. At Christmas we give teddy bears in his honor at local hospitals," he added.
Chadwick's legacy continues to live on. From his co-stars to fans touched by his talent, read through the many tributes shared in his honor here.