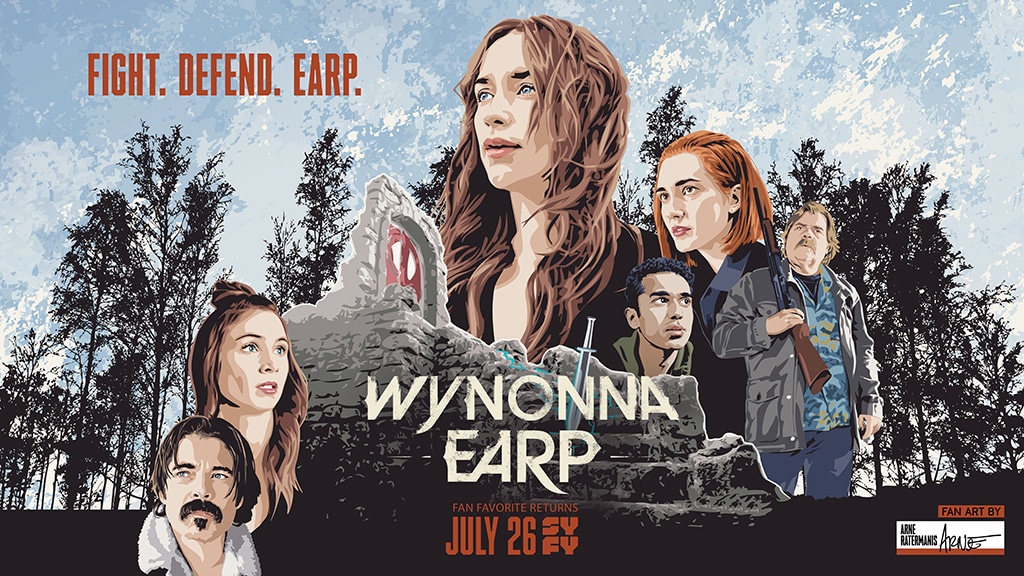 Arne Ratermanis/Syfy
We have a winner!
In case you forgot, Wynonna Earp asked for a little help with designing its season four key art, and E! News can now happily announce that showrunner and judge Emily Andras has made her choice. Congratulations to...Arne Ratermanis! 
You can see Ratermanis' design above and below. 
As the winner, Ratermanis will have his art featured across all platforms as the official key art, and wins $1,000. Five runners-up will also receive $100. 
The contest was run through a partnership with Tongal, the online platform for content creation. There were 518 eligible submissions on Tongal, and they came from all over the world, from Spain to Brazil to Italy to Vietnam, from fans of all ages and backgrounds with a variety of art styles. 
You can see another version of the new key art below!
Season four finally premieres later this month after a long wait, thanks to fans rallying together to save the show when financial concerns reportedly threatened its future. Season three ended in September 2018, and terms were finally worked out in July 2019 for the return of the series. Finally, it's happening, and you can watch the trailer below! 
In season four, the infamous Earp Curse broken, and Wynonna Earp (Melanie Scrofano) would love to be celebrating with cold whiskey and hot donuts, but unfortunately she has to rescue everyone she loves, save the town of Purgatory, and take on her most diabolical, Earp-hating enemy yet—all without her trustworthy gun, Peacemaker.
Watch:
"Wynonna Earp" Cast Describe Fandom in 3 Words at PCAs
Wynonna Earp season four premieres July 26 on Syfy.
E! and Syfy are both part of the NBC Universal family.