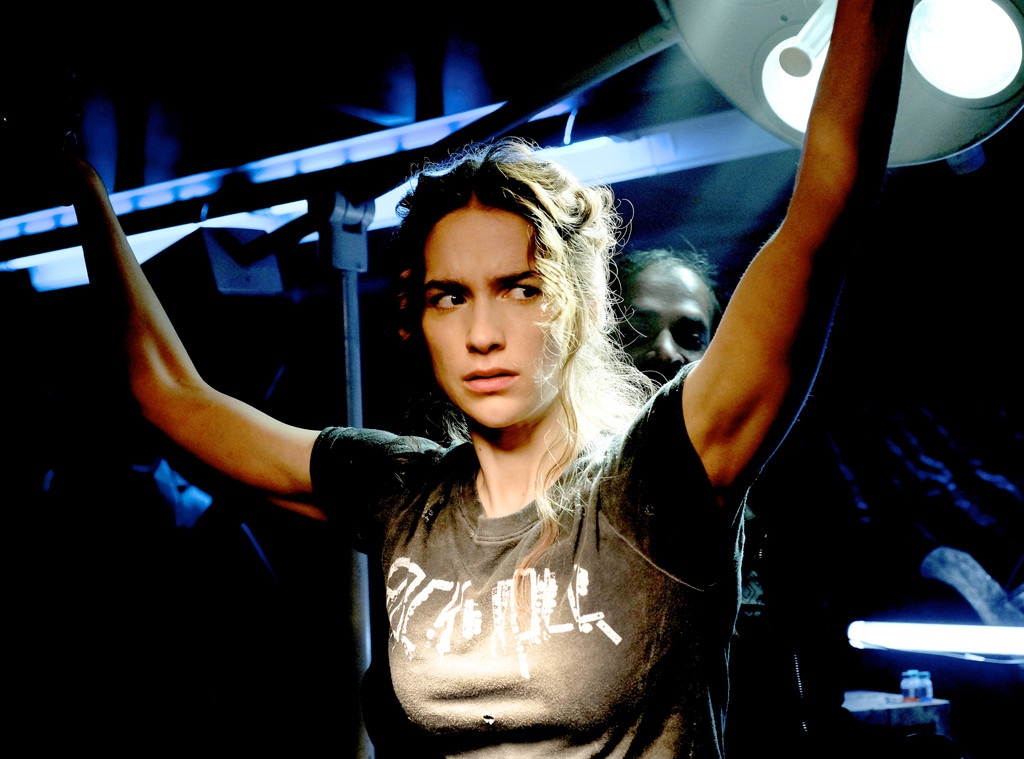 Syfy
The fight for Wynonna Earp is over. After months in limbo, E! News can confirm Wynonna Earp season four is finally going into production with a premiere date on Syfy in the United States and Space in Canada in summer 2020. Production is expected to begin later in 2019.
"We are absolutely thrilled that we get to make more Wynonna Earp, and are grateful to our networks and partners for working hard to ensure we can," Emily Andras, showrunner and executive producer, said in a statement. "This is an enormous testament to our passionate and fierce fans, the Earpers, who remind us every day how to fight like hell for the things you love with wit, ferocity and kindness."
"Wynonna Earp—the series, the comics, the characters, the story and the fans are all deeply important to IDW so we are thrilled to be able to continue to tell the Wynonna story," Lydia Antonini, president of IDW Entertainment, said in a statement. "From the very beginning, the fans have embraced the series and have transformed their passion into an inclusive community built upon empathy and support, as well as whiskey and donuts. We are grateful to have partners who were able to help us bring it back for a fourth season so that we can continue to serve the dedicated Earpers, and entertain fans everywhere."
Fans rallied around the People's Choice Award-winning show after reports that series producer IDW Entertainment could not produce the fourth season due to financial issues. IDW Entertainment announced a new producing partner Cineflix Studios. Cineflix Rights will handle international sales for all four seasons of the series.
"Syfy has never wavered in its support of Wynonna Earp, a unique and important series with some of the most passionate fans anywhere. To our Earper friends: Thank you for your patience and faith as we worked with our partners to ensure that Wynonna can get back to where it belongs…on Syfy," the network said in a statement.
Syfy ordered a fourth season in July 2018.
"IDW is committed to continuing to tell the Wynonna Earp story. Much like the fans, we are passionate about not only the series, but the comics, the characters and the overall message that the Wynonna Earp franchise carries. We are in the process of working out the details for how the Wynonna story will continue and will share new details very soon," an IDW representative told E! News via email after fans started putting up billboards in support of the series.
In addition to billboards in the middle of New York City's Times Square, fans used the hashtag #FightforWynonna to campaign for the show's survival. Then, series star Melanie Scrofano and creator Andras put up their own billboard to thank fans.
"They've taught us to fight for what we want. Now we want to fight for them," Scrofano told E! News about the support the show received in early 2019.
Wynonna Earp star Tim Rozon also met supporters in the middle of Times Square.
"They Earp, I Earp. They inspire me to be the best version of myself and they deserve the world," Rozon told E! News in March 2019.
In addition to Scrofano and Rozon, the show stars Dominique Provost-Chalkley and Katherine Barrell.
Season four is slated to premiere in summer 2020.
(E! and Syfy are both part of the NBCUniversal family.)