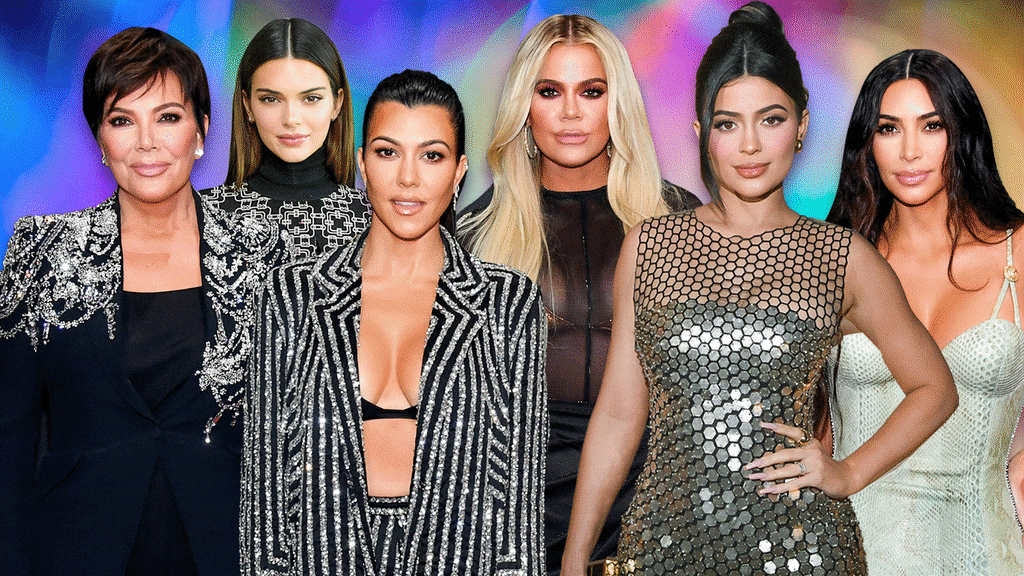 Getty Images/E! Illustration
The Kardashians were not the first family to have their own reality show.
But no one before or since has managed to make the most of one quite as they have—and not only in the form of a dozen spin-offs that have aired at one point or another on E! since Keeping Up With the Kardashians premiered in 2007.
Rather, their name has become more, even, than a billion-dollar brand. It's a pop culture touchstone, a word that conjures up all at once luxury and extravagance, style and sex appeal, followers and fashion, family and fierce loyalty. Their name has become synonymous with fame, and mention of the Kardashians is never far off when the conversation turns to what being a celebrity is all about in this day and age.
Now that their flagship show is ending June 10 after 20 seasons truly marks the end of an era, countless people having followed Kim Kardashian, Khloe Kardashian, Kourtney Kardashian, Kylie Jenner, Kendall Jenner, momager™ Kris Jenner and their associated loved ones through everything you can think of, from the momentousness of childbirth to the mundanity of a fro-yo run.
All the while, they knew that to stay fresh, you've got to be able to evolve—and the Kards were busy doing that, too.
For starters, no one has harnessed social media and bent it to their will quite like the Kardashian and Jenner sisters. Though surely there's some overlap among fans, Kourtney, Kim, Khloe, Kendall and Kylie have a combined 909 million Instagram followers, mainly women of all ages who want to see pictures of their kids; what they're wearing—the clothes on their shapely bodies and the makeup on their faces; what they're promoting; and what they have to say about pretty much anything at all.
Haters abound—often to their detriment if any one of the ladies is in the mood to clap back (though sometimes they send perfume!)—but the sheer numbers are inarguable. At this point, it doesn't matter how the Kardashians got to where they are, or which particular moment took them from famous to phenomenon. They're there, on the mountaintop, making the most of what they've got.
Watch:
5 Times Kim Kardashian Laid Down the Law
As Kim put it simply to Business of Fashion in 2018, "My career came about at a time when social media was just starting and I took advantage of it and I figured out how to use it to my benefit."
That she did, putting her accounts to work, first to promote Keeping Up—back when she thought doing a TV show might be a nice way to promote DASH, the clothing boutique she ran with Kourtney and Khloe. "I was thinking this might not last very long, but we'll grow a great business and expand online. I thought it would be great press," Kim reflected to Variety in 2015. "I didn't think it would turn into what it turned into."
Next she was hawking various products that brands sent her way; and these days it's the signature brands that the empire that landed her on the cover of Forbes in 2016 has expanded to include, such as KKW Beauty and her Skims shapewear line.
Point being, the trope that she's "famous for being famous" has been tired for years.
"People said that about me all the time," Kim told Business of Fashion. "And what do you do when you're just famous for being famous? Well okay, I'm here, does it matter? That title just was stupid to me— always. If they are famous for being famous they're still important; people are still taking their advice; people are still paying attention to them whether they are speaking about fashion or beauty or activism. They're very important."
When it comes to social-media influencing, the Kardashian-Jenner sisters are among the original real deals. Over the course of a decade they went from singing the praises of QuickTrim to selling hundreds of millions of dollars worth of their own makeup, skin care, jeans, lifestyle tips and more, and triggering a 6 percent plunge in the stock price of Snapchat—as Kylie Jenner inadvertently did in 2018 when she tweeted about not liking the platform's latest changes.
Kylie, who was 10 when Keeping Up With the Kardashians premiered, now has the most Instagram followers of anyone in her family with 238 million and keeps adding to the total daily, not least because she too is a mom now, and one of the most unequivocally popular plot lines in the Kardashian family saga—ever since Kourtney and Scott Disick welcomed son Mason in 2009—has been the arrival of all of the siblings' absurdly adorable children.
But, as Kylie said in 2017, not long before she firmly decided not to share her pregnancy journey the way she had shared so much of her life to date with the world, plenty of stress comes with the job of being synonymous with the very concept of public life.
"There's an image that I feel constantly pressured to keep up with," she shared in her own E! spin-off, Life of Kylie, which premiered that summer. "In order to stay relevant for the public, I have to be on Instagram and I have to be on Snapchat just keeping people entertained. And then there's who I really am around my friends. That's who I want you guys to get to know."
"I for sure didn't choose this life," she acknowledged, "but I'm not going to say that I'm totally innocent, because I am keeping up this lifestyle. I know I'm making myself more famous by having an Instagram and posting photos, but I'm not that type of person where I want all the attention. I don't like that. It actually freaks me out, because it reminds me that I'm 'Kylie f--king Jenner.'"
When she welcomed daughter Stormi Webster in February 2018, her whole existence was suddenly imbued with new meaning—as was the case for Kourtney, mother of three; Khloe, mother of daughter True; and Kim, now a mother of four.
"I think also motherhood just puts life into perspective and what's important to you," Khloe, whose daughter turned 3 in April, told Entertainment Tonight in 2019. "I think you just reevaluate things, like, 'I don't want to do that tonight.' And it's OK to say no, so I can spend time with my family."
It just so happens that a lot of their family time is still spent in front of the cameras (even during quarantine) and their lives transformed while everyone was watching. In so doing, they did nothing less than rewrite the nuclear-family codes, showing that a house full of love comes in all shapes and sizes and can expand and contract accordingly so long that at the end of the day it's all about what's best for their children—the new center of the Kardashian-Jenner universe.
And while in hindsight the brick-by-brick building strategy seems apparent, starting with the foundation that was Keeping Up With the Kardashians and growing upward and outward to encompass so many aspects of products, personality and performance, they all know that their family's trajectory, combined with their longevity as the caliber of celebrities that they are (Kim helped influence federal criminal justice reform, for Pete's sake!), is unique.
"I think there was some magic of us starting on TV and really building up an audience," Kim—who calls herself "traditional" because she still likes making TV appearances, such as The Tonight Show—explained during an interview with Andrew Ross Sorkin at the New York Times DealBook Conference. "And then the magic of timing, of being around at the same time social media was created."
As Sorkin pointed out, there's a Kardashian or Jenner for every market and generation now.
Christopher Polk/E! Entertainment/NBCU Photo Bank via Getty Images
"I think that everybody has their completely own demographic," mom Kris agreed. She has been serving as de facto CEO of the family's collective business for so long, and continues to do so, but now all of her girls are handling their own personal brands in the ways they see fit.  
"My kids all have to be their own COO," she explained. "I might act as the CEO of a bigger picture and just weigh each thing as it comes in."
And none of it works without authenticity.
With all the attention that she commands with something as simple as a "like" on Instagram these days, Kim walks a fine line between staying true to her beliefs and not unduly influencing something that isn't all that important for her to speak out about. Social justice? Yes, let it fly. But if she doesn't like a certain ice cream brand, she's not going to contribute to a sales decline by saying that out loud. 
But ultimately, "I believe that people should be themselves," she said, frankly.
That may sound like obvious advice, but it's a motto that built an empire.
(Originally published June 21, 2020, at 12 a.m. PT)