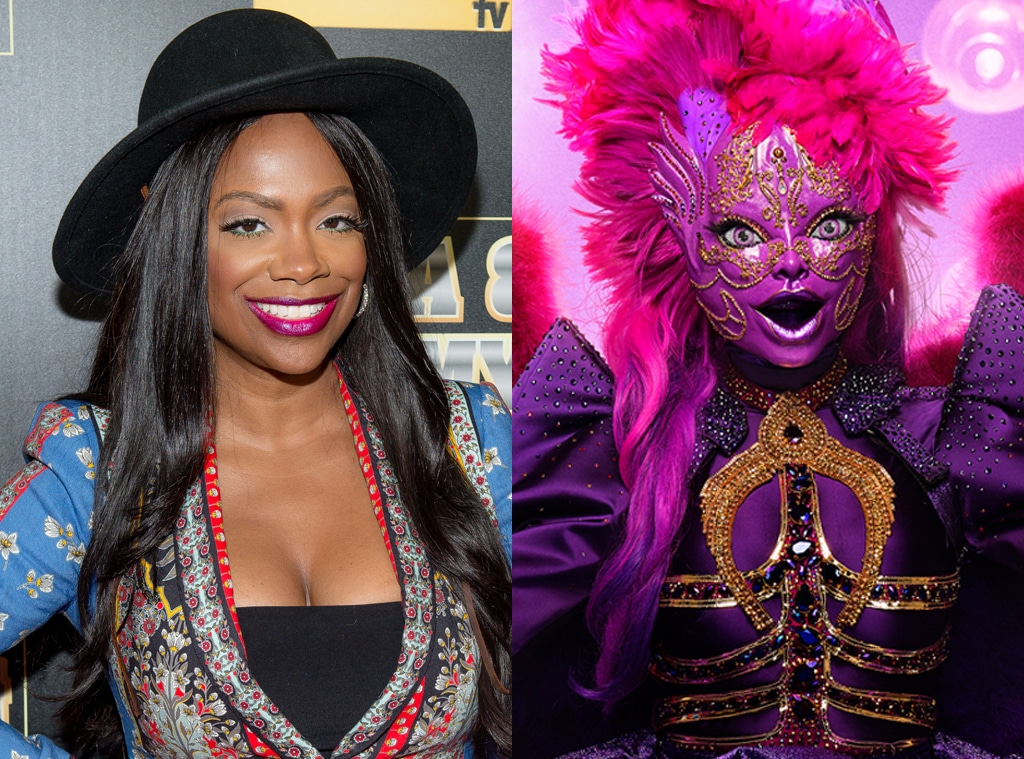 Marcus Ingram/Getty Images/ Michael Becker / FOX. © 2020 FOX MEDIA LLC.
Kandi Burruss may be the reigning Masked Singer champ, but she had doubts going into the competition.
During Wednesday's episode of Just the Sip, the former Xscape member opened up to podcast host and E!'s own Justin Sylvester about being the first female winner on The Masked Singer, The Real Housewives of Atlanta reunion and more.
"That's the most exciting part about it, is that I'm the first and there will never be another first," she said on her historic win.
According to Kandi, it was during her last four performances that she realized she could win the competition. However, she wasn't as confident heading into the popular singing competition.
"I was scared as hell when I first started performing on the show," the Bravolebrity admitted to Justin. "Because, it's been a long time since I performed by myself, you know, as a solo artist."
As E! readers surely know, the singer turned reality TV maven took home a Grammy in 2000 for her songwriting work on TLC's hit "No Scrubs."
Despite being an industry veteran, Kandi revealed she "was shaking" during her first few performances. Apparently, following her "Rise Up" number, Kandi realized that a woman had never won The Masked Singer.
Thus, she was determined to take home the trophy.
"We had a lot more men than women in this competition for season 3," she added.
Regardless, Kandi had plenty of women to work with during season 12 of The Real Housewives of Atlanta. And, unsurprisingly, the RHOA veteran had plenty to say about her co-stars.
"I think some people want to feel like the show is only successful because of them," she said in regard to her co-stars being "salty" about jobs outside RHOA. "And it's just not that way, our show is built on an ensemble. It's a group in a sense and, you know, I come from group life."
Watch:
Kandi Burruss "Feels Great" About Double "RHOA" Noms at PCAs
Per Kandi, "team work makes the dreams work." Without naming names, Kandi warned: "You are not number one, we are number one."
This remark came one week after NeNe Leakes claimed on Daily Pop that Kandi has a "need to be number one."
"I was here first! This is a house that NeNe Leakes built," NeNe shared with E! viewers at the time. "And so, she has to be number two. In fact, she's number three, 'cause Porsha [Williams] will be number two."
As for their face off at the reunion, Kandi had no qualms about calling out the Glee alum for having notes on hand.
"She closed that laptop with her notes showing," Kandi quipped. "You're supposed to be reading bitches not reading notes."
Even though Kandi originally didn't want a virtual reunion, she said she enjoyed how it turned out, even when Andy Cohen muted her.
"The reads and the shade have been funny, just over the top," Kandi reflected. "The muting! How he's been muting us, that has been funny."
For all of this and more, including Kandi's current thoughts on Phaedra Parks, be sure to listen to the full episode here.
(E! and Bravo are both part of the NBCUniversal family.)