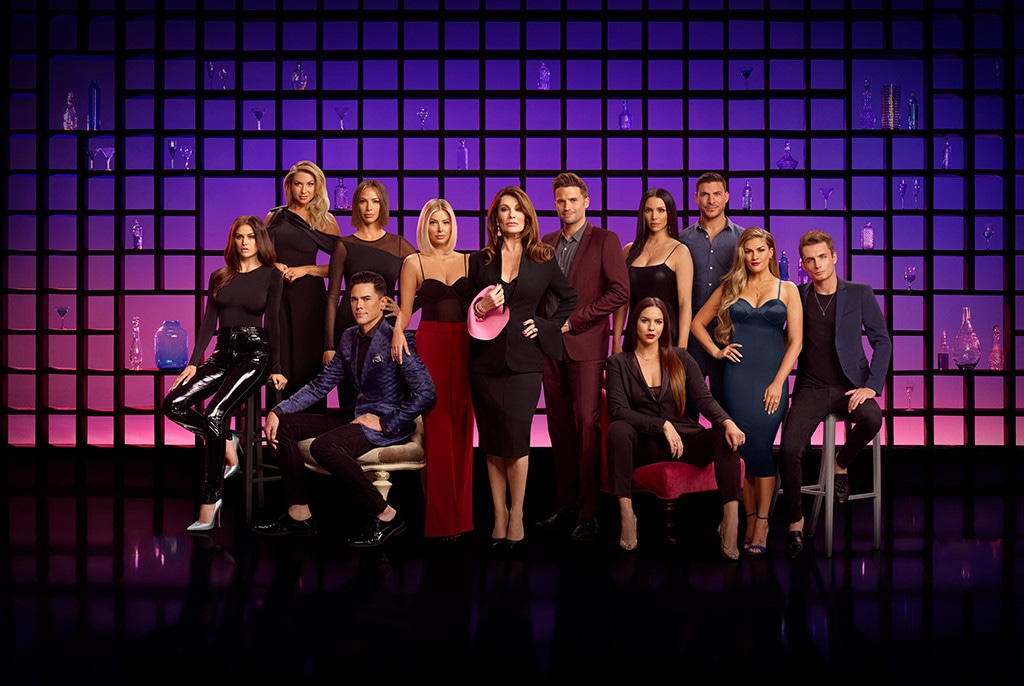 Bravo
It's Lisa Vanderpump's show and don't you forget it.
On tonight's Vanderpump Rules season eight finale, the British restaurateur made this very point as she masterfully shut down longtime employee Jax Taylor while his infamous ego, once again, reared its ugly head. This talking-to came to fruition after Lisa watched Jax risk his relationships with wife Brittany Cartwright and best friend Tom Sandoval.
Earlier in the episode, during a photo shoot for The Hollywood Reporter, Jax threw a temper tantrum as he was forced to wear a black t-shirt to match his co-workers.
"I will wear what I want, when I want! I always have," Jax noted in a confessional. "I don't like that I'm put on the same level as like, the rest of the bartenders."
In an attempt to comfort Jax, Brittany assured her husband that he still looked "hot." Unfortunately, this remark triggered one of Jax's classic outbursts. As Jax declared, "I don't give a s--t," Lisa looked on in horror.
Here's where her first intervention took place…
Not only did the Bravolebrity confront the seasoned SURver about his recent bad behavior, referring to his many rage texts and intense social media posts, but she also demanded to know why he wasn't happy.
In response, Jax claimed he was struggling with anger issues and suggested that his head was injured. Unsurprisingly, Lisa had little time for these excuses as she warned her employee that his reckless choices would affect his marriage.
"You have a habit of self-destruction, you know that? I don't know if it's a need to be the center of attention," Lisa stated. "But, come on, where was your life just four weeks ago?"
Watch:
Lisa Vanderpump Is Vindicated of Leaking Stories to Press
Hours later, at the TomTom one-year anniversary party, Lisa's concern piqued again as she observed Jax and Sandoval air out their many issues, including the wedding drama, the one-upping and so much more.
Furthermore, Ariana Madix's love refused to accept Jax's claim that his emotions made him a "handicap person."
"I'm establishing my boundaries, right now. I'm not doing that anymore," Sandoval expressed.
"Why don't we just take a break for a little bit? Just a time out, man," Jax decided.
"Sure," the 36-year-old reality star agreed.
Since Lisa saw this entire confrontation go down, she confronted Jax once more about his actions.
"Is that how you really feel?" a shocked Lisa inquired.
Despite having just paused his friendship with Sandoval, Jax assured Lisa that he'd "grow old with Tom and Tom." Upon hearing this, Lisa urged Jax to "respect" his friends and to "put it back together."
"My friendships are my ones that I need! What if I lose it all tomorrow?" Brittany's husband sounded off. "This is not just for a f--king television show, Lisa! These are my true friends."
As Jax continued to spiral, he added, "This is why my show is successful…"
Here's where Lisa had enough of Jax's ego. If there's one thing to know about Lisa Vanderpump, do not take credit for something she's built.
"It's actually not your show, it's actually my show, ok? And, I put your ass on it, so don't be f--king disrespectful to me," the restaurant maven snapped. "Let's not talk about that, don't start disrespecting me."
"I am not," Jax scrambled. "You don't understand!"
"I do understand! I understand, I understand," a heated Lisa retorted. "Listen, stop making yourself feel more special than you are. We're all human beings, we're all gonna lose people, we're all gonna fall in love, we're all gonna have great relationships, we're all gonna f--k up. Stop putting the pressure on yourself. We're all gonna lose our parents, we're all gonna go through tragedy, because that's what life's about."
With a stunned Jax's full attention, Lisa piled on, "You've got a beautiful woman, you've got every chance in life. Now, pull it together, go see somebody, talk to them and realize how lucky you are. End of f--king story."
We have a feeling Lisa's been wanting to say this to Jax for years.
What did you think of Lisa's words for Jax? Be sure to let us know!
(E! and Bravo are both part of the NBCUniversal family.)