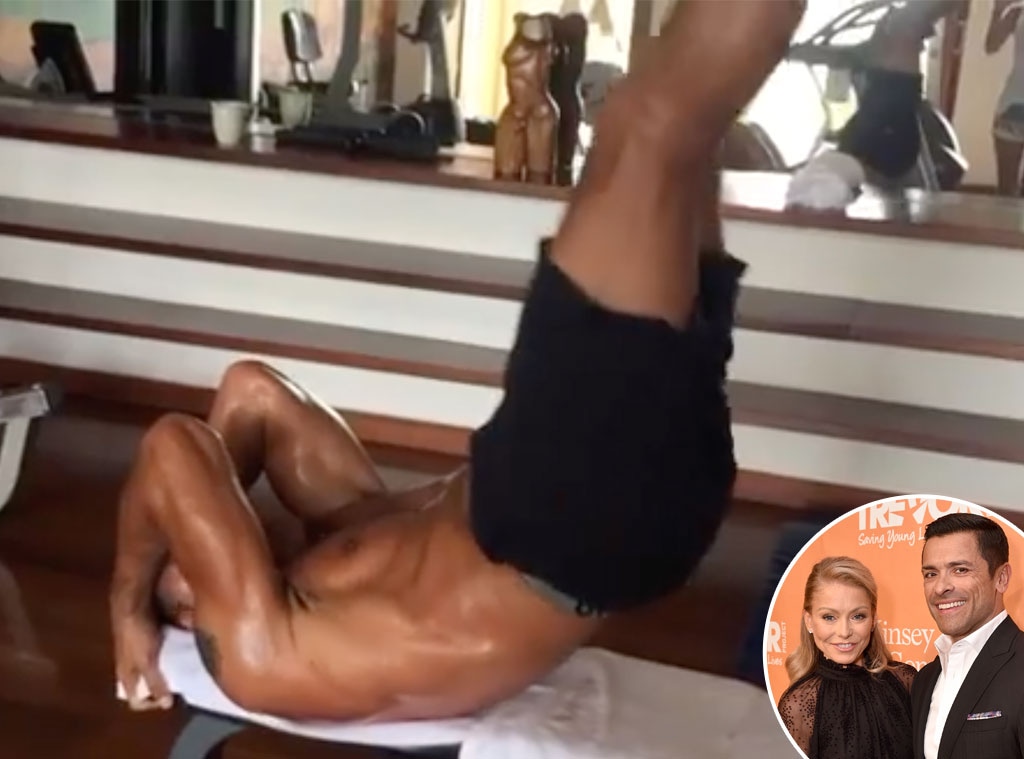 Instagram, Bryan Bedder/Getty Images for The Trevor Project
It's getting hot in here!
On Wednesday, Kelly Ripa blessed the Internet with an "extremely thirsty" video of her husband Mark Consuelos. Taking place during one of the Riverdale star's intense workouts, an abs-olutely shirtless Mark can be seen breaking a serious sweat. As he effortlessly masters the complex move and engages his core, the Live with Kelly and Ryan host diligently spotted his reps while recorded it all, which she graciously posted to her Instagram.
"How bout a little #workoutmotivation for the extremely thirsty," she captioned the post, adding the hashtags "#workout" and "#daddy."
Of course, a video this steamy received a lot of love from Kelly's followers. One of the best remarks came from Jerry O'Connell, who commented, "I got a hernia watching this."
Fans of Kelly and Mark know that the longtime couple love to give each other shout-outs on their social medias. Last week, the mom of three shared a sweet throwback picture of the 48-year-old and their children Michael Consuelos, 22, and Lola Consuelos, 18, from a 2001 trip to Hawaii.
To celebrate Valentine's Day, Mark shared a candid photo of himself and Kelly sharing an adorable embrace, which he captioned, "My forever valentine…"
When Kelly isn't sharing thirst traps of her hubby or canceling her daughter's debit card, the 49-year-old, she can be found sitting behind the Live with Kelly and Ryan desk with her co-host Ryan Seacrest.
With a lot on her plate these days, the 49-year-old revealed during her visit to E!'s Pop of the Morning that managing stress has become her top priority. In fact, Mark has taught her a "crazy" new technique.
"I function from a place of higher anxiety, I tend to, I operate up here," she explained. "I find that I'm more productive when I have a lot of anxiety in my life. But I will say that my husband and I recently took up, this is gonna sound so crazy, breathing. We've been just sort of breathing, like deep breathing. Cleansing, mindful breaths."