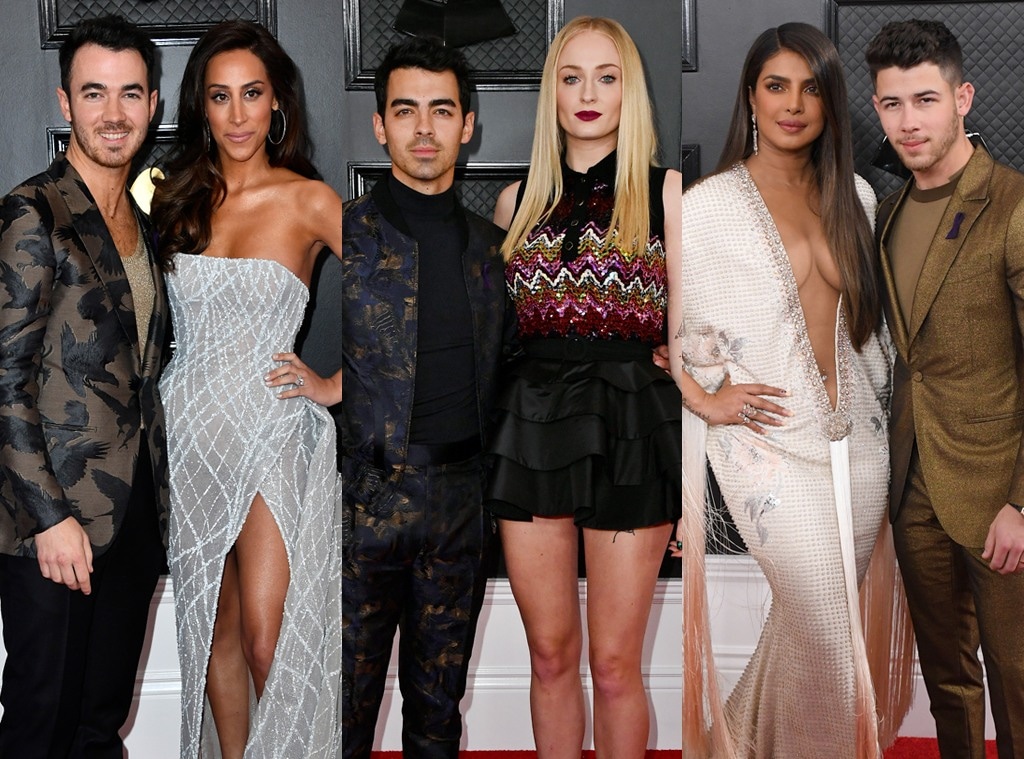 Getty Images, Shutterstock
We're all suckers for a J-Sisters cameo.
During a Wednesday interview with U.K. radio show Capital Breakfast with Roman Kemp, the Jonas Brothers explained why they loved having their wives star in the "Sucker" and "What A Man Gotta Do" music videos.
As Nick Jonas told host Roman Kemp, "There's good chemistry there." You don't say!
Speaking of their new single, he continued, "This one, it was kind of a start to the next chapter within this already new chapter. And much like the last time around with the 'Sucker' video, it just felt right to have them involved. And they were kind enough to grace us with their presence. They're all very busy, so the fact that they were able to come do the video meant a lot to us."
Outside of the palpable chemistry between Nick and Priyanka Chopra, Joe Jonas and Sophie Turner and Kevin Jonas and Danielle Jonas in "What A Man Gotta Do," Nick added of the video, "When you watch it, it just feels like it should, like it's family. It's what it's all about."
For his part, Joe said that he and his Game of Thrones love were worried about the dancing in "What A Man Gotta Do." (They recreated the Hand Jive scene from Grease.)
"We had to do a lot more dancing than I think we're comfortable with," he shared. "So, we went to this rehearsal and I remember walking in really hoping there wasn't professional dancers in the room, because that's nerve-wracking. But luckily, it was just us and we just had fun with it. And she's a great actress, so I let her do whatever she wants."
When asked if the actress gave him any pointers for their scene, the DNCE alum joked, "Yeah, she's like, 'Just don't embarrass me. Don't suck.'"
So, can fans expect more appearances from the J-Sisters in future music videos? As Joe teased, "We're gonna have them open up for us as one point."
Later in the interview, the brothers revealed that their new album is already done and is coming "sooner than you think."
Watch:
Nick Jonas & Priyanka Chopra's Sexiest Moments In "Sucker"
They also confirmed that Ryan Tedder executive produced the entire album, just like he did on Happiness Begins, and that there will be "one or two" features from other artists on the record. Unfortunately, they shot down the rumors that Nick's ex, Miley Cyrus, is one of those featured artists.
As Kevin said plainly, "That's not true."
Okay, okay, fine.