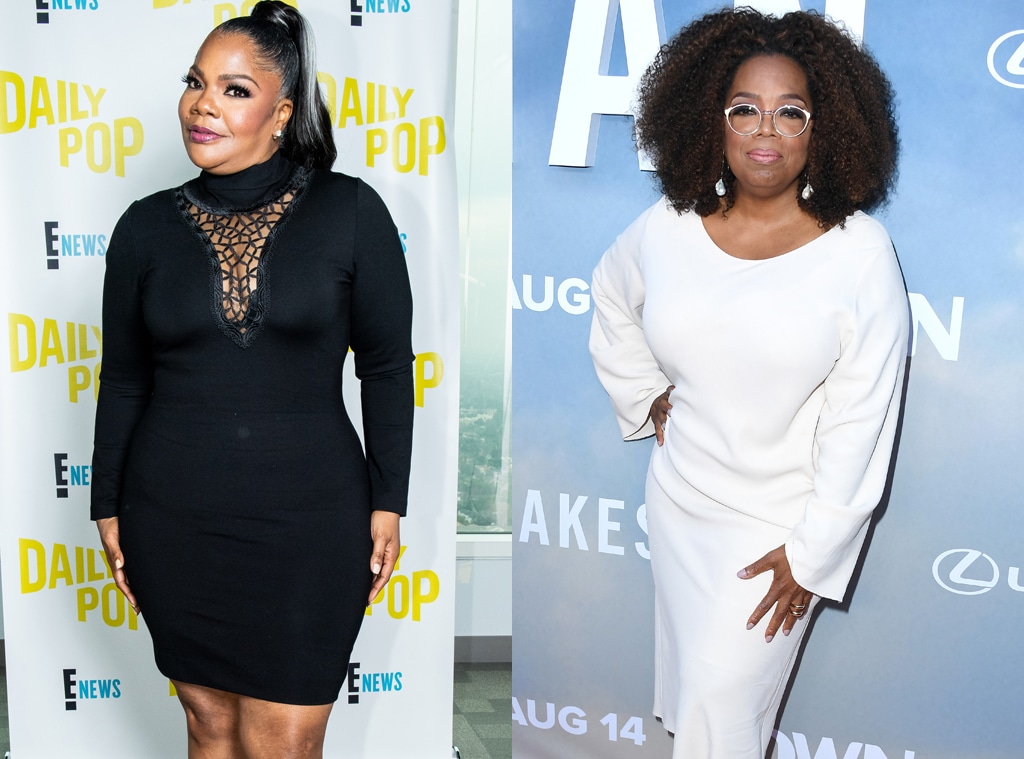 Aaron Poole/E! Entertainment/NBCU Photo Bank/NBCUniversal via Getty Images; Steve Granitz/WireImage
It's been years since Mo'Nique and Oprah Winfrey's feud began and it shows no sign of slowing.
In the latest development, Mo'Nique is once again calling out the talk show host for what she claims is a "disparity" in the way she treats the people around her. In her lengthy "open letter" to the talk show host, posted to Instagram, she reveals she "felt compelled" to write to her after seeing the way Oprah allegedly treats people "who were accused of the same" crimes.
Mo'Nique then shares she watched Oprah's interview on CBS This Morning, in which Norah O'Donnell asked her about Harvey Weinstein and she responded that she tries to find the "silver lining" in every situation.
"You also said 'if we make this all about Harvey Weinstein then we have lost the moment'," Mo'Nique adds, going on to point out Oprah's perceived hypocritical decision to produce a #MeToo documentary on Russell Simmons. "When you either are, or were going to be a part of documentary on Michael Jackson, and Russell Simmons, how is that not making it all about them?"
"Interestingly, Brother M.J. was acquitted, and deceased, so how is he not off limits? Russell and Harvey are accused of the same thing so in fairness how do you not 'support' the accusers of both, as you said you did with R.S., or [did] you look for the silver lining for both, like you said you did for H.W.?" she continues.
Watch:
Steve Harvey Clarifies "Integrity" Comments About Mo'Nique
Then, Mo'nique seems to accuse Oprah of being racist when she states that the "only difference between the two is their skin color" and the fact that there are "way more" people who accused Weinstein of allegedly sexually assaulting them. 
Mo'Nique then shares her "personal experience" with Oprah. "You've watched me as a black woman, be accused of being difficult for not promoting Precious internationally for Lions Gate, at Lions Gate, Tyler Perry and your request, despite the fact my deal was with Lee Daniels Entertainment," she explains. "How are you for black women when you hear Tyler on audio saying I was right and he was going to speak up but you or him still haven't said a word?"
The Precious star shares that when she first met Oprah at the age of 16, she told the talk show host she wanted to be "just like" her, only to be told, "You have to work really really hard." The comedian adds, "My sixteen year old self didn't know that you in your silence in the face of wrongdoing, would make my life 'harder.''
"Lastly, please consider standing by the people who are right and not just the 'right people'," she concludes.
As she mentioned in the letter, a large part of her feud with Oprah stems from when they worked together on Precious in 2009. As Mo'Nique has previously explained, she refused to do additional campaigning for the award-nominated film, as Lionsgate, Lee Daniels and Oprah requested, because they wouldn't pay her for additional time worked.
In February 2019, she went on to claim in an interview with Steve Harvey that she was "labeled as difficult" and thus blacklisted by the entertainment industry. "I said no to some very powerful people. I said no to Oprah Winfrey. I said no to Tyler Perry. I said no to Lee Daniels and I said no to Lionsgate," she explained to Harvey. "And the difficulty came in when people that looked like me—like Oprah, Tyler, Lee and I got to put my brother Steve on the list—you all knew I was not wrong. Each one of you said to me, 'Monique you are not wrong' and when I heard you go on the air and you said, 'My sister burnt too many bridges and there's nothing I can do for her now,' Steve do you know how hurt I was?"
Kevin Winter/Getty Images
In response, Steve revealed that he felt she "went about it" in the wrong way. He told her, "I felt that you had done yourself a disservice by the way you chose to go about it."
They ended their conversation with Harvey promising to "help" her. "I didn't come here to bash you. I love you. I wish you well and let's heal this thing and move forward so the world can see how great we all are."
But, that's not the only thing Mo'Nique has taken issue with in regards to Winfrey. She's also revealed her disappointment in Oprah's decision to invite her parents and her brother, Gerald, on to her show to discuss Mo'Nique's accusations of molestation. According to Mo'Nique, she gave her permission to speak to her brother, not knowing that Oprah had also invited her parents, who she was "not on good terms" with. "Had Oprah Winfrey said to me, 'I have your mother,' I would've said, 'Shut that s--t down, because I don't want the world seeing my mother, being so greedy over money that she's willing to do anything to go on your show'."
Then, when Mo'Nique confronted Oprah over this—at an Oscars party—she claimed Oprah responded, "If you think I did something to offend you, I wanna apologize."
Oprah's never addressed Mo'Nique's accusations.