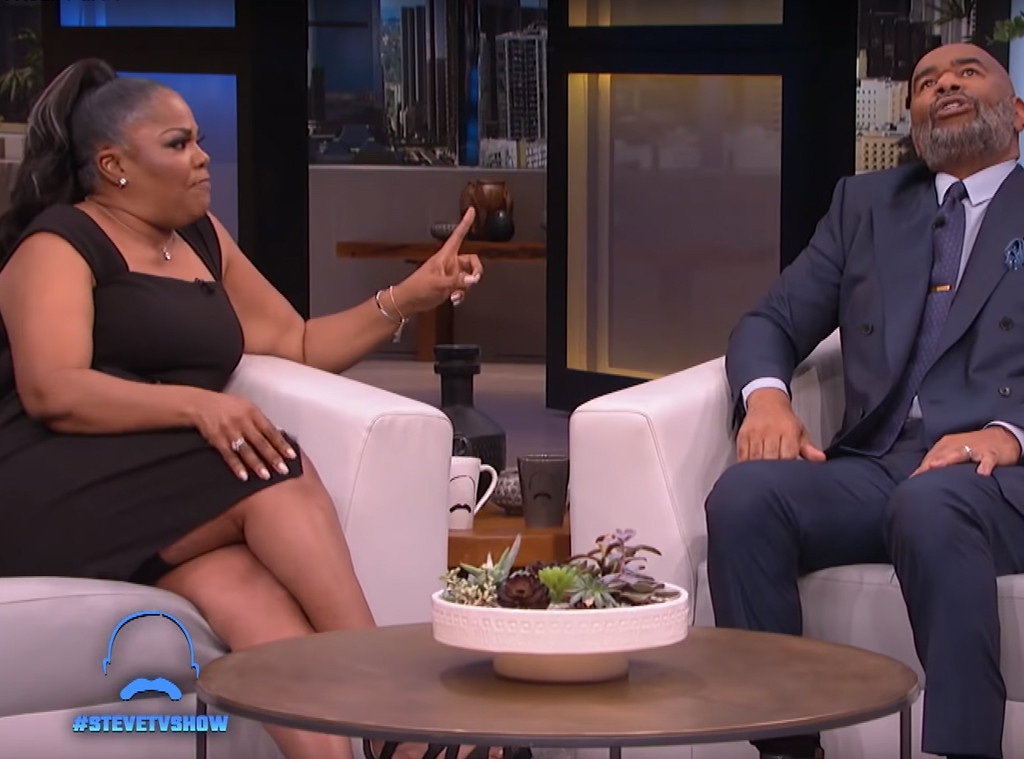 YouTube
Steve Harvey and Mo'Nique are ready to have a conversation—not a confrontation.
During today's all-new Steve, the talk-show host invited his long-time friend on to address some of the many headlines the comedians have faced in recent years.
What came next was a candid discussion about forgiveness, race, being blackballed in Hollywood and more.
For starters, Mo'Nique wanted to express her "hurt" after learning Steve had spoken publicly about her.
"We got labeled as difficult because I said one word and that was no. I said no to some very powerful people. I said no to Oprah Winfrey. I said no to Tyler Perry. I said no to Lee Daniels and I said no to Lionsgate," she explained on Wednesday's show. "And the difficulty came in when people that looked like me—like Oprah, Tyler, Lee and I got to put my brother Steve on the list—you all knew I was not wrong. Each one of you said to me, 'Monique you are not wrong' and when I heard you go on the air and you said, 'My sister burnt too many bridges and there's nothing I can do for her now,' Steve do you know how hurt I was?"
Steve replied, "I thought you went about it wrong. I felt that you had done yourself a disservice by the way you chose to go about it."
Over the years, Mo'Nique has claimed that she was blackballed by Hollywood after she refused to campaign for her Oscar-winning film Precious without additional pay. She alleged that some big names attempted to silence her during her pursuit of equality.
At one point in the discussion, Steve admitted that he probably should have called Mo'Nique before talking so publicly.
"I've got a lot of stuff going on so I didn't. When I did call you, I listened to you," he shared. "But I began telling you at the very beginning, I think we're going about this the wrong way. Now we keep saying stuff in the interim that keeps making it worse….It's making it worse. The fact that we're sitting here arguing like this."
Mo'Nique, however, didn't want to call it an argument. Instead, she called it a "conversation."
"I've had to understand how to agree to disagree without being upset and that's the thing," she added when supporting her residency at the SLS Las Vegas. "I disagree with my brother. I'm not upset with you. I love you."
Through their disagreements, Steve wanted to make it clear that he loves Mo'Nique like a sister. In addition, he wants her to succeed in whatever she wants to accomplish in Hollywood.
"I hate what's happening to you. I hate what they're saying that's not true. I want them to know that you are caring, that you're a great mother, that you're an incredible talent," he proclaimed. "I don't like the fact that you've been blackballed. You can be un-blackballed. You're too talented to have to worry about all of this."
Before their discussion came to a close, Steve shared that he will try to facilitate conversations between Mo'Nique and "these people" in hopes for open dialogue.
"These people owe you an apology. You owe those people an apology," he shared. "Then we can move forward."
Steve added, "Looking back on it, I should have picked up the phone and called you more readily. I probably should have done it. Moving forward, as your big brother, I just want to help you Mo. I swear to God. I didn't come here to bash you. I love you. I wish you well and let's heal this thing and move forward so the world can see how great we all are."
So what did people think of the interview? On Wednesday afternoon, "Steve Harvey" began to trend on Twitter with many criticizing the talk-show host. One part of the interview is gaining extra attention. 
Steve airs weekdays. Check your local listings online.