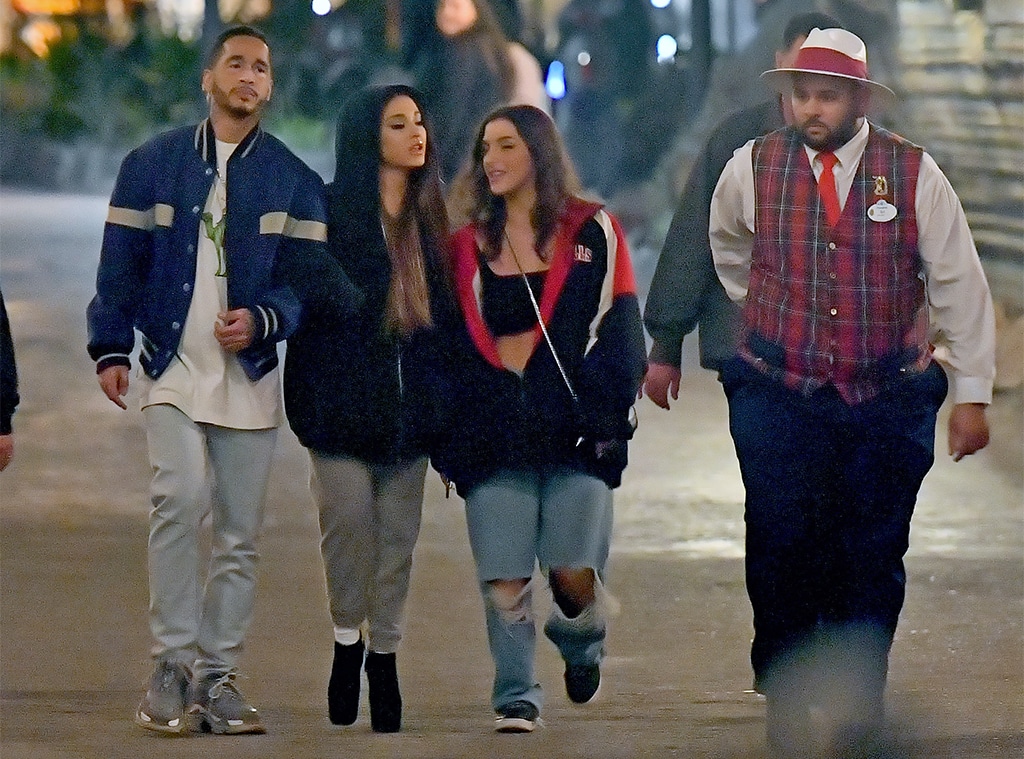 Marksman / MEGA
No need for sweetener because this new sighting of Ariana Grande and Mikey Foster is already adorable. 
Over the weekend, the Grammy winner was spotted with the Social House performer at the happiest place on Earth—Disneyland. According to a source, the two were at the Calif. amusement park with a couple for about two hours and were seen enjoying many of thrill rides, including in the Star Wars: Galaxy's Edge area and the Guardians of the Galaxy ride. 
Per the photos, Foster and Grande walked arm in arm and the songstress also linked arms with her gal pal as she walked through the park in high-heeled platform booties. The star was seen staying close to Foster during the night, according to the source, and they looked "very attentive and relaxed in each other's company."
Speculation over their status first sparked  after they collaborated on the track "Boyfriend" and its music video, both released in August. The pair raised eyebrows with their on-screen makeout and seemed to get a little flirty in behind-the-scenes footage. 
According to a source, the two also sat next to each other at a surprise birthday party the songstress hosted for her bodyguard after their performance at the Lollapalooza music festival that same month. However, another source has told E! News Ariana and Mikey are just friends. 
Watch:
Ariana Grande - 2020 Grammy Awards Glambot
Back in September, Grande's older brother Frankie Grande seemed to confirm that they were an item when he spoke about going on a double date with them. However, he quickly cleared the air, tweeting "My sister is not in a relationship. Everyone relax. She is very much single."
"Ariana and Mikey Foster are not in a relationship, she is single. And my comments about our recent hang as friends were not meant to be taken literally," he explained to Us Weekly. "Hale and I were on a date, which is why I referred to it as a double-date when we had plans with them, without realizing what the term insinuated about THEIR relationship outside of my own. It was literally four people meeting up as friends, and I would never comment on something so personal about her life anyway."