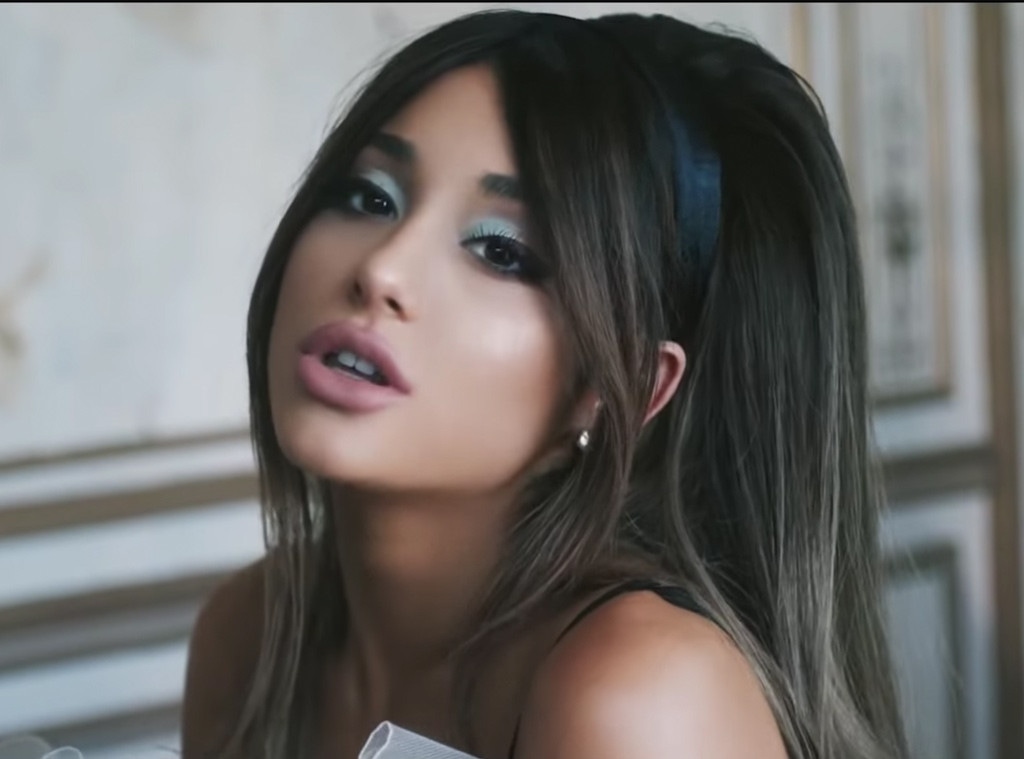 YouTube
Ariana Grande's new song "Boyfriend" is finally here!
After teasing the tune on social media, the 26-year-old singer dropped the instant hit and its corresponding music video on Friday.
The Grammy winner teamed up with Hannah Lux Davis—who also directed the videos for "Thank U, Next" and "7 Rings"—as well as Social House for the project.
The video stars Grande and Michael "Mikey" Foster, whose characters are in a bit of a complicated relationship. While the two aren't officially a couple, they don't want the other to date other people, either. So when Grande's character sees Foster's character flirting with other women at a party, she becomes jealous and envisions attacking these women. Of course, two can play at this game, and Foster's character does the same when he sees her hitting on other guys.
Throughout the video, the duo's friend, played by Charles "Scootie" Anderson, tries to help them talk things out. Near the end of the video, the two have a steamy makeout session in a bathroom and end up doing some serious damage. After Anderson catches them in the act, he just gives up on the drama and walks out.
Grande shed a little light on the inspiration behind the song on Twitter.
"Well, I feel like this song captures a common theme in the lives of so many people I know!" she tweeted in response to a fan's inquiry. "People want to feel love but don't want to define their relationship and have trouble fully committing or trusting or allowing themselves to fully love someone. Even [though] they want to."
She also claimed she "wanted to make something uplifting that captures that feeling of being afraid to take the leap and trust, being afraid of being hurt or feeling like you won't be enough for that person" while still portraying "how it feels to have a crippling crush on someone."
To take a closer look at some of the key lyrics and moments in the video, check out the list below.
Explaining the Name of the Game: Grande breaks down the complicated nature of their relationship in the opening lyrics. Here, she explains her anxieties and why she feels like they can't be together. She also makes it clear she doesn't want her crush to be with anyone else. Put simply: If she can't have him, then nobody else can, either. 
"I'm a motherf--kin train wreck/I don't wanna be too much/but I don't wanna miss your touch/ and you don't seem to give a f--k/I don't wanna keep you waiting/but I do just what I have to do/and I might not be the one for you/but you ain't about to have no boo," she sings.
Not Putting a Label on Their Relationship: In these lyrics, Grande explains how she knows the two aren't officially "boyfriend" and "girlfriend." While they refuse to define their relationship, their feelings for each other are still strong.
"You ain't my boyfriend/and I ain't your girlfriend/but you don't want me to see nobody else/ and I don't want you to see nobody/but you ain't my boyfriend/and I ain't your girlfriend but you don't want me to touch nobody else/baby we ain't gotta tell nobody," she sings.
If Looks Could Kill: Grande's and Foster's surely could. From Grande envisioning shooting a girl with a bow and arrow to Foster literally ripping a man's heart out, there are plenty of lighthearted moments that take on a deeper, more symbolic meaning.
Getting Real With His Feelings: While they struggle to take a leap of faith and commit to a relationship, Grande and Foster can't deny the feelings they have for one another.
"Even though you ain't mine I promise the way we way we fight/Make me honestly feel like we just in love/Cuz baby when push comes to shove/Damn baby I'm train wreck too/I lose my mind when it comes to you/I take time with the ones I choose/And I don't want to smile if it ain't from you yeah," he sings.
Opening Up About His "Issues": In these lyrics, Foster gets candid about his personal "issues" and fears of getting hurt by committing to a relationship. Still, he wants them to "try to open up and love more."
"I want to kiss you (yeah), don't wanna miss you (yeah)/But I can't be with you cause I got issues/Yeah on the surface, it seems like it's easy/Careful with words but still hard to read me/ Stress high when the trust low/Bad vibes when the fun go/Try to open up and love more/Try to open up and love more," he sings.
Letting Her Love Show: After playing games throughout the entire song, Grande decides to let her love show. She makes this clear by shooting hearts out of her breasts. In fact, some fans thought the scene was similar to a shot in the music video for her 2014 hit "Break Free" featuring Zedd.
Comparing the Song to "Break Up With Your Girlfriend, I'm Bored": The theme and title of the song might remind some fans of Grande's recent hit "Break Up With Your Girlfriend, I'm Bored." But does the artist have a preference over the two?
"Oh my God they're so different," she tweeted, "but 'boyfriend.'"
Watch the clip to see the whole video.
Are you totally smitten?