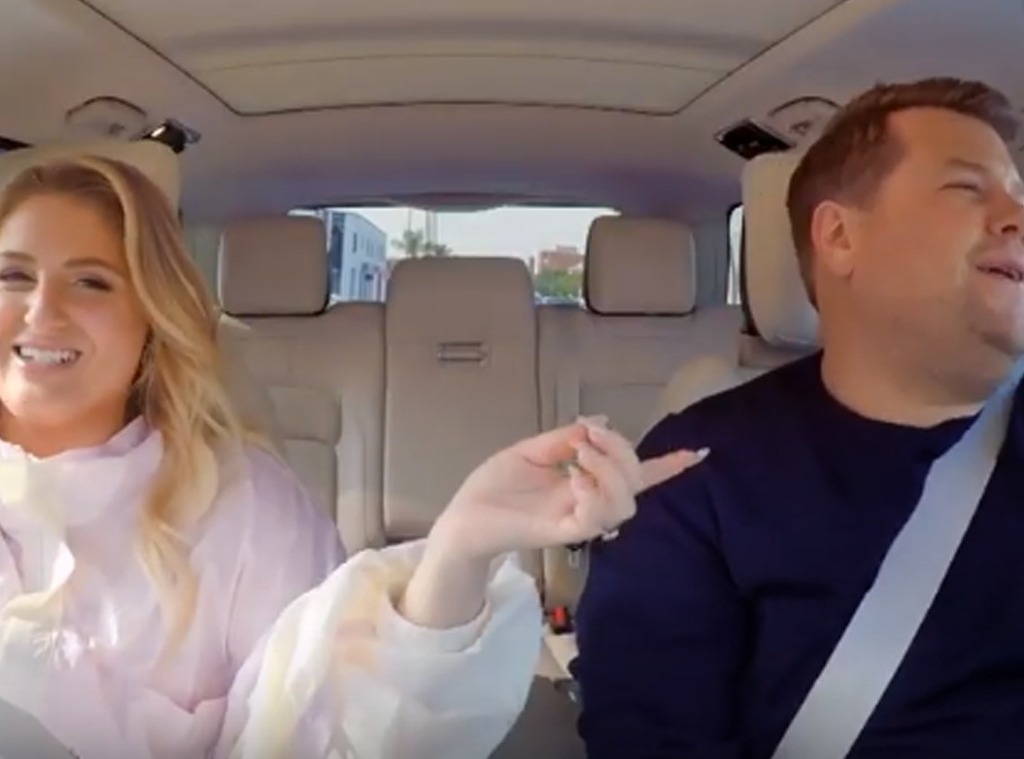 YouTube
Meghan Trainor is all about that Carpool Karaoke.
On Thursday, the Grammy winner rode shotgun with James Corden for the fan-favorite The Late Late Show segment, which is something that's been on her bucket list for quite some time now.
"Dude, I've been waiting years to take you to work," she told the Cats star. "I've always wanted to help you."
As they made their way to the Late Late Show office, the duo kicked things off with Meghan's debut song "All About That Bass." Thrilled to be singing with James, the 26-year-old danced along to the song's old-timey beat and was left speechless when they harmonized for the pre-chorus.
Before heading into the next song, Meghan gushed over husband Daryl Sabara and how married life was going. In fact, she revealed that their mutual pal Chloe Grace Mortez introduced her to the Spy Kids star. "She set me up on a modern-day blind date," she told the late night host. "We went on a double date and we went bowling."
Meghan didn't leave any details out of the story, including that Chloe was there with then-boyfriend Brooklyn Beckham and that he encouraged her to make a move on Daryl. "Brooklyn came to me and was like, 'You should kiss him,'" she recalled. "And I was like, 'Guys, let me kiss him on my own time…After that we went to karaoke and [Daryl] sang 'Your Song' by Elton John, to my face. He's something else. I've never met anyone else like him. I was like, 'I'm gonna marry you.'"
Daryl's romantic serenade wasn't even the best part of the story. After applauding the actor's swagger, Meghan said that Brooklyn and Chloe were singing a song by the Spice Girls. Iconic.
Switching gears, Meghan treated James to a sultry rendition of her song "Like I'm Gonna Lose You" as they made their way through Los Angeles. James graciously sang John Legend's part, and once again, the duo proved that their voices harmonize perfectly together.
On a more personal note, Meghan opened up to James about her road to becoming a multi-platinum artist, explaining that she had originally set out to have a career in songwriting. "There was a time where a lot of people were like, 'Wow, you should be a songwriter,'" she began. "And I was like, 'Okay, I guess I'll do that because everyone seems to be pointing at me saying you're a songwriter instead of the artist…But the song "All About That Bass…they took it and just mastered it and had me be the artist and I just went with it. And then all my dreams came true."
After listing all of the famous musicians she's written for, among them being Jennifer Lopez, Rascal Flats and Michael Buble, James challenged the "No" singer to write a song on the spot. "Beep, beep," she sang. "I'm traffic. Hey, yeah."  
Then, the musical pair got a surprise by none other than Dr. Phil. Moments before he hopped in the backseat, Meghan revealed that she worships the television personality. Excited that he got to join in on the fun, Dr. Phil requested that they sing along to one of Meghan songs.
Before heading out, he left Meghan and James with some words of wisdom: "If you figure out why people do what they do and don't do what they don't do, then you got a huge leg up on life. Pay attention, right? Pay attention." Then, he tactfully gave Meghan's new album Treat Myself, which drops on Friday, Jan. 31, a generous plug. "Listen to make it and don't forget she's got a new album coming out…you think I don't follow this girl?"
Watch Meghan and James harmonize, talk marriage and get a session with Dr. Phil in the video above!