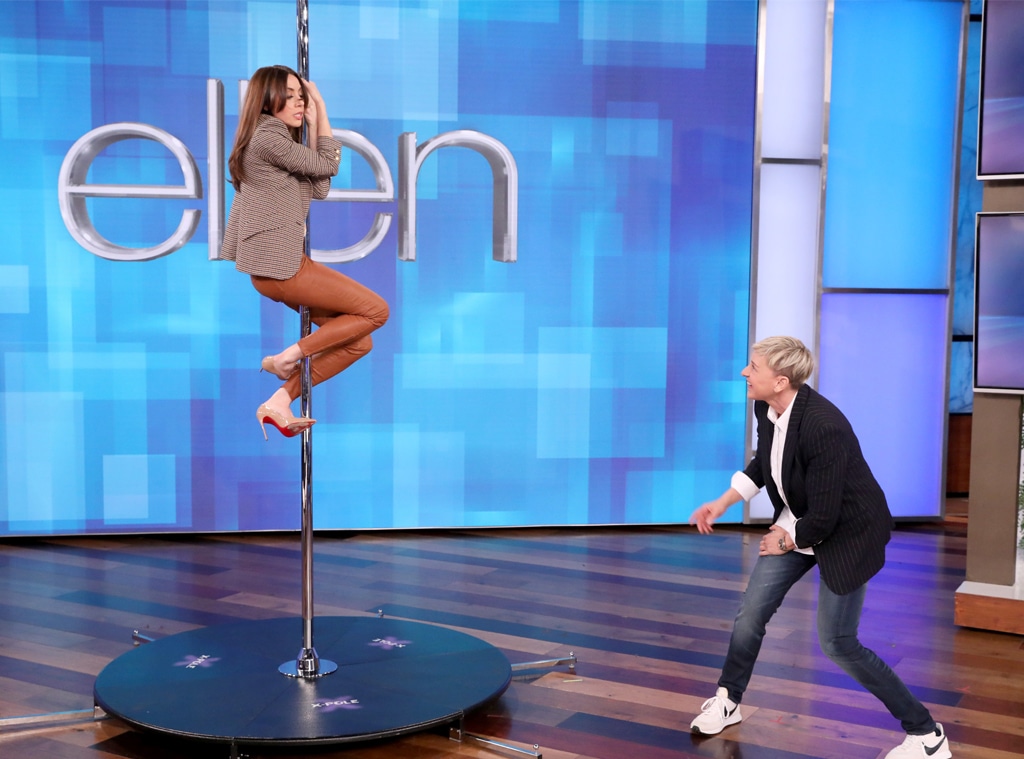 Michael Rozman/Warner Bros.
Make it rain! 
On Thursday, Aubrey Plaza channeled her inner Jennifer Lopez on The Ellen DeGeneres Show and did her best to recreate the star's epic entrance in Hustlers.
After admitting that she is excited to see the "Jenny From The Block" singer at the 2020 Independent Spirit Awards, host Ellen DeGeneres pitched the idea of working the pole when the Parks and Recreation alum hosts the award show next month. And, of course, she had a stripper pole waiting for her on the stage.
Reluctant at first, Aubrey had one request. "The only way I'm doing this is if it's to 'The Trolley Song,'" the Judy superfan joked. Instead, the Mike and Dave Need Wedding Dates star got a burlesque-styled tune, which she actually didn't seem to mind.
Jumping on the pole with confidence, Aubrey quickly realized that she didn't know the mechanics and started to slowly slide down to the base.
Seeing her guest struggling, Ellen tried to help her up and guided her back up. "You're not that good at it," the daytime host said while holding Aubrey's leg in the air. Then, the Dirty Grandpa star decided to climb up the pole like a rope instead.
Once she got to the top, Ellen suggested she slide down for dramatic effect. "I'm scared," Aubrey yelled, before dropping to the bottom of the pole suddenly. 
As J.Lo has said in the past, mastering the art of the stripper pole is not an easy feat. While training for Hustlers, the Super Bowl Half Time headliner put blood, sweat and tears into learning her routine. In a behind the scene video from her pole lessons, the "Dinero" singer showed off the bruises she had collected along the way. 
Speaking to the camera, she said, "Cardi [B]was telling me it took her years—like she's great at it—but it took her years to figure out all of this stuff." 
Watch:
Jennifer Lopez Dishes on "Savage" Role in "Hustlers" & Pole Dancing
But thankfully for Aubrey's sake, she doesn't embarrass easily. "I actually don't mind being humiliated—public humiliation," she told Ellen after watching a clip of her being scared during her last Ellen Show visit. "I feel like, at least, if I can humiliate myself then I sacrifice myself for the viewers…the good of mankind. I can take a hit."
Aubrey added, "I'm humiliated every second. But I'm saying that I like it. It makes me feel alive…I don't know what I'm saying."