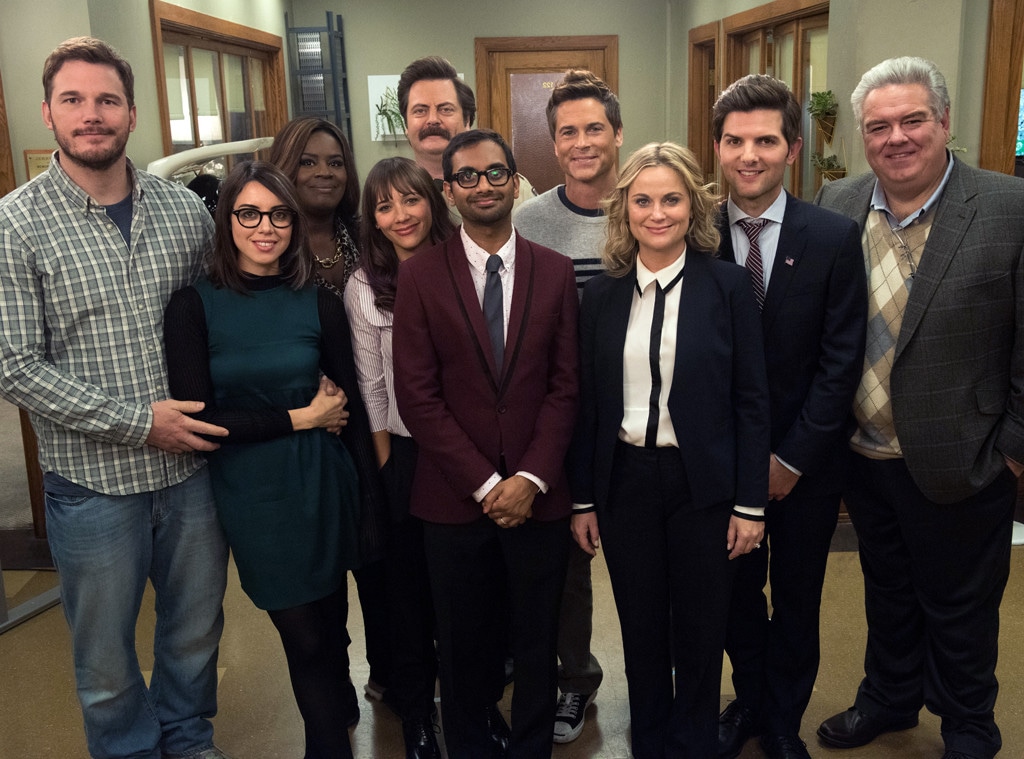 Colleen Hayes/NBC/NBCU Photo Bank via Getty Images
Parks and Recreation went off the air in 2015 after seven seasons of Pawnee greatness, and now thanks to Netflix and syndication the NBC comedy is more popular than ever. So, what's it going to take to get more Leslie Knope in our life?
"I think that, you know, in the world that we live in now nothing is ever gone, everything comes back into cycled through again and, you know, I would only say that I think we would just all—everyone on this stage, and like six other people—would have to feel like there was a story that needed to be told," series co-creator Mike Schur said at the Parks and Recreation 10-year anniversary reunion panel moderated by Patton Oswalt.
"I won't speak for anybody else but…I felt the show had an argument to make and the argument was about teamwork and friendship and positivity and being an optimist and not getting cynical and believing that the people that can do good and believing in the power of public service and believing that if you work hard and you put your head down and you have good people around you who are part of your team that that good things are possible and you'll achieve the things that you want to achieve," Schur continued. "And I don't feel like we left anything on the table. I feel like the show sort of made its argument."
"We also--maybe this was like a preventative measure or something-- we did jump like into the year like 2074. Like we see Jerry's funeral he died at the age of 100 peacefully asleep while holding the hand of his wife Christie Brinkley, who looked exactly the same," Schur said.
Parks ran for seven seasons between 2009-2015 and starred Amy Poehler, Nick Offerman, Aubrey Plaza, Chris Pratt, Adam Scott, Aziz Ansari, Rashida Jones, Retta, Jim O'Heir and Rob Lowe. Leslie Knope started off as the deputy director of the parks department and eventually got progressively more involved in politics as the show went on. The series ended with her possibly as the president.
"There was nothing I love more than working on the show. It feels like, you know, it felt like the most important thing that I would ever do and so I would never ever, ever say never. The chance to do it again, should it arise, would be incredible but I think we would only do it if we all felt like there was something compelling us to do it," Schur said. "I don't want to do it just to like—as tempting as it is I don't want to just like make more episodes of the show or something. I would do it like, everyone on this stage has a veto. I would say that we would do it in a literally everybody has a veto [way]. If one single person says no, then whatever it is we wouldn't do it."
 
Offerman, whose wife Megan Mullally currently stars in the Will & Grace revival, chimed in and said, "Can I can I just say something? Because we get asked this quite a bit, because reboots have become quite fascinating, and my new answer is because of what Mike just said, that's why the show was so good."
Poehler herself has remained open to the idea of revisiting Parks and Recreation.
"Yeah! Any time," Poehler told reporters at the 2018 Television Critics Association press tour regarding a parks revival. "I'm avail, I'm tech. avail…Everybody has my number…It's kind of common knowledge, but we all have a text chain and we talk to each other almost every day, so I think everybody would be excited to do some version of it. Hopefully on ice!"
For now, you can get some Parks and Recreation easter eggs on NBC's The Good Place starring Ted Danson and Kristen Bell. Schur has planted little winks to the show there, like Lil Sebastian appearing in heaven, but will never have a full crossover.
"I want to make this very clear, that will never happen—end of story," Schur said at the 2019 TCA winter press tour. "I'm like literally drawing a shower curtain between the universe and that idea."
"Part of the fun of doing the show has been just for literally no reason to drop Parks and Rec easter eggs into The Good Place," he said. "And we've done it like, I don't know, a dozen times. And that was a total coincidence [having Lil Sebastian in the episode], that was for an episode of The Good Place where all the animals were walking around. We decided just for old times' sake to get Lil Sebastian back."
(E! and NBC are both part of the NBCUniversal family.)