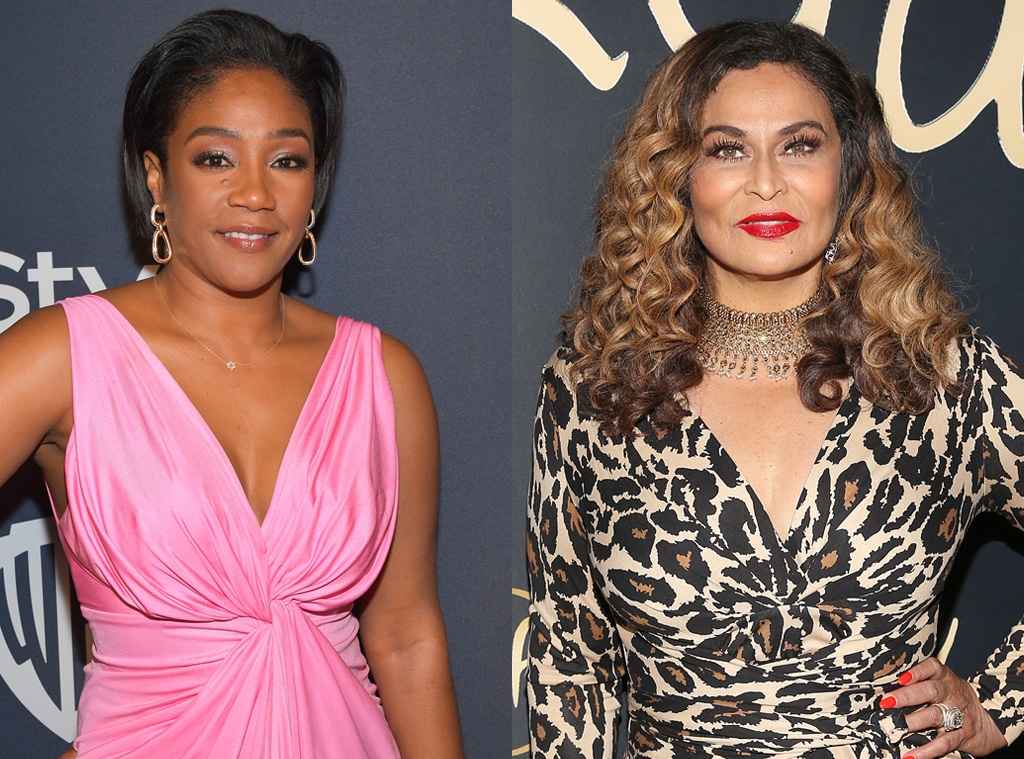 Matt Winkelmeyer/Getty Images for InStyle, Jesse Grant/Getty Images for the Ryan Gordy Foundation
Tiffany Haddish is Jewish now.
Yup, during an appearance on Monday's Jimmy Kimmel Live, the Girls Trip alum dished all about how she studied the faith and had a lavish bat mitzvah to celebrate. Jimmy Kimmel was one of the party's guests (although he thought it was a joke, so he showed up in jeans and a windbreaker), along with Beyoncé's mom, Tina Lawson, and Barbra Streisand.
Unfortunately, Streisand (whom Haddish gave a Cardi B crash course to in 2017) couldn't make it to the party, but she did gift Haddish a diamond necklace with a Jewish star on it in lieu of her absence. Naturally, Haddish was wearing during her interview with host Jimmy Kimmel. 
As he pointed out, "I'm embarrassed because I got you the same present, except without diamonds in it."
As Haddish quipped in response, "Yeah, you did. No diamonds. But Imma wear it! Imma wear it when I work out and go to places where I don't want people to feel like I'm flossin'."
But Streisand wasn't the only star who gave Haddish diamonds for her bat mitzvah.
Indeed, the comedian revealed Queen Bey's mama also gave her a glittering gift with a religious theme.
"Beyoncé's mom gave me the most beautiful Bible," Haddish shared. Of course, the Bible is not exactly an on par gift for a bat mitzvah, but the Like A Boss star didn't mind!
As she continued, "Ms. Tina gave me the most beautiful Bible with this cross on it and everything, and I was like, is she trying to say, 'Hey! You know you black, right?'"
As Kimmel teased in response, "Beyoncé's mother sent you a Bible with a crucifix on it for your bat mitzvah?"
"But it had diamonds on the crucifix, though," Haddish quipped back. "So, I read from that and the Torah every day. I read from both. They start out the same."
Now, close your Bibles and Torahs and watch the rest of the interview to find out why Kimmel mistakenly thought the star's bat mitzvah was a joke.
Watch:
Tiffany Haddish Will Host the Golden Globes Under One Condition