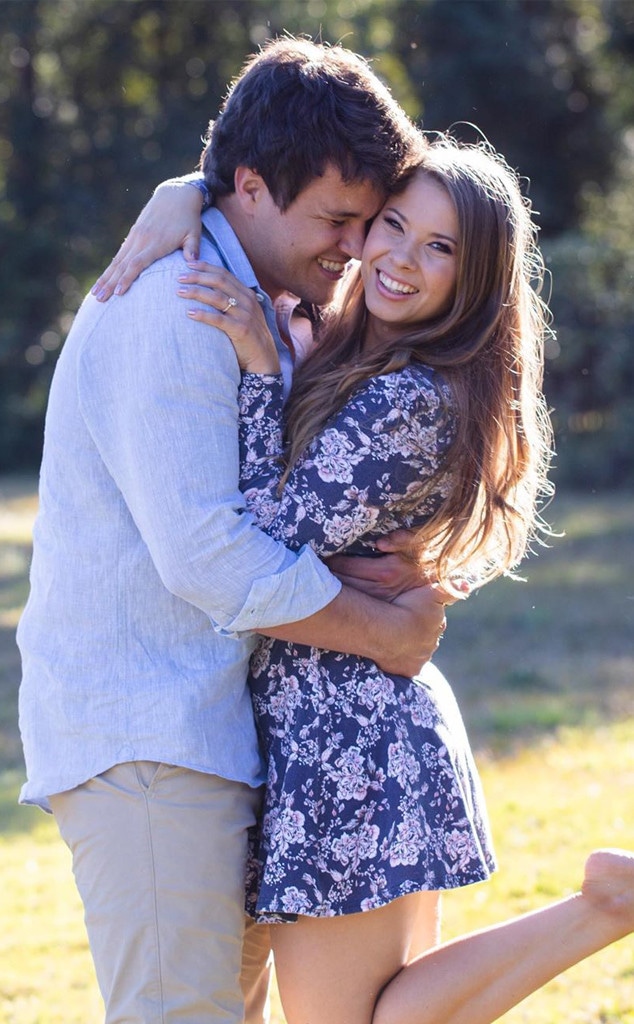 Instagram/Bindi Irwin
Bindi Irwin is preparing to walk down the aisle.
The 21-year-old Crikey! It's The Irwins star is marrying fiancé Chandler Powell in just a few months, and she revealed a bunch of new details about her upcoming nuptials in a new interview.
Speaking of her July engagement, the conservationist told Australian outlet New Idea that her father, the late Steve Irwin, was dearly missed the day Powell proposed. "When I got engaged [to fiancé, Chandler Powell] it was a really emotional time," she said. "And I know that on my wedding day I'll be emotional because I really wish Dad could be there."
Not to worry, though. She and Powell have plans to incorporate her father's legacy into the wedding.
"I'm trying to decide," Irwin shared. "But he'll absolutely be involved with the ceremony and the reception. And, gosh, I wish he could physically be there for the day, but I think that he'll be there in spirit."
Naturally, having animals as part of the big day would be a fitting tribute to her dad, who died in 2006.
As she joked, "We all keep joking that our first thing as man and wife will be feeding the crocodiles. Or maybe we'll walk down the aisle to Elton John's 'Crocodile Rock'."
As for her plans post-wedding, Irwin revealed that baby crocodile hunters are absolutely part of the plan.
"One day it'd be special to have my own little wildlife warriors," the star said. "I think it's a way away right now, but if and when it does happen, I can guarantee you they'll have their own khaki because khaki is not just the colour, it's an attitude."
Watch:
Is Bindi Irwin Engaged to Her Boyfriend Chandler Powell?
Bindi and Powell got engaged on her 21st birthday this past summer. After the happy news was announced, she penned an emotional letter to her father on Instagram, revealing that her younger brother, Robert Irwin, will be walking her down the aisle.
"Dad, You would be so incredibly proud of Robert," she wrote. "He has been such an amazing support during this beautiful new life chapter. I know you'd be beaming with pride when the time comes that he walks me down the aisle. I wish you could be here for these moments, but I know that your spirit lives on in us."
Speaking of her little brother escorting her down the aisle, Irwin told New Idea that she knows the moment will be difficult.
"I think it's going to be tough," she admitted. "But Robert is very strong and he'll help me hold it together. He takes everything so seriously and always does such a good job with everything. He's wonderful."