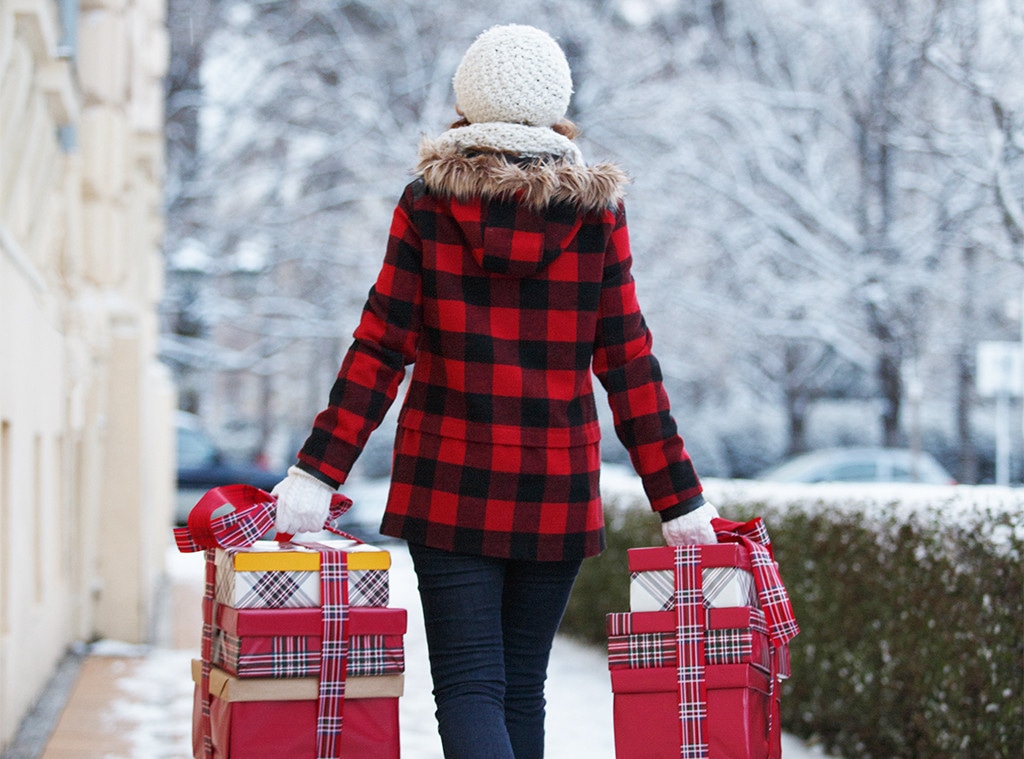 iStock
We love these products, and we hope you do too. E! has affiliate relationships, so we may get a small share of the revenue from your purchases. Items are sold by the retailer, not E!.
You've trimmed your tree, done all your holiday baking, sent out your cards (or emails)...but have you finished holiday shopping yet? Fret not! These stores feel your pain, and they're still able to ship your goodies so they get to you (or your giftee) by Christmas!
So if you still have to buy that special little something for the one you love, or you're in need of a good gift to give your boss, this list will not only help you find a little gifting inspiration, it'll help you figure out the absolute last minute, nail-biting deadline to have everything shipped so they arrive in perfect timing to make it under the tree. 
Check out our list below, and check a few more gifts off your list!
Amazon: 12/23 (one-day delivery, which is free for Prime members until 12/23), 12/24 (same-day shipping, which is free for Prime members for orders of $35 minimum)
Anthropologie: 12/20 by 1 p.m. ET (standard shipping)
Athleta: 12/21 (expedited shipping)
Banana Republic: 12/21 by 3 p.m. ET (overnight shipping)
BCBG Generation: 12/20 (two-day shipping, free on orders over $75)
Barnes & Noble: 12/23 (expedited shipping for members)
BaubleBar: 12/20 (overnight shipping)
Bloomingdale's: 12/21 (free standard shipping), 12/22 by 12 p.m. ET (express shipping), 12/24 by 10 a.m. local time (same-day delivery)
The Body Shop: 12/22 (for next-day air)
Brooklinen: 12:21 by 11:59 p.m. ET (one-day shipping, free on orders over $200)
Brooks Brothers: 12/21 at noon (two-day shipping)
Carbon38: 12/22 by 4 p.m. PT (overnight shipping)
Cole Haan: 12/20 by 1 p.m.  (two-day shipping)
Dell: 12/21 by 3 p.m. (next-day delivery, not available for all products)
Draper James: 12/21 by noon ET (expedited shipping)
DSW: 12/20 by 2 p.m. EST (next-day shipping)
Eddie Bauer: 12/21 by 12 p.m. ET (overnight shipping)
Express: 12/21 (overnight shipping)
Finish Line: 12/20 by 11:59 a.m. (rush shipping), 12/22 by 11:59 p.m. (express shipping)
Free People: 12/21 by 1 p.m. ET (overnight shipping)
Game Stop: 12/21 (one-day shipping)
The Gap: 12/21 before 3 p.m. ET (expedited shipping)
Guess: 12/21 by 2 p.m. PT (next-day shipping)
H&M: 12/21 by 4 p.m. ET (expedited shipping)
Home Depot: 12/20 (express shipping, free two-day delivery)
Hot Topic: 12/23 (overnight shipping)
J. Crew: 12/21 before 1 p.m. ET (expedited shipping)
JC Penney: 12/21 before 12 p.m. CST (expedited shipping)
Jos. A. Bank: 12/20 at 1 p.m. (rush shipping)
Kate Spade: 12/20 by 8 p.m. ET (two-day expedited shipping), 12/23 by 8 p.m. ET (next-day expedited shipping)
Kohl's: 12/20 by 1 p.m. CST (two-day shipping)
Lancer: 12/20 by 12p.m. PT (overnight shipping)
Lego: 12/20 by noon
Levi's: 12/20 by 4 p.m. (two-day shipping)
L.L.Bean: 12/22 by noon (for street addresses)
Lilly Pulitzer: 12/20 by noon ET (next-day shipping)
Lululemon: 12/22 by 10 p.m. PT (overnight shipping)
Macy's: 12/20 (free standard shipping on all orders), 12/21 by 12 p.m. ET (express shipping), 12/24 by 10 a.m. (local time for same-day delivery in select areas)
MeUndies: 12/20 (two-day shipping), 12/23 (overnight shipping)
Michael Stars: 12/20 (next-day air)
Microsoft: 12/20 (expedited shipping)
Mikasa: 12/22 (premium delivery)
ModCloth: 12/22 (A.S.A.P. shipping)
Neiman Marcus: 12/22 by 12 p.m. EST (next-business-day shipping)
Nike: 12/20 by 9 p.m. ET (expedited shipping), 12/21 by 7 p.m. (overnight shipping)
Nordstrom: 12/22 by 12 p.m. ET (next-business-day shipping, certain items eligible for free delivery on 12/24 if ordered by 12/22 by noon)
The North Face: 12/22 (overnight shipping)
Old Navy: 12/20 before 3 p.m. ET (expedited shipping), 12/21 before 3 p.m. ET (overnight shipping)
Origins: 12/20 by 3 p.m. (two-day air)
Outdoor Voices: 12/22 (overnight shipping)
Otherland: 12/21 by 12 p.m. (rush shipping)
Patagonia: 12/20 (standard shipping), 12/21 (next-day shipping)
PUMA: 12/20 by 2 p.m. (expedited shipping)
Ralph Lauren: 12/20 by 3 p.m. ET (free expedited shipping), 12/22 by 3 p.m. ET (next-day shipping)
Sephora: 12/20 by 9 a.m. PT (three-day shipping), 12/21 by 9 a.m. PT (two-day shipping), 12/23 by 6 a.m. PT (one-day shipping)
shopDisney: 12/20 (express shipping)
Shutterfly: 12/20 by 4 p.m. PT (super rush shipping)
Sierra Trading Post: 12/20 by 12:59 p.m. MST (one-day shipping)
Soma: 12/20 by 12 p.m. ET (next-day shipping)
Target: 12/22 (free two-day shipping), 12/24 (free same-day delivery with membership)
Teva: 12/20 (expedited shipping, free on orders over $85)
Timberland: 12/20 by 12 a.m. PT
T.J. Maxx: 12/20 by 12:59 p.m. ET (expedited shipping)
Ugg: 12/20 (expedited shipping)
Urban Outfitters: 12/20 8 a.m. ET (expedited shipping)
Vera Bradley: 12/20 by noon ET (express shipping)
Verishop: 12/22 by 12 a.m. PT
Verizon: 12/20 by 8 p.m. ET (free two-day shipping on most items), 12/21 by 11 p.m. ET (overnight shipping)
Vince: 12/23 by 2:59 a.m. ET (free overnight shipping on orders of $350+ with code HOLIDAYRUSH)
Walmart: 12/20 (two-day shipping), 12/21 (overnight shipping)
World Market: 12/20 (overnight shipping)
Yankee Candle: 12/20 by 1 p.m. (two-day shipping)
Zales: 12/21 (select UPS second-day air), 12/22 (select UPS second-day air)
Zappos: 12/21 (one-business-day shipping)