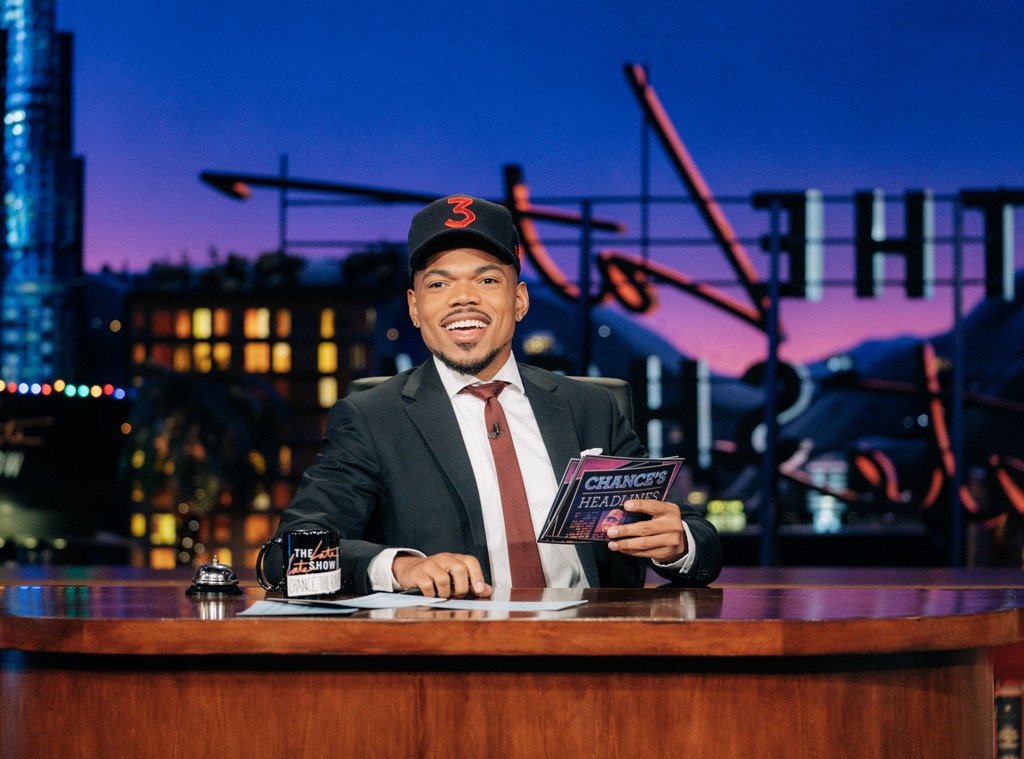 Photo: Terence Patrick/CBS
Is there anything Chance the Rapper can't do?
On Monday, the new dad proved he has no problem hosting late night on The Late Late Show. Filling in for host James Corden, Chance brought the laughs with hilarious jokes, games and surprises. Kicking things off, "The Big Day" rapper delivered his monologue with a British accent à la James.
After joking that he accepted the gig to escape Chicago's frigid winter weather and that he's already made a lasting impression on the Late Late Show team, Chance did his best to analyze current events in the news. "There was a traffic jam outside of Paris this morning that was 391 miles long," he began. "The traffic jam was a result of thousands of workers on strike. The employees refusing to show up today included bus drivers, train conductors, taxi drivers and, apparently, James Cordens."
Moving on, he addressed the Hallmark Channel's controversial decision to pull a Zola wedding commercial featuring a lesbian couple.
After explaining the backlash to the audience, Chance said, "Most of the Hallmark Channel's viewers were unaware of the controversy because they were too busy drinking white wine with their cats. In the apology Hallmark said, 'Love is love, in all it's forms. Whether it's between a man with brown hair and a quirky woman who owns a bakery, or…Actually that's it.'"
Once his monologue was finished, the "Ballin Flossin" rapper play "Chance's Headlines," a game where he edited negative news headlines to read more positive. To start, he changed up a headline that read, "Health officials say two alcoholic drinks a day no longer safe," to say, "Health officials say two alcoholic drinks a day no longer enough to have fun."
For his next headline swap, Chance took a politically-charged headline that read, "Starbucks has fired employee who gave Oklahoma officer order with 'PIG' printed on the label," to be a little less heated. Instead he wrote, "Starbucks has promoted employee who gave Oklahoma K-9 order with 'PUG' printed on the label."
To conclude the segment, Chance was given a headline that read, "[Barack] Obama says women 'indisputably' better at leading.' Putting his spin on the statement, he wrote, "Obama AND Chance the Rapper say women 'indisputably' better at leading." 
Like James, Chance didn't miss an opportunity for some face time with his fans. Bringing The Late Late Show to The Grove in Los Angeles, the "Same Drugs" rapper hit the streets for a round of "Cry Right Now for Chance the Rapper (and $100)." For this straightforward game, Chance challenged strangers to cry on command to win $100.
Seeing that his first contestant needed some encouragement, Chance said, "Ready, set, cry. I see visible tears. Oh, yeah, go deep…Think about Titanic. Think about Jack, he's freezing. He's freezing bad. He's so cold."
Using other romantic movies for inspiration, he told another contestant, "Think about the movie The Notebook. Ryan Gosling. Rachel McAdams. No one thought they'd end up together. She couldn't remember him…she couldn't remember him at all."
Watch:
Chance the Rapper's Postmates Bill: By The Numbers
Despite the fun nature of the game, Chance quickly discovered that asking people to cry on the spot wasn't an easy feat. So, he came up with other challenges for The Grove shoppers to do for the cash prize—like, cutting their hair with tiny barber scissors and hurling insults at an innocent Golden Retriever puppy.
Watch Chance the Rapper put his late night hosting skills to the test in the hilarious videos above!