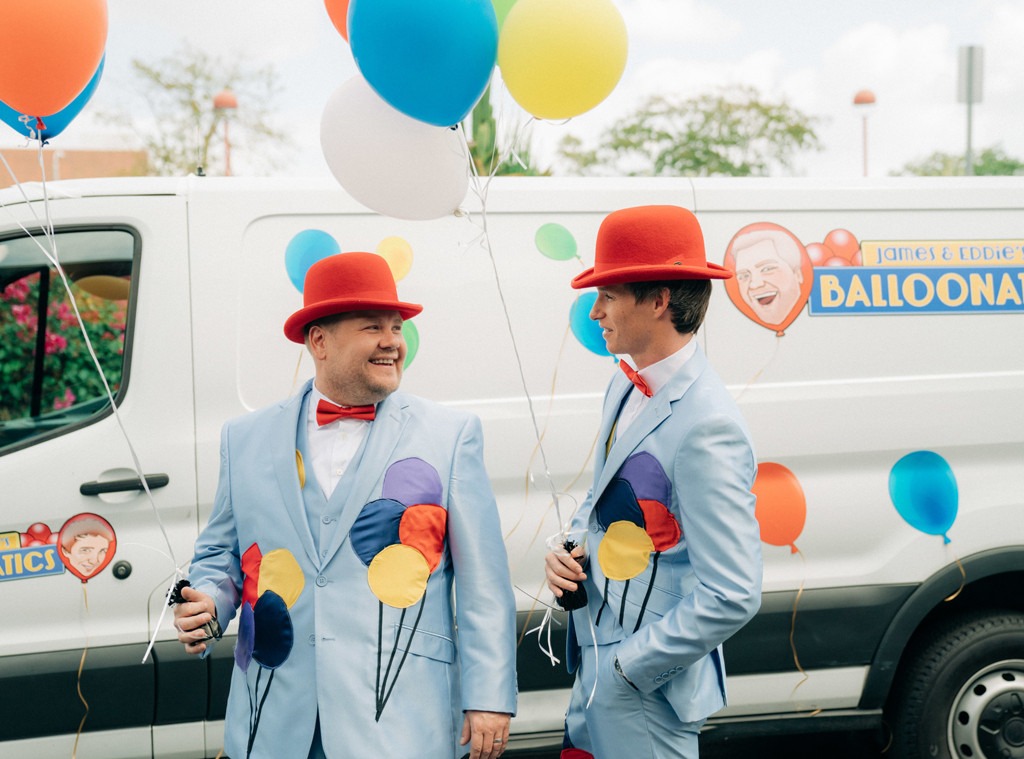 Terence Patrick/CBS
James Corden and Eddie Redmayne love a singing moment.
They took their musical stylings to the streets of Los Angeles during a hilarious sketch on Thursday's The Late Late Show with James Corden, and it's sure to put a smile on your face.
Dressed in balloon-decorated suits and equipped with far too many bouquets of balloons, the two stars traipsed around Hollywood delivering singing balloon telegrams under the name of "James and Eddie's Balloonatics." Their task was to brighten peoples' days with their telegrams.
As the pair got into their truck stuffed to the brim with the floating gifts, The Aeronauts actor joked, "I feel like I'm a sort of 'Carpool Karaoke' reject."
The first lucky recipient of their telegram was a deli owner named George, who was celebrating a big anniversary at his restaurant.
Remixing the song "99 Red Balloons," Corden and Redmayne sang, "Here are nine stuffed balloons to celebrate 55 years / You are one amazing guy, serving lean corned beef and rye / In this place, you are a prince / Winning hearts with every blintz / After 20,000 days, you deserve these stuffed balloons, George K / Mazel tov!"
On their way to their second gig, Corden quipped, "I hope this doesn't backfire in a bad way. It would be awful if we were to look stupid doing this."
Next, the funny pair was tasked with trying to convince a woman named Ariana not to quit her job.
Singing to the tune of Christina Aguilera's "Beautiful," Redmayne and Corden sang, "You're balloon-iful, no matter what they say. Please don't quit your job."
Watch:
Why James Corden Loves Creating Viral Moments
Unfortunately, they couldn't convince her not to leave. So, what did Corden do? In one of his classic diva moments, he popped all of the balloons, naturally.
Now, throw on your red hat and check out the rest of the video to see the stars remix Lil Nas X's "Old Town Road" to help them tell a guy he was getting a promotion, but no raise.