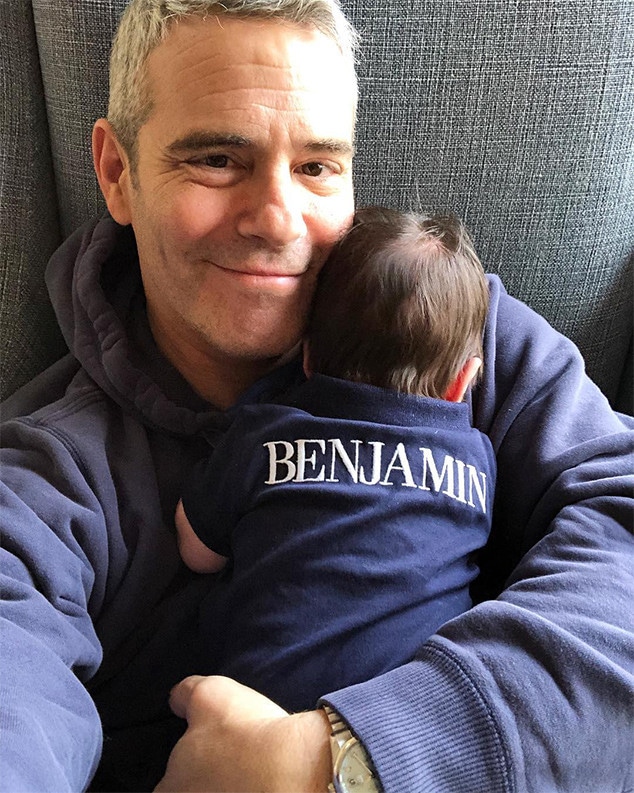 Instagram / Andy Cohen
Andy Cohen is responsible for one of the most dramatic reality TV franchises there is, so it seems only fitting that his house be full of divas.
During Thursday's The Late Show with Stephen Colbert, the Watch What Happens Live host—who will be hosting the epic BravoCon this weekend—gushed over fatherhood, what his 9-month-old son Benjamin Cohen's personality is like and, of course, his beloved pup Wacha.
Noting that his baby boy was just named the Cutest Baby Alive by People, Stephen Colbert jokingly asked Cohen if fame has gotten to his head yet. As he quipped back, "You know what? We live with a dog who has been pronounced very cute by People magazine in the past as well. So, the dog has a big head, the baby has a big head. I'm just trying to navigate everything in my house!"
The 51-year-old then continued to joke about his son's endless demands. "He cries when he's not fed," he teased. "I'm like, 'Ugh, calm down!'"
All kidding aside, the Real Housewives executive producer is very much in love with being a dad. As he explained, "It's more than I thought that it could be, and it's everything everyone said. He's a really wonderful kid. He's really happy."
Outside of parenthood, one thing the two late-night hosts had to bring up was Cohen's salt-and-peppered beard—a look that has produced the nickname "Rugged Andy."
"Rugged Andy happened this summer," he divulged. "Actually, the birth of Rugged Andy happened in an unusual place—Fire Island, which is not a place that you might attribute to being rugged. But I feel that male talk-show hosts, when they get a vacation, their favorite thing to do is not shave, right?"
Indeed! Pulling up a picture of his own beard, Colbert shared that he coined his hard-earned facial hair "The Colbeard." As for Cohen's "Cobeard," he says his mother can't stand it. "Every night after my show, my mom texts me and tells me how much she hates it," he shared.
Beard or no beard, the father is pumped for BravoCon this weekend. "Dude, it's BravoCon weekend, everybody!" Cohen exclaimed. "In New York City. Tickets sold out in 60 seconds. It's gonna be unbelievable."
Given that 76 "Bravo-lebrities" are going to be in attendance, it's probably safe to say the event will be more packed with divas than Cohen's house.
(E! and Bravo are both part of NBCUniversal.)