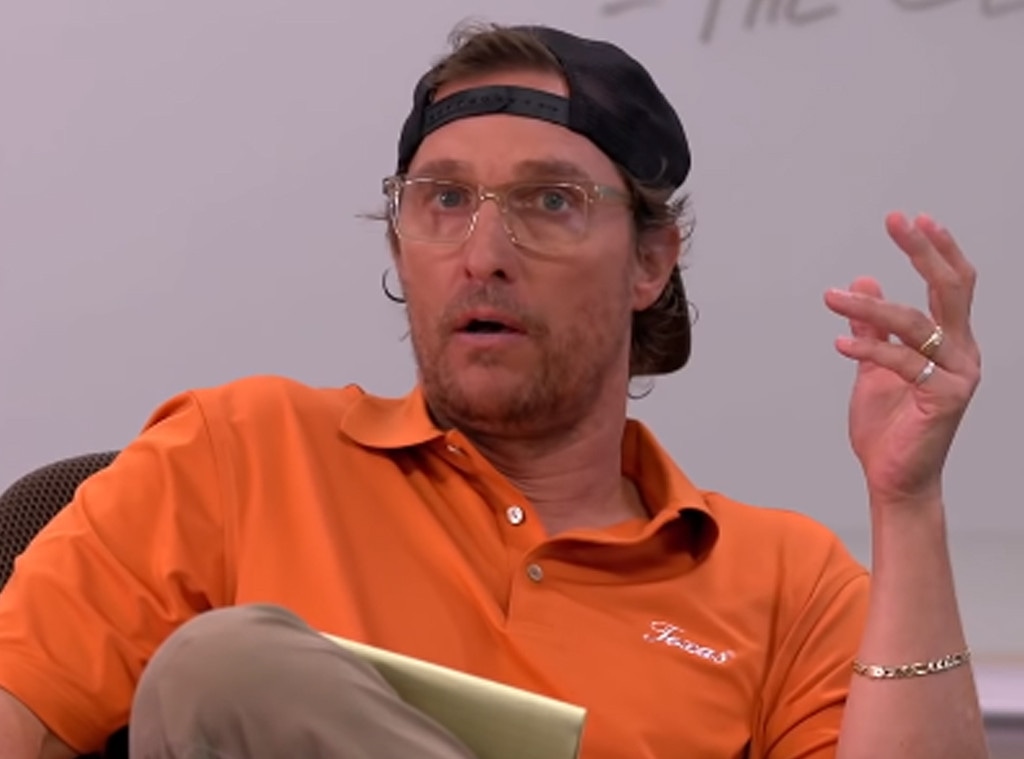 Class is in session!
During Thursday's the Tonight Show Starring Jimmy Fallon, Professor Matthew McConaughey gave Jimmy Fallon a taste of his Script to Screen class, which the Oscar winner currently teaches at the University of Texas. (ICYMI, Fallon took his NYC-based show on the road and is now filming out of Austin.)
Entering the (empty) classroom, the late night host stumbled to his seat and the proceeded to unpack his stuffed backpack. He had literally all of the essentials: A pencil holder filled with pencils, a toy version of UT's mascot, an electric pencil sharpener, a mini cooler, a jar of paste, snacks and an even bigger pencil. To say he came prepared is an understatement.
The actor, keenly aware he did not have his student's full attention, decided to change up the his lesson plan. "You know what?" he said to his only pupil. "Why don't we skip all of this and jump straight into the final project?"
Text ENEWS to 44144 to download the E! News App
"Just write down five things that you may remember me saying in the last five minutes," he continued. "If you get three out of five you will pass this class and then you can leave this class and not come back every again."
Fed up, McConaughey just gave his friend a passing grade. "You did just fine," he said, ushering Fallon out of the lecture hall. "You do not need to come back to class ever again, Mr. Jimmy Fallon. You are, in fact, easily the worst student I've ever had."
But the Dallas Buyer's Club star had a feeling that his student's talents could be used elsewhere. Back in front of a live audience, the Texas native handed Fallon a guitar and had him led the crowd in a sing-along of the University of Texas' school song "The Eyes of Texas."
The duo had much more to celebrate than Texas, too. Not only did McConaughey recently turn 50, but he also made the decision to finally join Instagram, à la Jennifer Aniston. And what better way to honor the feat than with a selfie? 
Heading into the audience, the duo gathered a group together for an epic snap. As McConaughey captioned his second Instagram picture, "The Eyes of Texas are upon you #hookem #FallonAtUT." 
(E! and NBC are both part of the NBCUniversal family.)