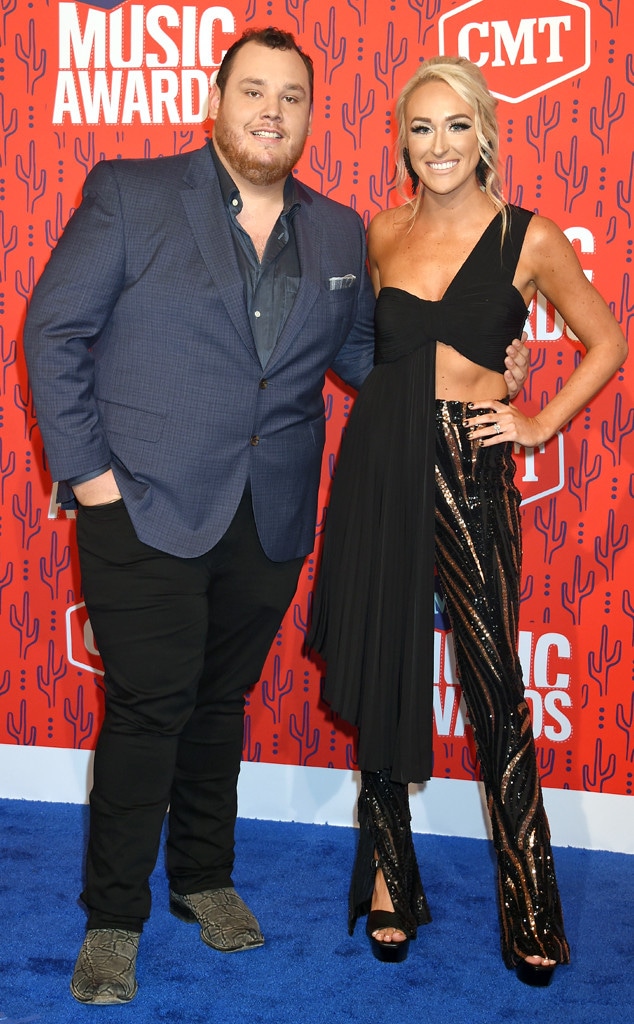 AFF-USA/Shutterstock
When Luke Combs takes the stage all across the country, sold out crowds—pre COVID, of course—can't help but sing along to his hit, "Beautiful Crazy."
"Beautiful, crazy, she can't help but amaze me," he belts out. "The way that she dances, ain't afraid to take chances / And wears her heart on her sleeve / Yeah she's crazy, but her crazy's beautiful to me."
Yes, the lyrics are incredibly catchy and personal—and you better believe the melody ain't bad either. But perhaps what makes this track extra special is the simple fact that Luke wrote it for Nicole Hocking before they even started their romance. 
"That got me some serious brownie points," Luke previously told ABC News of the song. "That was before we were officially dating."
Fast-forward to today and the couple is enjoying their lives as newlyweds while Luke continues to shine bright in the country music community. In fact, the 30-year-old North Carolina native is nominated for six awards including Entertainer of the Year at this week's 2020 CMA Awards.
Luke and Nicole, who works at music publisher BMI in Nashville, started dating more than three years ago when things were different for the country singer. In a previous interview with People, Luke recalled the days where there "was no publishing deal, no record deal, no booking deal" and a manager who had never managed before.
Watch:
Luke Combs Is in the Thick of Wedding Planning
"Everybody was like, 'Yeah, this is never gonna work,'" he recalled. "And so I didn't have anything when we met." 
But in a true love story, it didn't stop Luke from shooting his shot. And spoiler alert: His game worked. In November 2018, the couple announced their engagement on social media from Hawaii. "She said yes a while ago but this is a way better place to take pictures than the kitchen," Luke wrote on Instagram at the time. "Can't wait to spend forever with you @NicoleHocking I Love You! #Mahalo."
Nicole added, "You're stuck with me forever!!! I love you so soooo much babe."
While the couple tries to keep their relationship away from the public eye, fans easily recognize Nicole as a special guest in Luke's "When it Rains it Pours" music video. She's also more than happy to support her man at award shows including the 2018 CMA Awards when Luke won New Artist of the Year.
"I won a CMA Award last night but I showed up a winner because of this amazing woman," Luke wrote on Instagram after the show. "Thank you for believing in me, supporting me and eating cookout with me at 1:30 a.m. after the awards. I love you so much Nicole Hocking, you're incredible inside and out."
Despite the coronavirus pandemic, Luke and Nicole persevered in their wedding planning even if their ceremony was going to look a little different. According to the singer, Nicole was "very heavily involved" in the Aug. 1 celebration. And if you ask Luke, the day was pretty close to perfect.
"I didn't know I was gonna cry that much, but I did, I did," he told Radio.com's Katie Neal. "I was like doubled-over crying guy."
And although nearly 70 percent of the guest list was cut because of the pandemic, Luke found the silver lining. "I think back on it now and we wouldn't have even gotten to talk to everyone at our wedding if it wasn't the size that it became," he explained. "It's about you guys... it goes by so fast... everybody says that, but it's the truth. Just enjoy being with each other. It's the coolest day of your life."
Frank Micelotta/Picturegroup/Shutterstock
Whether they are hitting the road for special performances or celebrating anniversaries in Colorado, this "Beautiful Crazy" love story is one fun ride worth celebrating.
And while touring may be put on hold, there are still opportunities for music magic. Back in October, Luke dedicated his new love song "Forever After All" to Nicole. 
"They say nothing lasts forever / But they ain't seen us together," he sings. "Or the way the moonlight dances in your eyes / Just a T-shirt in the kitchen / With no makeup and a million / Other things that I could look at my whole life / A love like that makes a man have second thoughts / Maybe some things last forever after all."
Perhaps romance isn't dead after all during quarantine. "I love you so much it's insane and I thank the good lord above that he made you," Luke previously shared on Nicole's birthday. "Don't know what I'd do without you."
The 2020 CMA Awards air Wednesday, Nov. 11 at 8 p.m. on ABC. 
Originally published Monday Nov 11, 2019 at 3:00 a.m. PST